Welcome to Maggie's First Dance BOM
Today kicks off the introduction blog hop for Maggie's First Dance Block of the Month by Jacquelynne Steves.  I'm so excited and grateful to be one of the featured bloggers again!  This is a FREE, six-month BOM program that starts in June, and I really hope you'll join us.
To start things off, we're introducing all of the featured bloggers and then there's a giveaway for you, too!(now closed).  There are seven participating bloggers this year and you'll be able to see everyone's progress each month as we make our way through the pattern.  Some of us will be doing different forms of applique, maybe some embroidery or just piecing.  Make sure to get acquainted with the talented quilters below, starting with Jacquelynne Steves.
Greg at Grey Dogwood Studio
Monique at Farm House Quilts
Julie at The Crafty Quilter (you are here!)
Beth at EvaPaige Quilt Designs
Kim at My Go-Go Life
Jacque at Lily Pad Quilting
Brenda at The Quilting Nook
If this is your first time visiting The Crafty Quilter, thank you for popping in and welcome to my creative space!  I'm so glad you're here.  This truly is my happy place and I love to share my latest projects, tips, tutorials and other quilty and crafty things.
This year I'm focusing on UFO's and getting them finished.  I have a monthly challenge and link up that you can find easily at the Hello 2016, Goodbye UFO's tab at the top of the page.
My Sew Thankful Sundays are very popular; I do a roundup of new tutorials and ideas that I've found on the first Sunday of each month.
You can also find me on The Quilt Show, where I share tips and technique videos.
I'm always looking for new projects to make and new tips to share.  You can find my past tips and tutorials by navigating to the menu tabs at the top of the page.
Now that we're acquainted, let me show you the fabrics I'll be working with for my version of Maggie's First Dance.  I recently purchased this bundle of Rhapsody Bop by ADORNit  and it's going to be perfect for this project.
The main print is full of fun words and phrases along with some sweet graphics.  That will be my border fabric.  Along with the applique, I'm going to embroider (I think) words or phrases in the alternating blocks to compliment the main print.  I still need to add a few coordinating fabrics from my stash and then I'll be set.
If this is your first time participating in one of Jacquelynne's BOMs, you are going to love it!  I've made her last two block of the months and I, personally, love the combination of applique and piecing.  Her instructions are well written and easy to follow.  Here is last year's BOM, Cozy Afternoon.
Sew Sweet Simplicity was the first of Jacquelynne's BOMs that I made.  Alas, this one has become another UFO.  The blocks are complete, but it hasn't been put together yet.  Maybe this year?
Now it's time for the giveaway!  Jacquelynne is giving away two of her own digital patterns which means that international entries are welcome.  This giveaway has ended.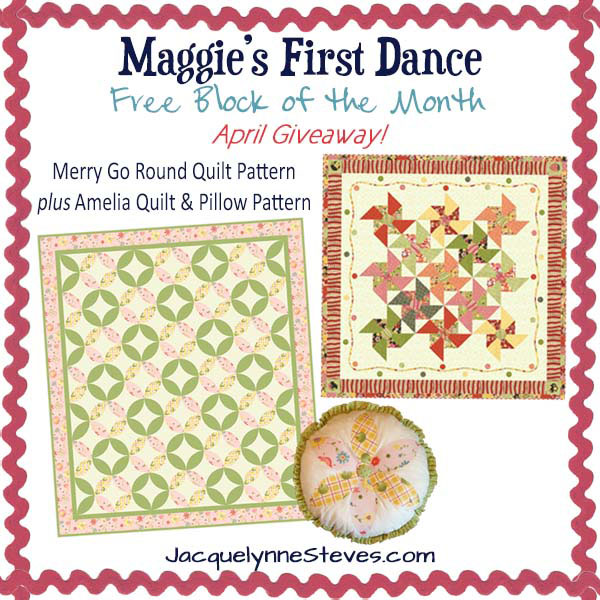 Here are the giveaway rules:
To enter, leave a comment telling me your favorite quilt book or quilt designer.
You must comment by 11:59 pm EDT on Wednesday, May 4, 2016.  NOW CLOSED
Your email MUST be included in your profile information or in your comment. If I choose your name and I cannot contact you, I will choose another name.
Giveaway is open to US and international readers.
Winner will be chosen at random.
Good luck and thanks for stopping by!