Jaftex Blog Hop – my turn!
Hi everyone!  It's my turn on the Jaftex Blog Hop, where we are celebrating their 85th year of being in the textile business.  If you're new to my blog, welcome!  I'm a quilt instructor, blogger and "tips & tricks specialist" for The Quilt Show.  Being a wife, mother, and recently a grandmother, balances everything out!  I hope you'll check out my tutorials tab for lots of free quilt patterns and ideas.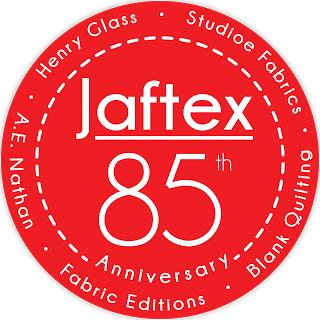 I was flattered and excited when Linda Lum DeBono contacted me on behalf of Jaftex, which is a family business representing three fabrics companies based in New York; Henry Glass, Blank Quilting Corp., and Studioe Fabrics. They were looking for 30 bloggers, designers and companies to participate in their blog hop that has now resulted in 30 projects being shared throughout September and chances to win fantastic prizes for you guys!  Thank you, Linda, for all of your hard work putting this blog hop together.
Let me show you my project first, and then we'll get to the prizes, next.  I was sent a fat quarter bundle of Fusion Illusion from Blank Quilting.  (Yes, you'll notice there are three bundles – one is for me to keep and the other two are for two lucky readers! See end of this post for details).  I truly had no idea what I was going to make out of this fabric, so the bundle sat in my sewing room and percolated for a while (like a good cup of coffee would).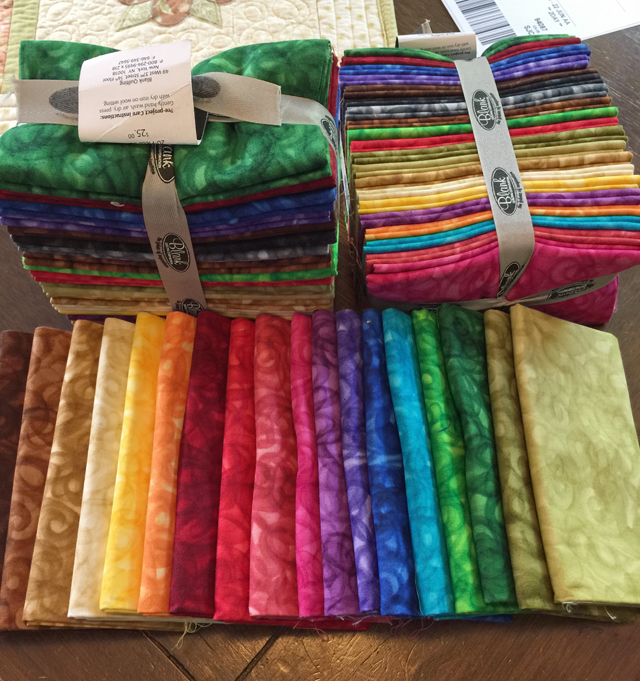 I was leaning towards a rainbow type of design because of the beautiful, saturated colors in this bundle.  I've been wanting to make a hot air balloon block for a while and I thought it might work for this occasion.  So, I started with one balloon and soon it became a fleet of hot air balloons.  I decided it needed some flying geese in the sky to make things interesting.  Thus, the name of my quilt is "Watch Out for those Geese!".  It measures 45″ x 60″.
The plan was to have this project longarm quilted, but both of the ladies I had in mind were unavailable (sick and on vacation).  I only had 4 days to quilt this myself – gasp!  A minor panic attack ensued.  I love to free motion quilt, but it had been a while since I'd done anything larger than a wall hanging.  Well, let me tell ya, there was a lot of sweating involved and it wasn't just because of hot flashes.  A lovely heat wave, no air-conditioning, the looming deadline AND hot flashes all contributed!
To start, I used my trusty dry erase board to practice some designs and then got to work.  Check out my Free Motion Practice Tips for more ideas.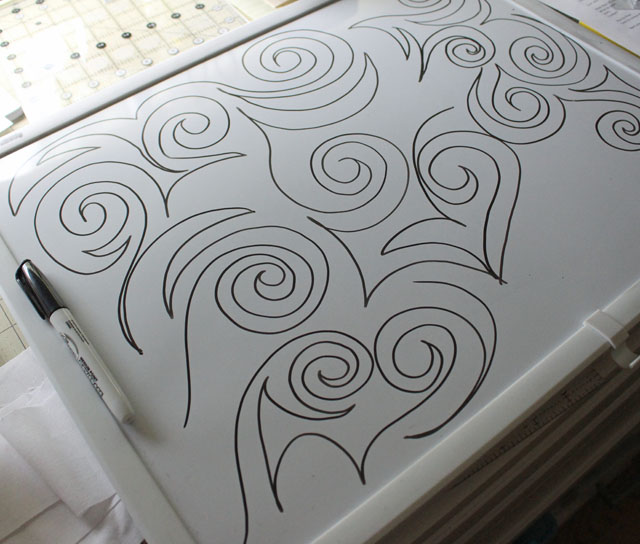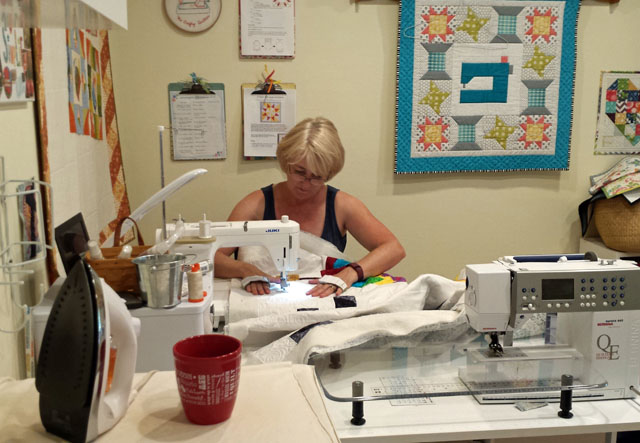 I quilted each balloon with a different design and I had fun coming up with the style for each one.  Here's an example of how straight line quilting can emphasize the design of a block with very little effort:
My favorite is this rainbow and black striped balloon.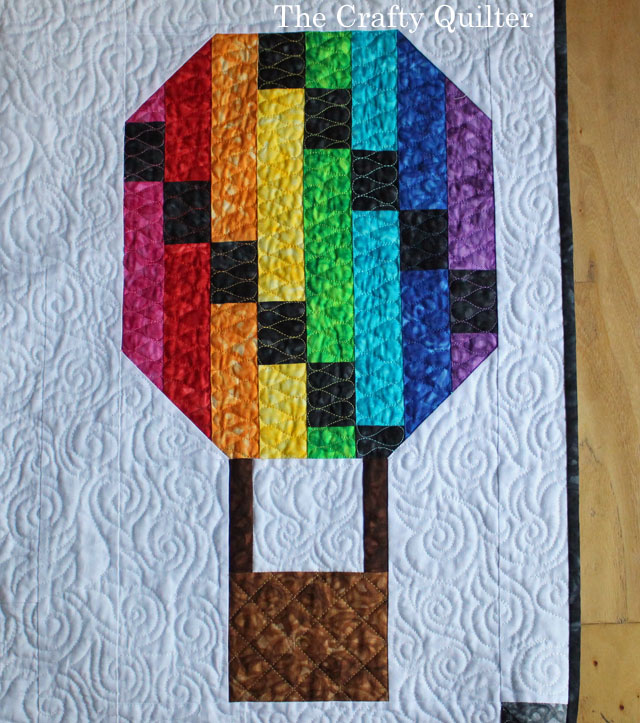 This was my favorite one to quilt!  I changed thread with each band of color and I love how it shows up in the black rectangles.  I used Magnifico thread by Superior Threads for most of the quilting.  It has a beautiful sheen to it and it's really easy to use.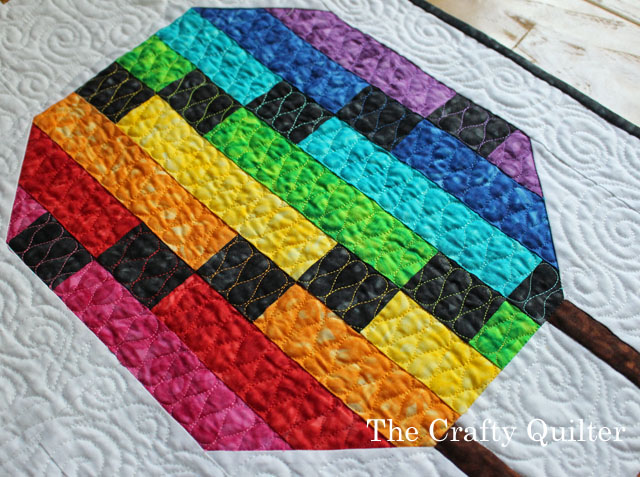 It's easy to make a hot air balloon out of just about any kind of design.  Here's a traditional Ohio star block turned into a hot air balloon with the addition of corner triangles and a basket.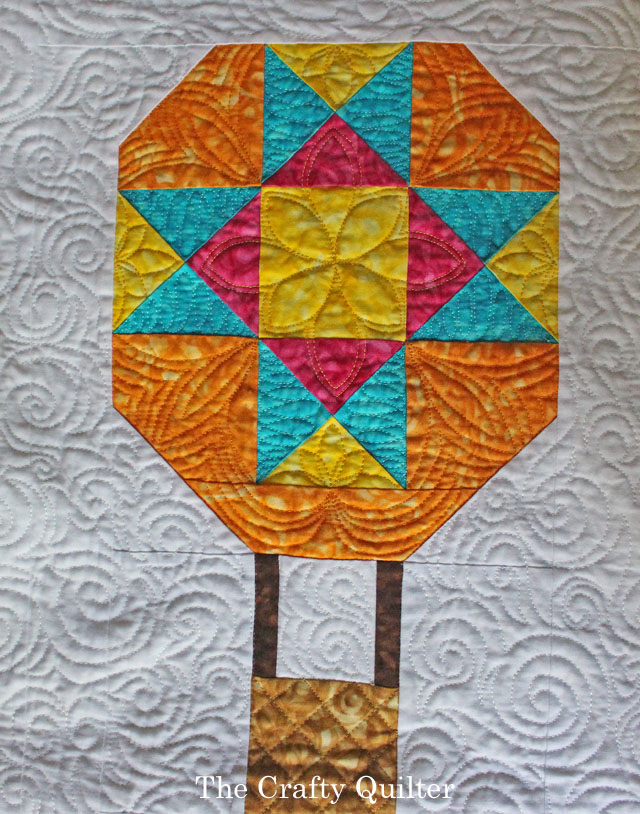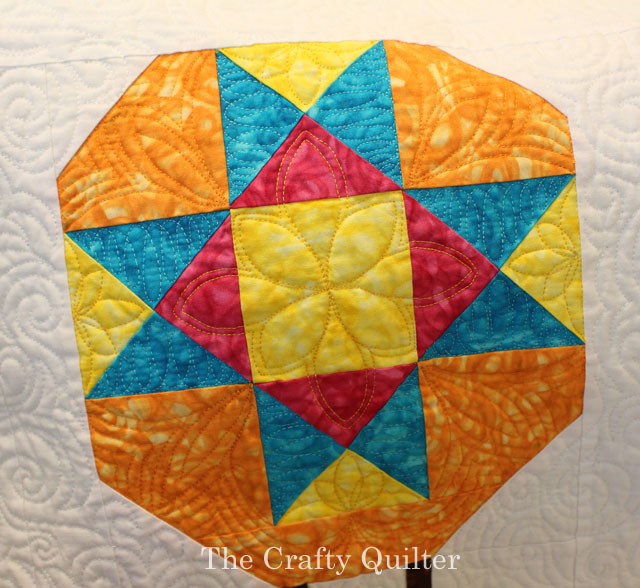 I thought a heart would be nice in a hot air balloon.  This would make great target practice for Cupid! 😉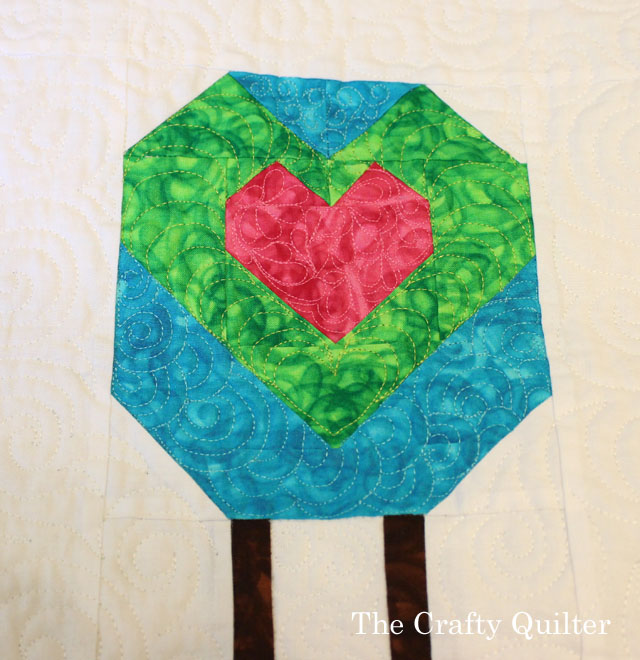 A bargello balloon in warm colors was easy to make.  I love how the colors play together.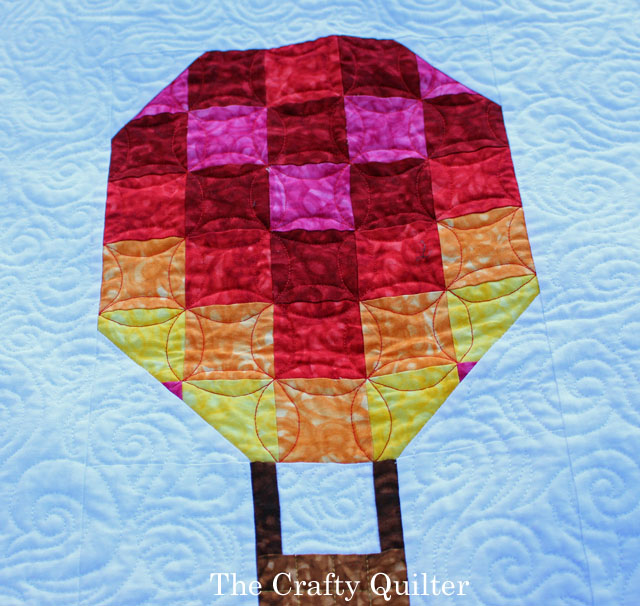 Simple stripes is common in traditional hot air balloons.  I had to make one of those.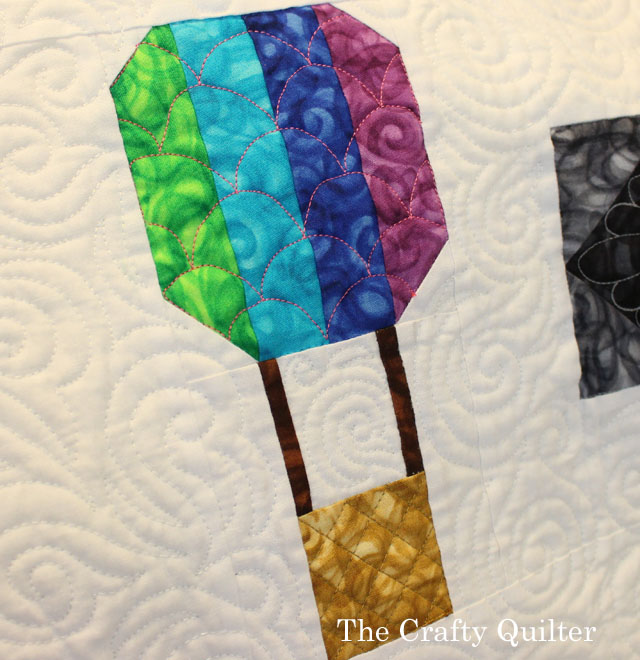 And this one reminds me of a super hero.  I think it's the color combination.  Notice that the balloons aren't all the same size or shape.  This one is a little longer.
And since this is for an anniversary, I had to make a personalized balloon just for Jaftex.
Oh, the possibilities are endless!  I even had fun making the quilt label for the back. Saving those fabric selvages came in real handy for this one!
How would you like to make your own hot air balloon block?  I thought so!  I'm working on a tutorial for a mini hot air balloon quilt for my readers.  Make sure to follow me, so you don't miss out!  The links for email subscription or RSS feed are in the upper right sidebar.  You can always find me on Instagram and Pinterest, too!
Now for my giveaway!  TWO winners will each receive a 20-piece fat quarter bundle of Fusion Illusion  from Blank Quilting.  Just leave a comment here, on my blog, telling me if and how you follow me.  Instagram,  Pinterest,  Feedly,  Bloglovin', or Email?  You have until October 3rd to enter.  This giveaway is open to anyone with a United States or Canadian mailing address.  (Normally, I try to respond to all comments, however, the volume during giveaways makes it difficult to do so. Please know that I read each and every one and appreciate your thoughts!)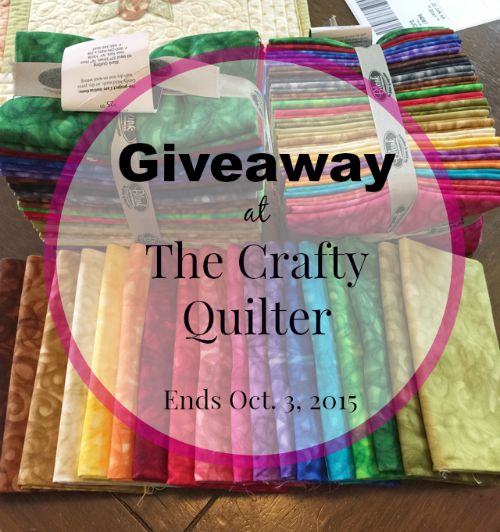 You can still enter the big giveaway from Jaftex, which is graciously sponsored by Janome, Aurifil Threads, and Schmetz Needles.  You can even win fabric for your favorite quilt shop!  Check out the widget below for details.
85th Anniversary Giveaway

Here's the rest of the blog hop schedule.  Make sure to visit Mary Ellen at Little Quilts tomorrow!
Thank you for stopping by The Crafty Quilter today and Happy Anniversary, Jaftex!