A wedding, a baby and a little fabric
The dust has settled after my daughter's wedding and having our new granddaughter (and her mom and dad) stay with us for a glorious 10 days.
The wedding was a weekend destination wedding at Camp Layman which is along the Feather River near Graeagle, California.  There were 13 cabins which we rented for the weekend. The bride, Nicole, her sister, Sara, and I arrived a few days early to get everything ready.  We had so much stuff to carry in our car, there was barely enough room for Sara!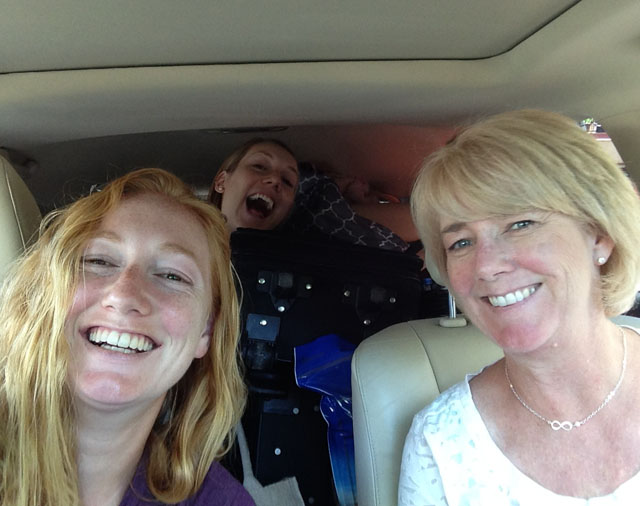 We were very busy for the next three days getting stuff ready for the cabins and the wedding decorations in order.  I will have more pictures to show you when the photographer has them ready.  For now, I can give you a glimpse through various cell phone cameras.
This is our four children before the rehearsal and playing as if they were still little kids.  Actually, they're a lot nicer to each other now that they're grown up!
Rehearsal time!
And a few from the wedding day: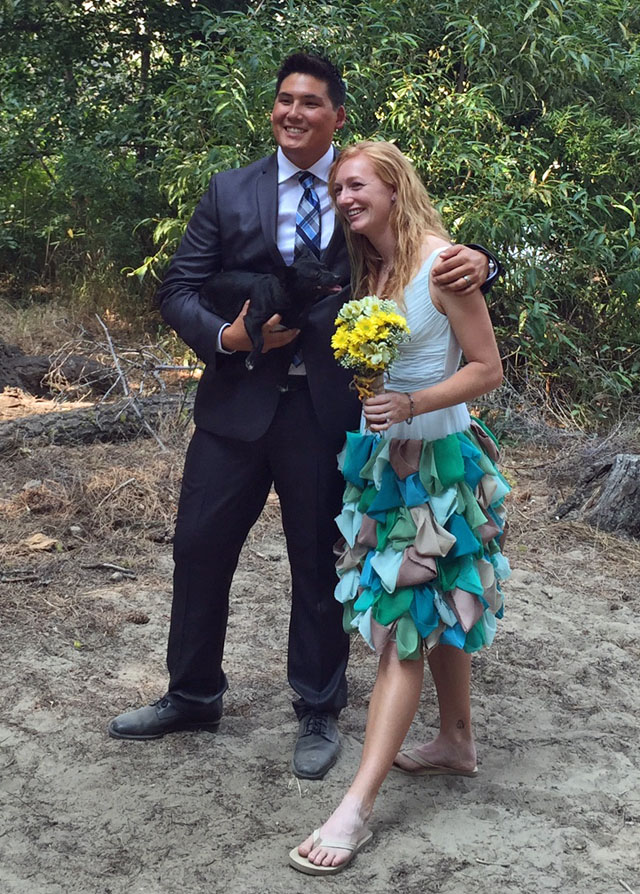 As you can see, Nicole did not go the traditional route with her wedding dress.  She had a dress customized to suite her personality.  It was perfect for her and I love her style.
I mentioned that we got to spend time with our new granddaughter.  Amelia is 7 weeks old now and a happy little girl.
She has the best parents, too.
We got to babysit for one evening while Kelly and Steven went to a Giant's baseball game.  Amelia behaved perfectly and she has both grandparents in the palm of her little hand!
I'm often apprehensive about including personal stuff on my blog, but I feel like you're all my friends.  And good friends share their ups and downs; I hope you don't mind a little of both now and then.  My life beyond quilting is what makes it all complete.
Now, I will loop back around to the quilting stuff.  I finally made the plunge and bought EQ7 software.  I'm getting the hang of designing my own blocks.  It's so much faster than graph paper and pencil (once you get the hang of it).   There's still so much to learn.  Here's a little glimpse of what I'm working on.  It's a butterfly block that will be part of something bigger (but it's still a secret for now).
I love playing with these Kona solids from Robert Kaufman.  They're irresistible!
I recently ordered (and received) this bundle of Farmhouse by Fig Tree Quilts for Moda.  I'm not sure what they will become, but I love just having them on my shelf.
Have you been keeping up with the Jaftex Blog Hop?  They're celebrating their 85th year of being in business.  My turn is September 24th.  Here's the full schedule:
I hope your guys enjoy the week ahead!  Thanks for joining me today!