Free motion quilting practice tips
You might not know this about me, but the first quilting class I ever took was a free motion quilting class.  That was about 15 years ago.  Now, I teach the class at the same quilt shop that I took the original class from!
Today, I have some free motion quilting practice tips for you.  Much of this is the same information that I shared last week in my weekly tips video for The Quilt Show.  Plus, I've added a "spinning feathers" FMQ design here for my blog readers.
I'm sure you've heard this before, but the first tip is to practice, practice, practice!  FMQ is a lot like learning how to play the piano or to ice skate.  It feels really awkward and unsteady at first.  You don't get better at this until you consistently practice.  A little each day goes a long way!
One of the things that you're doing when you practice FMQ is you're building up muscle memory.  Your brain is communicating to your hands and things get moving fast.  It helps to have a game plan and it's a lot easier when your muscles are conditioned for that plan.
A great way to practice your free motion technique is to use a dry erase board or a pencil and paper.  I often doodle on paper first, and then I use a dry erase board when I have a plan formulated.  It's a great way to practice your technique and build that muscle memory without having to make a practice quilt sandwich.  Plus it's portable and environmentally friendly!
Here's the design I was practicing on yesterday:
It kind of looks like spinning feathers.  Here are the steps:
It starts with a swirl that spirals inward.
Echo the swirl back out and connect to the base.
Then go around the outside of the swirl with "open" feathers (as opposed to traditional, tight ones).
Next, you echo back around and begin a new swirl.
You can continue making swirling feathers in any size you want.
TIP:  Leftover batting scraps are great for erasing your practice doodles.
Sometimes I'm looking for a design that will fill a particular space within my pieced blocks.   An example of this is my recent Spring Petals Table Topper.  I wanted something that would fit in between the petals.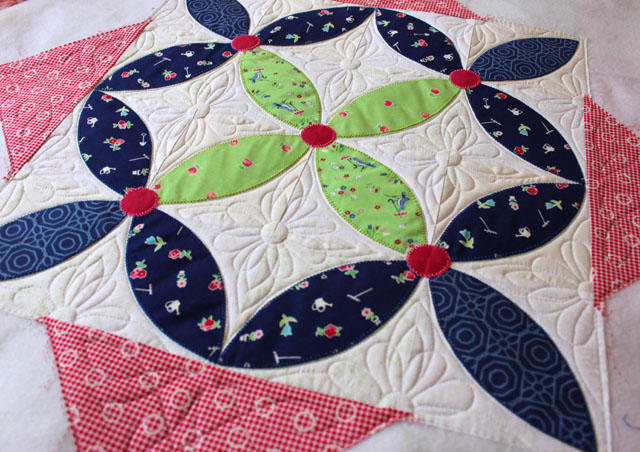 I have a three-step process when I'm free motion quilting.  Practice on a white board or paper, practice on a practice-sandwich, and once I'm comfortable, I quilt on the real quilt.
For the Spring Petals quilt, my first step was to draw the space I wanted to fill on my white board and test out some designs.
Then I practiced on a quilt sandwich.

I altered the design a little bit when I stitched it on the actual quilt.
I have a few tools that I can't live without when I'm free motion quilting.  They are the Supreme Slider Free Motion Machine Quilting Mat, Betty Bands from Steady Betty and Neutrogena Norwegian Formula Hand Cream.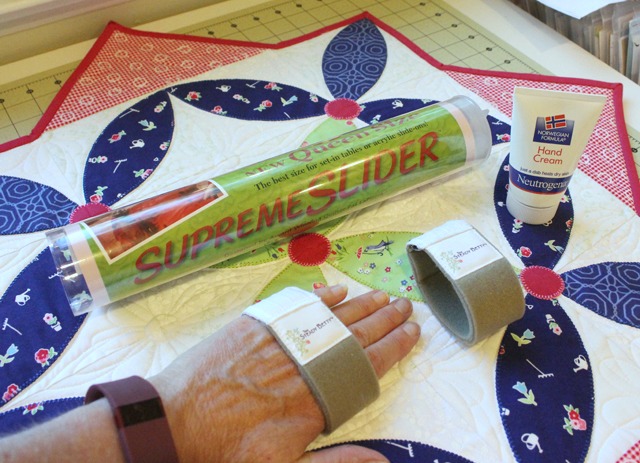 The Supreme Slider makes your sewing surface even and slippery.  It has a pink, sticky back that adheres to your table top and an opening for the needle plate.  It's great for moving a quilt sandwich easily underneath your FMQ foot.
The Betty Bands are my new favorite tool for gripping a quilt sandwich as I'm quilting.  I love that it leaves my fingers exposed and I'm able to "feel" the fabric underneath.
For smaller projects, I use Neutrogena's Norwegian Formula hand cream.  It leaves a tacky residue on your hands which is ideal for quilting, and it doesn't harm your fabric!
I have a few go-to websites and blogs that I love for free motion quilting ideas and inspiration.  Lori Kennedy has been blogging at The Inbox Jaunt for several years and she has created a name for herself in the quilting world.  Every Tuesday, you'll find tutorials for quilting motifs and stepped out instructions for each design.  It's a great resource for your FMQ library!
For my monthly fix of FMQ, I go to Quilt Shop Gal for her 2015 Free Motion Quilting Challenge.  Each month she showcases a different FMQ expert and it includes a tutorial and a challenge.  It's great for learning new skills!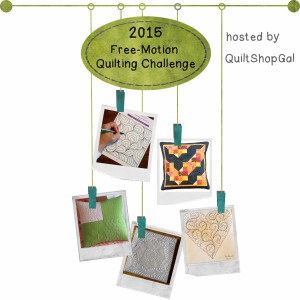 And finally, Leah Day has an extensive collection of videos, books, DVD's and tutorials at The Free Motion Quilting Project.  It's a great resource for everything you need to know about FMQ!  I have learned so much from this website.
I hope you've found some useful tips on FMQ today.  I feel like there's always room for improvement in this area and that definitely includes me!  Thanks for being here!