Sew Thankful Sunday, September 2015
{I love the idea of "paying it forward".  I think the world would be a better place if we could spread some joy and acknowledgement of good deeds done by others.  I try to do that once a month for my Sew Thankful Sunday posts.  I highlight some great content that I've found on other people's blogs that I hope will inspire you and reward the originator by bringing traffic to their site.  If your blog has been mentioned without your consent, please let me know and I will take you off the current list of featured bloggers.}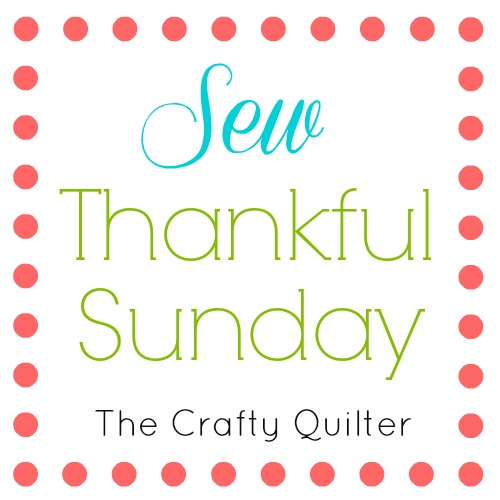 There's something about September that makes me want to start out fresh, with new projects, new material and a clean space.  This month's list of ideas will give you plenty of inspiration to do the same!  And don't forget, it's national Sewing Month!
(Remember, you can click on any of the images in this post and it will open up a new tab to the associated link).
1.  Getting ready for the holidays is going to be easy with this round up of ideas from Jacquelynne Steves.  You'll recognize a few of my projects, plus some of her own and others that you won't want to miss!
2.  If you own EQ7, you will love this EQ7 Seasons Row Along at Seams to be Sew.  Marian has gathered some talented bloggers to bring you a row pattern of their design and some tips for working with EQ7.  There are prizes, too!
3.  It's the perfect time of year to have a Back to School Blog Hop, and this one is hosted by Sam at Hunter's Design Studio.  Every day this month, you'll find tips and tricks from the pros for your sewing and quilting room.
4.  Fabri-Quilt is sponsoring a New Block Blog Hop that features their Prairie Cloth Solids in a "watermelon summer" color palette.  I have really enjoyed seeing the creativity of the 60 bloggers participating.
5.  To celebrate the release of Amanda Jean Nyberg's new fabric collection, Good Neighbors from Connecting Threads, there is a Pincushion Party going on all month long!  You can find all of the details at Amanda Jean's blog, Crazy Mom Quilts.
6.  Stay organized in style with this Quilted File Folder from Nicole at Modern Handcraft.  This would be perfect for getting ready for back-to-school or a new project!  Plus, you'll find lots of other tutorials at Nicole's blog that I'm sure you'll love.
7.  If you like to use placemats, then you'll love this All Seasons Placemat Tutorial from Anorina at Samelia's Mum.  This design is perfect to incorporate into any time of year and simple enough to make, too.
8.  Color can be a tricky thing for some quilters.  I'm enjoying the Color Clinic at Play Crafts where Anne answers your questions about color theory.  Most recently she used her Kona color cards to make a color wheel.
Thanks for spending part of your Sunday with me, and I hope you've found some inspiration from this list of talented bloggers.  I know they appreciate it when you stop by and say, "hi".  It's a wonderful way to spread the quilting joy!
Just a quick note to add that I'll be leaving town on Tuesday as we prepare for my daughter's wedding that takes place on Saturday.  She having a small destination wedding in the Sierra mountains (think rustic and beautiful). I won't have access to the internet, so things will be quiet around here for the next week.  I'll fill you in on all of the details when I return!