Jaftex 85th Anniversary Blog Hop
Hi everyone!  I'm really excited about the month of September for SO many personal reasons, but also for one big quilty reason, too.  Jaftex is celebrating 85 years in business and they're having a blog hop that starts today with chances to win some great prizes.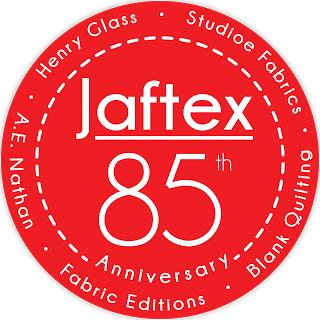 Jaftex has invited 30 guests to the celebration (one each day of the month) who will reveal a project made especially for the blog hop. PLUS, I get to be a part of this "party" on September 24 when I get to show you what I made out of the fat quarter bundle that was sent to me.  I can't wait!
Some Jaftex history:  Jaftex Corp. was founded in the 1930's when Jacob A. Fortunoff started selling fabric on the streets of New York. At that time, the mainstay of the business was women's sleepwear and lingerie. In the 80's, Jacob's grandson, Robert, dramatically changed the business of the company. The business focus was transferred to the over the counter quilt industry when Robert purchased companies like A.E. Nathan, Henry Glass, Stylemaker, Chanteclaire, Fabric Editions/Studioe and more recently The Blank Quilting Corp. Robert is now joined by his two sons, Scott and Greg. Scott currently is the President of Studioe Fabrics, The Blank Quilting Corp. & A.E. Nathan Co., Inc. Greg just joined the business in late 2014 and has successfully spearheaded the company's foray into precut fabrics among other contributions.
The blog hop schedule includes an amazing list of companies, designers, and bloggers. You can follow along, too, starting with today's guest, Kim Diehl.  She is guest posting at American Patchwork & Quilting.  You don't want to miss her project!
As with any good blog hop, there are prizes!
1st Prize:
Blog Readers: A Janome Skyline S5 sewing machine
Your favorite quilt shop: 30 bolts of fabric
2nd Prize:
Blog Readers: 15 Fat quarter bundles and a box of Aurifil thread [48 spools]
Your favorite quilt shop: 15 bolts of fabric
3rd Prize:
Blog Readers: 6 Fat quarter bundles and a special edition tin of goodies from Schmetz Needles
Your favorite quilt shop: 6 bolts of fabric
You can enter below:  85th Anniversary Giveaway

Many blog hop participants are having their own giveaways, too, (like me) so make sure to visit each one on their day!
Good luck and happy hopping!