Sew Thankful Sunday, March 2019
{I love the idea of "paying it forward". I think the world would be a better place if we could spread some joy and acknowledgement of good deeds done by others. I try to do that once a month for my Sew Thankful Sunday posts. I highlight some great content that I've found on other people's blogs that I hope will inspire you and reward the originator by bringing traffic to their site. If your blog has been mentioned without your consent, please let me know and I will take you off the current list of featured bloggers.}
Hello March!  One of the things I love about this month is the color green that's associated with it.  It's also getting closer to spring which is so nice.  I'm ready for it!  I think you'll find some ideas in today's Sew Thankful Sunday links that will put a little spring in your step!
Note:  If you use Pinterest, please pin from the original source and not this blog post. Remember, you can click on any of the images in this post and it will open up a new tab to the associated link.
1.  Jacquelynne Steves has rounded up 25 Free St. Patrick's Day Sewing & Craft Projects for you.  Time to get out your green fabric scraps!
2.  You'll find some great ideas for 15+ Quilt Patterns Perfect For Spring at Swoodson Says.  Stephanie even included my Patchwork Peter Rabbit in her round up!
3.  If you start now, you'll have this adorable Shortcake Picnic Medallion Quilt ready for summer.  Heidi at Fabric Mutt has a free tutorial for you using her new Shortcake fabric collection from Riley Blake.  What's not to love about this one?
4.  As quilters, we're always looking for personal stories about our sewing machines.  Camille at Thimble Blossoms recently talked about her sewing machines, and it was so interesting to compare notes.  You'll also want to read the comments to see what others have to say.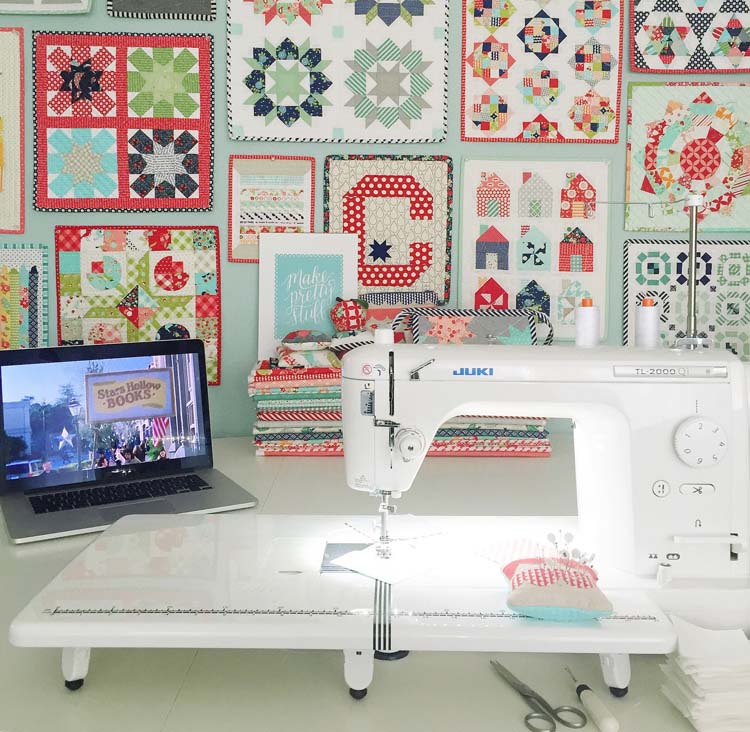 5.  Spring is a great time to re-organize and spruce things up.  Check out this Spring Cleaning Checklist from Hoosier Homemade for simple tasks to complete each day for one month.  This should really get you motivated to clean!
6.  I enjoy hearing about other people's techniques, so I was happy to read  How to Add Binding to Your Quilt Using Your Sewing Machine by Connie at Free Motion by The River.  I use a similar method when I'm in a hurry (which is almost always)!
7.  If you need something functional and cute for your sewing space, check out this Quilt Supplies Organizer Embroidery Hoop by Bev at Flamingo Toes.  This is so cute even without the quilt notions inside!
8.  There are so many rulers available for quilters.  I appreciated this list of The 6 Quilting Rulers You Need to Make Just About Everything by Erica at Kitchen Table Quilting.  Read the comments because there are some great ideas to be found there, too!
It's cloudy and raining today in Northern California, but I've got Spring on my mind after writing this March edition of Sew Thankful Sunday.  I hope you found some creative prompts to get you going this month.  Thanks for visiting and a special thank you to all of the blogs and designers featured today!