Sew Thankful Sunday: 05.19.2013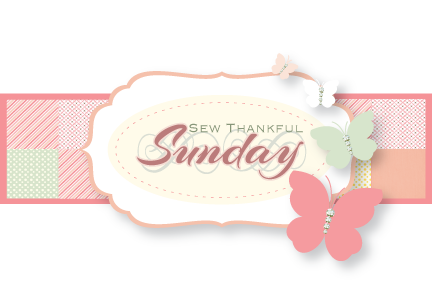 Happy Sunday!  I have six features from the blogging community to share with you today that I am sew thankful for.
1.  Esther, from the lovely blog I Patch and Quilt, recently had some beautiful pictures to share and she used the Palette Builder 2.0. to create some color inspiration.  Here is an example of a picture that Esther took while on vacation and the results from using the Palette Builder:
I love the way nature gives us the perfect inspiration for color coordinating.  I decided to try it for myself and this is what I came up with using a picture taken in my front yard:
2.  The Palette Builder is a tool created by Play Crafts, a "new-to-me" blog that is dedicated to crafters (quilters included).  Here is a little more information about them:
Play Crafts is a platform that lets us design, create, and share. Our mission is to provide fun, accessible tools to crafters that give shape to our creativity, and to provide a vibrant community in which to share our ideas, inspire each other, and find new friends.
I am sew thankful for this resource, and I hope you'll visit Play Crafts soon!  And thank you to Esther of I Patch and Quilt for pointing me in their direction!
3.  Fat Quarter Shop is celebrating their 10 year anniversary with a free quilt-along:  Deck-ade The Halls!
The first downloadable PDF is available here and gives you all of the information that you need to get started.  The first block will be presented in June 2013 and it finishes in October 2013.  You can have a Christmas quilt finished in time for the holidays!  Thank you Fat Quarter Shop!
4.  If you're not ready for Christmas yet, you can check out the Summer Sampler Sew Along from Jennifer at Ellison Lane Quilts.
This is a paper pieced mini-sampler that is filled with the sweet treats of summer.  Jennifer has a great paper piecing tutorial to get you ready for this series.  Thanks, Jennifer, for getting us ready for summer!
5.  Are you ready for some curved piecing?  Amy of The Cute Life has a fantastic tutorial for curvy pinwheels that makes it look so easy!
I have not tried out this curved piecing technique, but it's definitely on my To Do list!  Thanks, Amy, for the inspiration and motivation!
6.  May kicks off the Modern Blocks Quilt Along at And Sew We Craft.  For the next 12 months there will be one block shared by participating bloggers.  You can get the schedule here.
If May's block is any indication, this is going to be a fun quilt a long with prizes too!
Thank you to all of the featured blogs today, and thanks to every one of you for reading along!