Fabric origami pouch tutorial and video
I love a good pouch. They make great gifts and they're perfect to store those little collections we seem to accumulate. Today, I'm going to show you how to make a fabric origami pouch that you guys are going to love! Be warned, it's highly addictive. But, it's a great way to use up those fat quarters!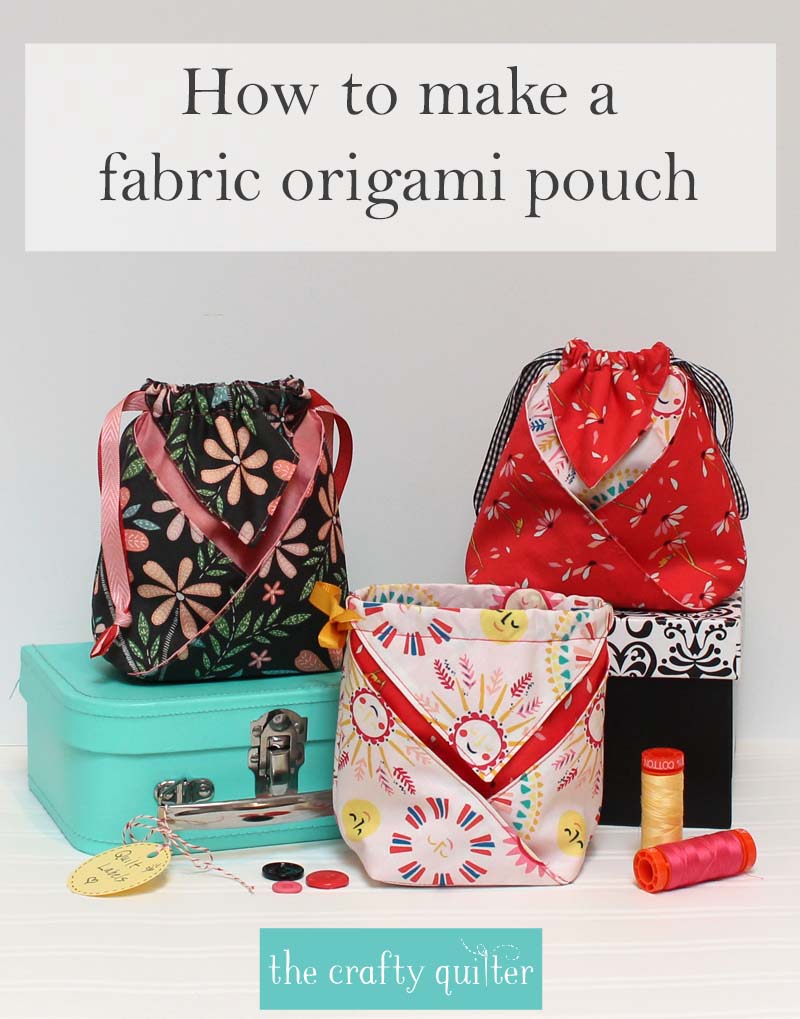 These pouches don't require much cutting or pressing. They start with two squares of fabric and after a few folds and a few seams, you get this sweet pouch to brighten up your space. Better than that, they make a great gift bag, travel pouch or organizational bag.
Pouch sizes
You can make these pouches in a variety of sizes. I've been working with the following pouch sizes:
Small: 5 1/2″ wide
Medium: 7″ wide
Large: 8 1/2″ wide
Supplies
Fabric: Two squares, (12 1/2″ small) (15 1/2″ med.) (18 1/2″ large)
1 1/2 yards of ribbon, 1/4″ – 3/8″ wide
coordinating thread
lightweight fusible interfacing (optional – this makes the pouch stand upright, but it's more difficult to cinch up the drawstring)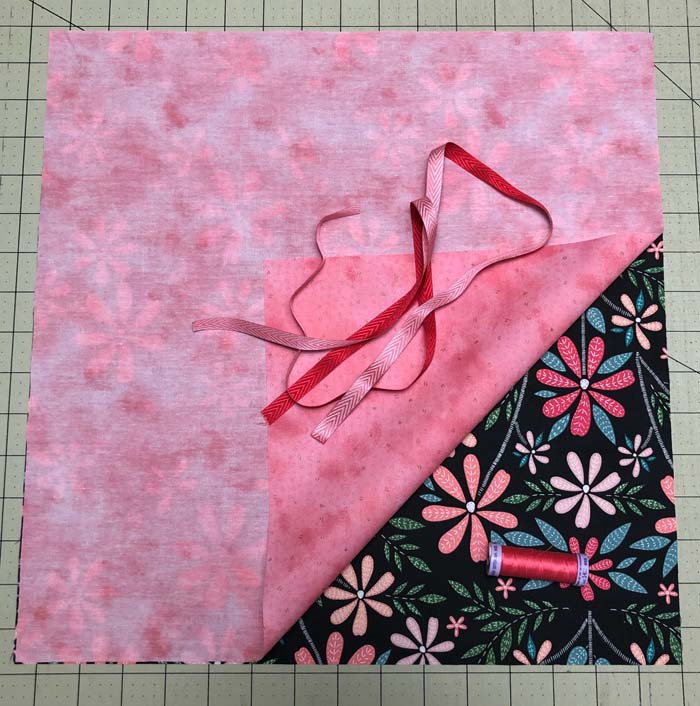 Fabric Origami Pouch video
I made a video that shows all of the steps to make a medium-size fabric origami pouch. You can cut to the chase and get all of the details in the video:
Steps to make a medium-size fabric origami pouch
Before starting: Press and starch your fabric. If using interfacing, fuse it to the contrast fabric (the one that peaks through the front).
Note: I did not use a walking foot to stitch this project, and I was able to sew through all thicknesses without a problem. Feel free to use one, though, if you need to.
Place fabric squares right sides together and pin around the sides.
Stitch with a 1/4″ seam around all four sides, leaving a 3″-4″ opening on one side.
Clip corners to reduce bulk. Turn right side out and press flat. You'll also turn under the seam allowance at the opening and press.
Top stitch 1/8″ from the edge all the way around with coordinating thread. This will close the opening as well.
A note about the next steps. You will be folding your finished square into thirds. I intentionally chose a beginning square size that is divisible by 3 (true for all three sizes).
Place fabric square with contrasting fabric face up.
Fold into thirds, diagonally. Here's how I do this: If you divide 15″ (the size of the square) by 3, you get 5″. 6A: Place the 5″ lines of a square ruler on one corner of the 15″ square. Fold the adjacent corner towards the middle until the edge touches the ruler. 6B: Repeat for the opposite corner. The two open square areas (shown in pink below) should both measure the same (5″ for the medium pouch; 4″ for the small pouch and 6″ for the large pouch).
Press the folds created in the previous step.
Place the folded fabric face up and find the center (from point to point). The best way to find the center is to fold it in half.
Draw a line 1″ away from both sides of the center. This will be the side width of your pouch (2″ total). You could make it wider or narrower by adjusting the drawn line from 1/2″ to 1 1/2″ from each side of the center.
Stitch on the drawn lines through all thicknesses.
Fold the pouch in half, matching side edges and corners.
Stitch 1/8″ from the edge, through all thicknesses. Backstitch at the beginning and end.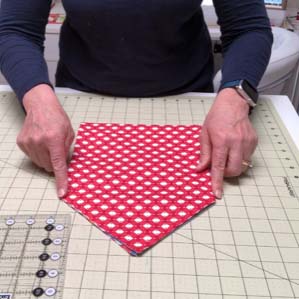 (a) Fold the bag so the side seams meet together. The bottom corners of the bag should form a triangle and it will look like an arrow when it's flattened. (b) The bottom stitches (from step 10) should meet and form a straight line.
Stitch across the bottom corner triangles, on top of the previous stitching line, to form the base of the pouch (gusset).
Turn the pouch right side out, pushing out the bottom corners.
Fold the top triangle down and press.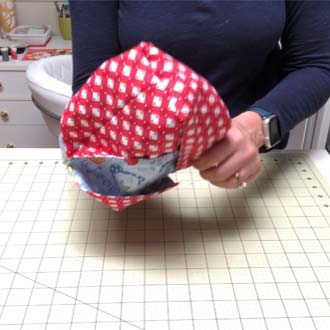 To form the casing for the drawstring, stitch 5/8″ away from the top folded edge through all layers.
Insert ribbon through the side opening and pull all the way through.
Optional: Insert another ribbon through the other side to create a drawstring that cinches from both sides.
Option 2: Add a button!
I've made six of these pouches in medium and large sizes. I haven't made a small yet. I've changed the side width on the medium pouch so that it's 3″ wide. You can see the difference below.
These fabric origami pouches are really easy once you get the folding process down. After you make your first pouch, the others will go together much faster. I promise!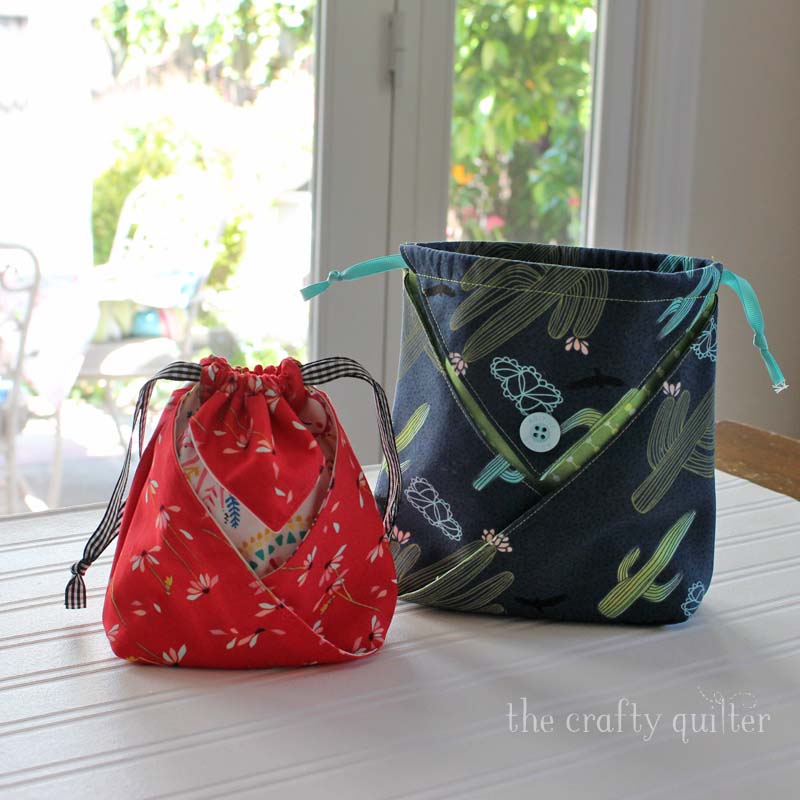 I'm sure you can think of many different ways to use these pouches. I love mason jar gifts, and I think this would be the perfect gift bag for them. You could even leave out the drawstring and have a free standing container (especially if you add interfacing). I'm always looking for a travel pouch and a small bag to hold my paper piecing projects. There are so many options!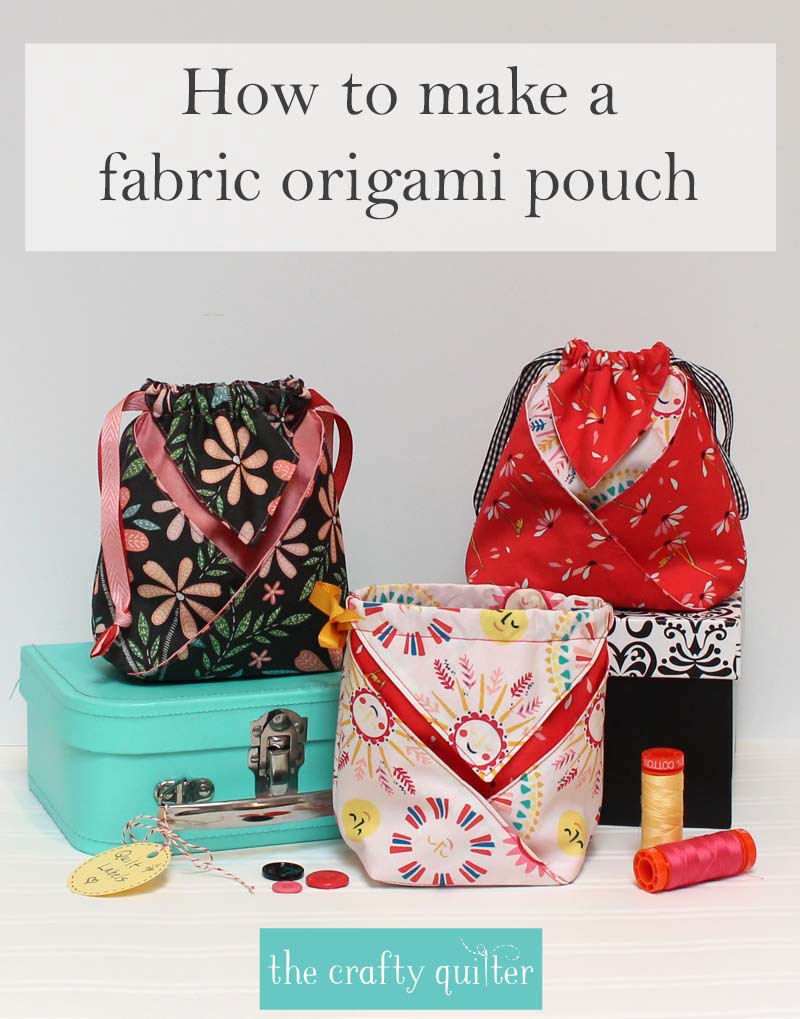 With Mother's Day coming up and summer graduations, these pouches would make a perfect gift! I'm just glad to have something to use up my endless supply of fat quarters. If you make one, use the hashtag #fabricorigamipouch and tag me @thecraftyquilter. Have fun sewing!