Sew Thankful Sunday, 01.12.2014
{I am frequently visiting other blogs and I'm always amazed at the talent and passion that I see along the way.  Since I love sharing these new "finds" with you, I created Sew Thankful Sunday.  My way of giving back to the quilting community and sharing great content with you at the same time!}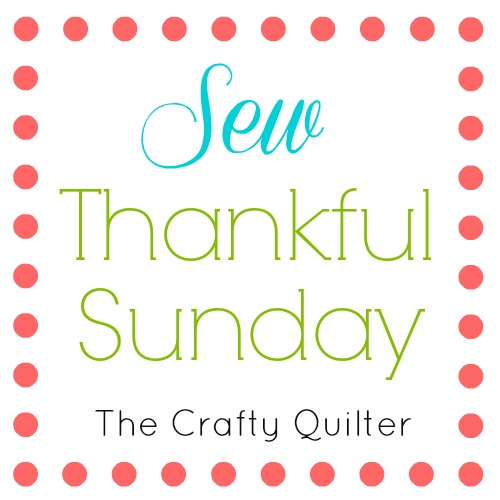 Today is going to be the "flash" edition of Sew Thankful Sunday, because life just got in the way of blogging!
(Remember you can click on any of the images and it will open up a new tab to the associated link).
1.  Pat Sloan has a great Sew and Flip Tutorial to go along with her 2014 Aurifil BOM.
2.  Lorna at Sew Fresh Quilts has a great blog and she gives you her Top 10 Tips to Grow Your Blog.
3.  Check out these cute vinyl zipper pouches from Vera at Negligent Style.  I love her rainbow of pouches!
4.  It's time to start thinking "hearts" and here to help you is Amy at Positively Splendid with her Valentine's Day Embroidery Hoop Art:
5.  If you're up for a challenge, take a look at the 2014 Pantone Quilt Challenge going on at Play Crafts.  There are prizes too!
6.  Spread the "love" with a beautiful table runner by Christa at Christa Quilts.  You can find the tutorial at She Can Quilt.
7.  I've discovered a new-to-me blog:  ayliN-Nilya.  Nilya is from Germany, but she blogs in English!  She has some wonderful projects and tutorials that you should check out, including this English Paper Piecing Tutorial @ She Can Quilt.
That's the long and short of it!  Thank you to all of the featured blogs for your fabulous work, and I wanted to tell you that I appreciate everyone's comments on my "Let's Talk" post about pressing seams open or to the side.  I will do a wrap up of the conversation this week and compare notes!