Giveaway winners and quilter's favorite tools
There were 36 entries in the July UFO link up – bravo!  I let the true random number generator pick the two winners for me and it came up with #12 and #32.
The first winner, #12, is Lori K.  Lori finished this beautiful quilt that she had started in 2014!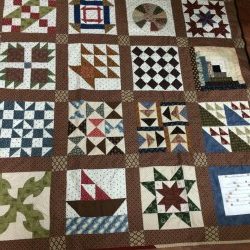 The second winner, #32, is Kathleen M.  Kathleen finished this lovely ocean-themed quilt.
Congratulations!  You will each win a copy of Triple-Play Scrap Quilting
, 4 fat quarters, a 2 1/2″ x 6 1/2″ ruler and a mini seam ripper.
The prize package for August includes a bundle of wine-themed fabric, Kimono silk thread, Heat 'n Bond Lite (my favorite), Pieces From My Heart pattern and a prepaid subscription to The Quilt Show.   That's just a little incentive to get you going this month on finishing up an old project!
A note about the prizes that I give for the Hello 2016, Goodbye UFO monthly challenge.  For the most part, the items that I give away each month come from my own sewing room or from The Granary Quilt Shop where I work and teach.  I like the idea of "recycling" quality quilting supplies, and what's old for me is new for someone else.  I try to mix a little old and new in each package and I aim for a value of about $40 dollars.  Hopefully, everyone's happy at the end of the day!
I have another winner to announce for Maggie's First Dance Block 3 giveaway.  This month's winner is comment # 80, Sherril K. who said, "My favorite tool is my quarter inch foot."
I asked everyone to tell me in their comment what their favorite quilting tool is.  After reading all of the comments, the most popular tool by far is your rotary cutter.  Here's a list of the other favorites.  Maybe you'll discover a new, must-have tool!
sewing machine
1/4″ piecing foot
seam ripper
thimble
Wonder clips / binder clips
Ott light
rotating cutting mat
Best Press (spray starch alternative)
rulers
internet (yeah!)
printer (for printing paper piecing patterns)
stiletto
Bloc Loc ruler
Electric Quilt Software
A good needle
Folded Corner Clipper by Prairie Sky Quilting
Quilter's slidelock ruler
Sewing machine seam guide (to get that perfect 1/4″)
Longarm machine
Karen Kay Buckley small scissors
Add a Quarter ruler
Plastic chop sticks
Tulip Hiroshima needles
4 1/2″ Creative Grids ruler
Olfa ergonomic rotary cutter
A good quilt instructor
Baby Go! for applique cutting
Iron
long tweezers
Purple Thang
Awl
KAI scissors
Friction pen
Bo-Nash mesh ironing screen (keeps your iron clean)
4-in-1 tool by Alex Anderson
My favorite tool is one I made myself for making perfect half square triangles. I took a 6 inch ruler and placed a thick line of masking tape on the diagonal line. Now all I have to do is but that layer of masking tape up against the diagonal seam and trim. Works every time! – Sally Heilinger
Thanks for joining me today!