Maggie's First Dance Block 3 & giveaway
Maggie's First Dance block #3 is being released today from Jacquelynne Steves, and I'm excited to show you my version of it.  There's also a great giveaway that you'll want to check out at the end of this post. This giveaway is now closed.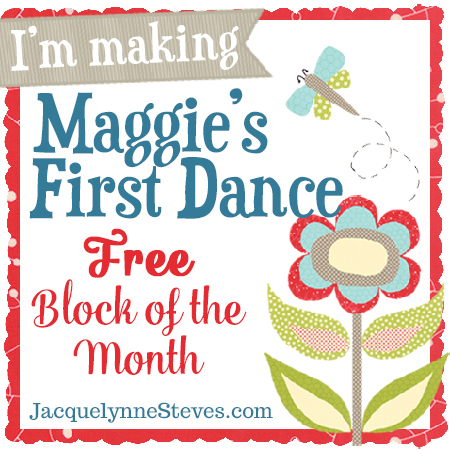 I've seen so many beautiful blocks on Instagram (hashtag #MaggieQuilt), Pinterest, Maggie's First Dance BOM linky page and Facebook.  Here's what my August block looks like.
This block is another beautiful pattern and it's fun to see the three blocks together.
The instructions are easy to follow and the block goes together smoothly.  The only tip I have is for getting straight intersections at the eight points shown below.
When sewing the two units together, the top diagonal seam is difficult to see where the 1/4″ seam will intersect because it's not the typical "X" seam that you get with flying geese units.  This makes it hard to know where to place the seam from this unit to line up with the seam from the bottom unit.
My tip is to place the unit under your presser foot and line it up where the 1/4″ seam would go.  Bring the needle down at the intersecting spot, making a hole that you can use to line up with the bottom unit.
Put a setting pin in the hole and match it to the seam on the bottom unit.  Pin on both sides of the setting pin.  When you stitch, make sure that your seam is going through that hole and you should end up with perfectly matched intersections.
Make sure to visit all of the featured bloggers to see their beautiful blocks:
Greg at Grey Dogwood Studio
Monique at Farm House Quilts
Julie at The Crafty Quilter (you are here!)
Beth at EvaPaige Quilt Designs
Kim at My Go-Go Life
Jacque at Lily Pad Quilting
Brenda at The Quilting Nook
Giveaway Information:
This month's giveaway is sponsored by EvaPaige Quilt Designs.  (Giveaway is now closed).  There's a lot of great stuff going on at EvaPaige, including a Teal Mini Swap to benefit Ovarian Cancer research. This is an annual event intended to raise awareness of ovarian cancer, funds for Ovarian Cancer Research Fund, and give quilters and sewers a fun little swap. Registration will be open until August 29, 2016.
For our giveaway, one winner will be chosen to receive a Mod-ified Trees Christmas Table Runner Pattern AND Fabric Kit!  All you need to do is leave a comment telling me your favorite quilting tool.  This giveaway is open to everyone, and you can visit the other participating bloggers for more opportunities to win.
Here are the giveaway rules:
To enter, leave a comment telling me your favorite quilting tool.
You must comment by 11:59 pm PST on August 7, 2016.  Now closed.
Your email MUST be included in your profile information or in your comment. If I choose your name and I cannot contact you, I will choose another name.
Giveaway is open to all.
Winner will be chosen at random.
Thanks for stopping by today and have a great week!
Save
Save
Save