Sew Thankful Sunday "ish", August 2016
{I love the idea of "paying it forward". I think the world would be a better place if we could spread some joy and acknowledgement of good deeds done by others. I try to do that once a month for my Sew Thankful Sunday posts. I highlight some great content that I've found on other people's blogs that I hope will inspire you and reward the originator by bringing traffic to their site. If your blog has been mentioned without your consent, please let me know and I will take you off the current list of featured bloggers.}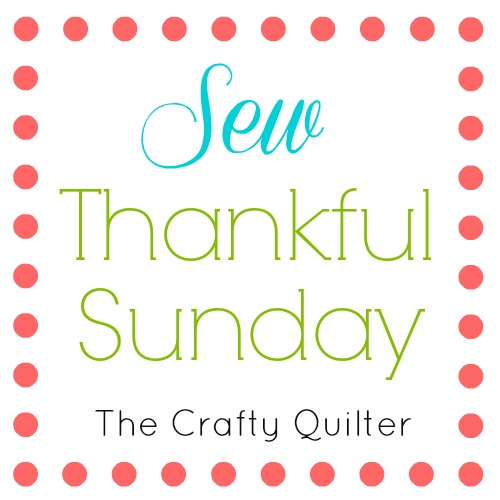 I'm a week late!  It's already the middle of August and I'm beginning to shift gears as I think about the upcoming change of seasons and holidays to come.  I'm still trying to hang on to the last bit of summer here as I catch up on quilting and blogging.  I'm sure you'll find some things on today's list to spark your creativity!
(Remember, you can click on any of the images in this post and it will open up a new tab to the associated link).
 There's a lot of chatter going on about copyright infringement and quilting lately.  Amy Garro of 13 Spools gave a heartfelt reaction to the latest article published by the Modern Quilt Guild that is definitely worth a read.  I'm on Amy's side of that discussion and I appreciate the courage it took for her to open up about her personal convictions on the subject.  Make sure to read the comments, too!
2.  After reading Pat Sloan's blog, I just found out that Aurifil Threads has designed an 80 wt. cotton thread.  Pat gives her enthusiastic impression of this new thread that sounds like a dream come true for hand applique enthusiasts.  I can't wait to try some!
3.  Pin cushions are everywhere these days and you can see lots of them at the Pinnie-Palooza going on at the Moda Cutting Table.  The Moda designers are sharing all kinds of pin cushion inspiration for you to see!
4.  Speaking of pincushions, here's a quick little Log Cabin Pincushion tutorial from Kim at Lily Patch Quilts.  Kim uses leftovers from a charm pack for hers, and she's giving away a charm pack on her blog to one lucky reader!
5.  If you ever want to keep track of your fabric purchases or plan for a new project, check out this DIY Color Card from Sherri Noel at Rebecca Mae Designs.  You can print it out at home and get your fabric organized!  This is especially helpful for those solids that don't have any manufacturer information on the selvage.
6.  A Cozy Christmas Sew Along is just getting ready to start with Lori Holt at Bee in My Bonnet.  Each Monday (starting August 15) Lori will give you a detailed tutorial for each block, and the pattern is free!  It will finish up on November 14 with plenty of time to get it quilted and bound by Christmas.
7.  Rachel at Stitched in Color is hosting 30 Days of Quilt Design; a fun challenge that starts now and continues through October 31.  "It's about stepping out and trying new things, stretching, growing, enjoying being you."  I think it's a great idea.
8.  For a quick and easy project, check out this Square in a Square Table Topper by Connie at Free Motion by the River.  It looks simple and elegant, and I think it would make a great gift, too!
9.  I love this bold and beautiful Color Explosion Quilt tutorial from Kirsty at Bonjour Quilts.  This is a fat quarter friendly quilt and it's the perfect size for a baby or toddler.
10.  Using rulers to guide your free motion quilting on a domestic sewing machine has become very popular.  One of the pioneers in this field, Amy Johnson, gives her top tips for quilting with rulers at Amy's Free Motion Quilting Adventures.
11.  I'm happy to share a "new to me" blogger that I think you'll enjoy.  Paige Alexander at Quilted Blooms is "a traditional quilter who loves all forms of quilting with a love of applique and recent fondness of all things modern."  I love her recent tutorial for a Blue Christmas Pillow Cover.  Very sweet (and blue)!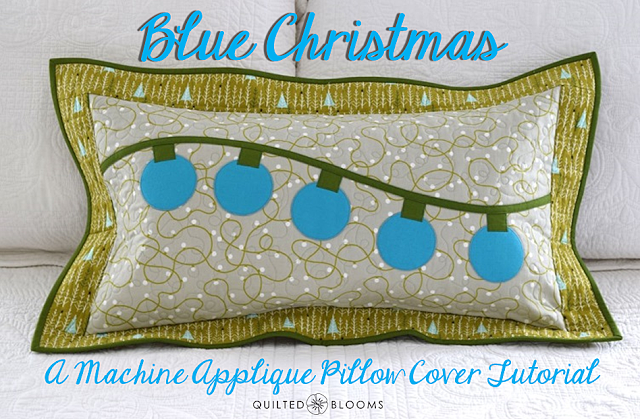 Thanks for being patient with me as I catch up on blogging.  I hope you have some time to check out the wonderful blogs featured today.  I'm sure you'll find some new quilting friends out there!