Sew Thankful Sunday, December 2016
{I love the idea of "paying it forward". I think the world would be a better place if we could spread some joy and acknowledgement of good deeds done by others. I try to do that once a month for my Sew Thankful Sunday posts. I highlight some great content that I've found on other people's blogs that I hope will inspire you and reward the originator by bringing traffic to their site. If your blog has been mentioned without your consent, please let me know and I will take you off the current list of featured bloggers.}
I never feel ready when I flip the calendar to December.  Shopping, decorating, baking and sewing.  There is so much to fit into one month – the key is stay calm and enjoy each day!  So grab a cup of tea or a glass of wine and enjoy this great list of things I'm sew thankful for. 
Note:  If you use Pinterest, please pin from the original source and not this blog post. Remember, you can click on any of the images in this post and it will open up a new tab to the associated link.
1.  The Merry & Bright Christmas Quilt Along has just begun at Jen Daly Quilts.  Jen will be giving instructions every other day between now and Dec. 23rd to make a 28″ x 34″ wall hanging.  I'm already in love with her color palette!
2.   I love roundups of gift ideas and I was glad to see 50+ Gifts to Buy or Make for Quilters from Amy Smart at Diary of a Quilter.  I appreciate that she added both gifts to shop for and make yourself.
3.  I really enjoyed seeing this unique version of an Advent Calendar from Lisa at A Spoonful Of Sugar.  Lisa re-purposed items from around the house and hid chocolates in them, adding numbers to create a countdown for Christmas.  So clever!
4.  Mini's aren't just for quilts.  Check out these adorable Mini Patchwork Stockings from Jeni at In Color Order.   It's a quick make and you can use up those scraps!
5.  Check out these great Free Motion Quilted Ornaments from Leanne at Devoted Quilter.  It's a great way to practice your free motion quilting skills and make a nice little gift at the same time.
6.  Fat Quarter Shop's blog, The Jolly Jabber, is having an Applique All Day Series with the help of Anne Sutton from Bunny Hill Designs.  There will be six, free applique blocks offered using different methods of applique so you can learn some new skills in the process!
7.  If you're looking for some quick and adorable projects to decorate your house with, check out these tutorials from Jennie at Clover & Violet.  Over the past few years, she's made a little bit of everything and it's all sew cute!
8.  Here's something for the coffee lover on your list.  This adorable coffee ornament is from Amanda Jean at Crazy Mom Quilts.   Wait til you see what she uses to stuff it with!
9.  Whether you're a fan of mysteries or you're a fan of Bonnie Hunter, you're going to be excited about her latest Quiltville Mystery Quilt, En Provence.  It officially began on November 25th, but you have plenty of time to catch up.  By the end of January, you'll have all of the clues to make a beautiful 87″ x 87″ quilt.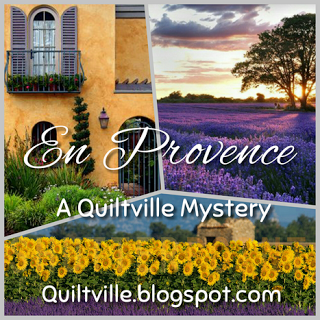 10.  Here's a sweet little Winter Wonderland Table Topper from Connie at Free Motion by the River.  This would look great in any color, but I love the blues that Connie has chosen.
11.  We can't forget about Santa!  Check out this adorable Cookies for Santa Placemat by Melanie at Hello Melly Designs for Skip to My Lou.   This would be a great gift for any family and will last for years.  Just add cookies!
12.  The holidays can be a stressful time if you're not careful.  I really enjoyed these Five Tips for a Smooth Holiday Season shared by Megan from Honey We're Home for IHeart Organizing.  It's a good reminder to keep your priorities in check and enjoy the holidays in a meaningful way.
13.  This month's "new to me" blogger is Amista from Hilltop Custom Designs.  Amista is a young, stay-at-home mom who enjoys all things crafty.  She shares her love of quilting and crafts along with some great tutorials such as this Christmas Drawstring Bag on her blog.  I hope you'll visit her there and say hello!
With the busyness of December, I'm truly thankful that you've taken the time to visit me today.  I am especially grateful for the creative bloggers featured this month who share their talents so freely.  I'm sure they appreciate your visits, too.  I hope your December is off to a good start!
Save
Save
Save
Save
Save
Save