A few sewing gifts completed
It's nice to make gifts for others, but especially when you know that gift will be appreciated by the recipient (who is also very crafty). I recently finished a few sewing gifts that I've been waiting to share with you so as not to spoil the surprise for the recipient.
My oldest daughter, Kelly, had a birthday last week and I made her a Market Bag. The pattern is from the book, Handmade Style, by Anna Graham of Noodlehead. This book is full of great projects and the market bag was an easy one to make.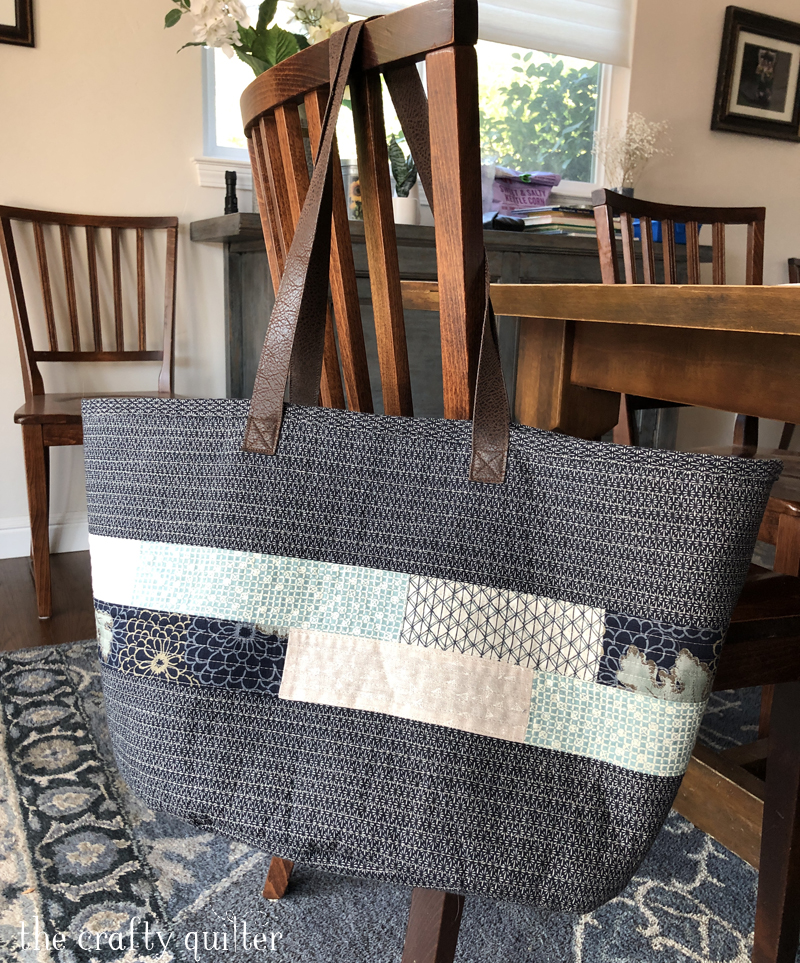 It's big enough to hold plenty of fresh produce from the market or take it to the beach to hold your sunscreen and towels.
The inside has two pockets. One has a zipper to keep things secure and the other one I added is just a larger open pocket.
The exterior fabric is from the Nara Homespun collection by Sevenberry for Robert Kaufman. It looks and feels like a heavier decor weight with a linen texture, but the manufacturer says it's 100% cotton. Anyways, it was perfect for this bag. The interior lining and pocket fabric is from the Origami collection by Janet Clare for Moda Fabrics.
I quilted straight lines about 3/8″ apart across the entire outer bag. The handles were made from "pleather" which is a fake leather and really easy to sew with.
---
I also made a dress for my granddaughter, Amelia. She turned five a few days ago and we got to celebrate with her in person. I couldn't get a good picture of her (she's a moving target), so pardon the cropping I had to do.
The dress is NewLook pattern S0186 and it was really easy to make. I used a border print from Paperie by Amy Sinibaldi for Art Gallery Fabrics along with a contrasting polka dot print from the Les Petits collection from Art Gallery Fabrics. I think it's barely long enough – I didn't realize how tall Amelia has gotten!
I made a pillowcase dress a long time ago and I gave that to Clara. It's a little too big for her, but she doesn't seem to mind.
It was so nice to be with all of them; Amelia is 5, Clara is 2 1/2 and Ben is 7 months old. We were glad to give their mom and dad a little break for a few hours one afternoon. Staying home with three little kids during a pandemic is hard work as many of you know. I hope there is an end in sight soon.
Now that I'm back home, I have some projects to catch up on and a garden that is overloaded with tomatoes and cucumbers. It's a nice problem to have. I'm working on a simple triangle scarf that will be an easy gift to make. I'll share a tutorial for that soon. I'd love to start a new quilt project, but I have a few UFO's that need to get finished first. And when I say "a few" that translates into something like ten twenty. Oh boy. Time to get moving!
Thanks for visiting today. I'll be back for Sew Thankful Sunday this weekend. I hope you're staying safe and healthy!