Maggie's First Dance, Alternating Blocks & giveaway
Today, I get to show you my alternating blocks for Maggie's First Dance block of the month by Jacquelynne Steves.  I'm so glad that many of you are participating!  And we have another generous giveaway this month, so keep reading!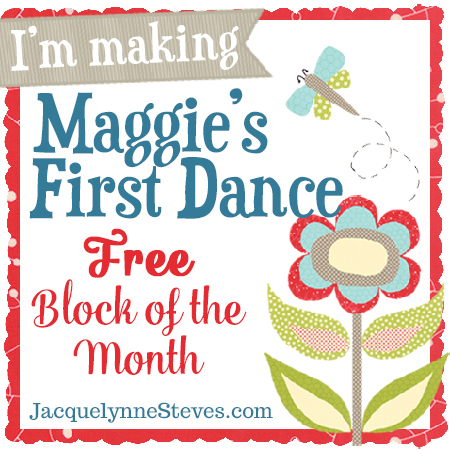 The alternating blocks for this quilt are quick to make.  I chose to use a feature fabric in the center of mine.  I fussy cut my center squares to take advantage of the words in this print of Rhapsody Bop by AdornIt.
I changed the cutting instructions just a little bit for this block.  I strip-pieced the yellow and white fabric and then cut them into the correct size rectangle units, as opposed to cutting all of the rectangles individually and then sewing them together.  Fast and efficient!
For the corner units, I pressed one of the corner seams to the center in order to create nesting seams where all of the blocks meet.
It's great to see all of the blocks together on my design wall.  I think I might change the dark fuchsia triangles in the two "east and west" blocks and replace them with navy.  That's the advantage of observing them on the wall for a few days.
I love seeing the different versions of the other participating bloggers.  Make sure to visit them to see what they've done:
Greg at Grey Dogwood Studio
Monique at Farm House Quilts
Julie at The Crafty Quilter (you are here!)
Beth at EvaPaige Quilt Designs
Kim at My Go-Go Life
Jacque at Lily Pad Quilting
Brenda at The Quilting Nook
Christa at Christa Quilts (guest blogger!)
Giveaway Information:
This month's giveaway is generously sponsored by Christa Watson of Christa Quilts.  Christa is a fabulous quilter, teacher and author of two quilt books.  For this giveaway, one winner will be chosen to receive a pack of beautiful patterns from Christa Quilts!  All you need to do is leave a comment telling me what your favorite season or holiday is.  This giveaway is open to everyone, and you can visit the other participating bloggers for more opportunities to win, including Christa.  Update:  Giveaway is now closed.
Here are the giveaway rules:
To enter, leave a comment telling me your favorite season or holiday.
You must comment by 11:59 pm PST on October 10, 2016.  Giveaway is now closed.

Your email MUST be included in your profile information or in your comment. If I choose your name and I cannot contact you, I will choose another name.
Giveaway is open to all.
Winner will be chosen at random.
Have fun and good luck!
Save
Save
Save
Save