Quick seam ripper technique and video
Today I'm going to show you a quick seam ripper technique that will change your life (in a sewing kind of way). If you haven't seen this technique before, you're going to be amazed. I've been using it for about four years now and it takes the grimace out of un-sewing.
I made a short, 2-minute video so you can see it in action. I have to warn you, making my own videos is new to me. I didn't have my phone oriented the right way, and I'm just learning to use my video editing software. This little recording took me six hours to figure out! And it's still very unsophisticated, but it gets the job done.
Quick seam ripper technique steps:
You start by unpicking a few stitches at the beginning of the seam.
The seam ripper is held parallel to the seam with the red ball facing down.
You pinch the seam to create tension as you push the seam ripper along the seam.
Stop as needed to clear the thread build up from the seam ripper.
A few key points when using this technique
Seam rippers get dull over time. This technique works best with a sharp seam ripper. If you haven't replaced yours in a while, it's worth the small price. One of my favorites is the Clover seam ripper and I'd like to try the Tailor Mate 2 in 1 Retractable Seam Ripper. Do you have a favorite?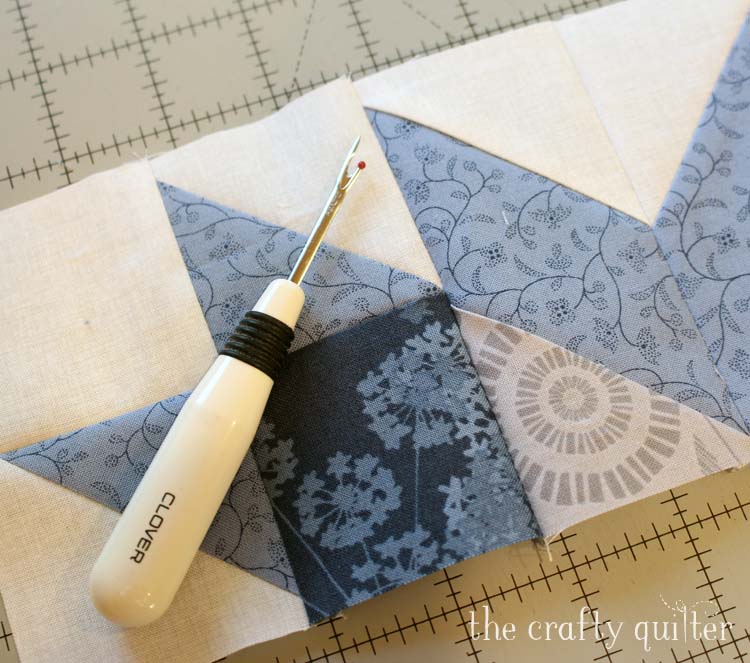 If you go too fast when ripping a seam, you run the risk of tearing into your fabric. This just happened to me last week while making my blocks for the Safe At Home Modern Row by Row quilt. I was in a hurry and I pushed too hard. And because I just wanted to be done (and not perfect), I mended the tear and kept on going! I don't have a picture of the tear, but I can show you the mended area. And if you can't see it 50 yards away from a galloping horse…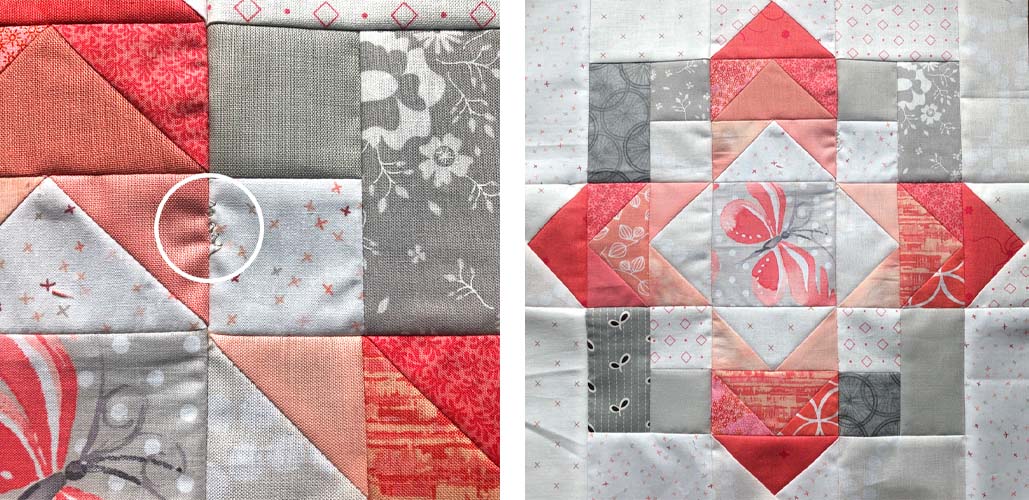 This quick seam ripper technique takes a little bit of practice to get used to it. I find that it's super fast, but I need to stop after a bit to clear the thread that builds up in the seam ripper.
I hope you try this method and let me know how you like it. Also, let me know if you enjoy these types of videos. I personally prefer photos and words, but I know some people like to see things in action.
Thanks for stopping by today! Happy un-sewing!