A weekend of quilting and new quilting discoveries
I recently had a wonderful weekend of quilting to share with you plus some new quilting discoveries to tell you about!
Quilting weekend and quilt shops
Last weekend I had the pleasure of teaching a machine quilting class at Sew Katie Jean in Lincoln, California. This was the first in-person class (with masks) I've taught in over a year and it made me realize how much I miss it! Sew Katie Jean is a cute little shop located in old-town Lincoln which is north of Sacramento. The best part is that one of the owners is my sister-in-law, and I'm so proud of how successful her shop has become! It keeps growing in inventory and space; they now have a large classroom area in the back as well as longarm services. Plus, their selection of fabric is fabulous!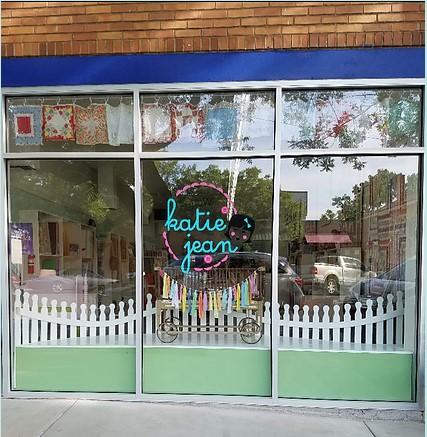 My parents also live in Lincoln, so I was able to stay with them and visit for the weekend. They are both 88 years old and I don't get to spend enough time with them, so this was a real bonus.
To start off my wonderful weekend, I spent half a day with my sister visiting other local quilt shops in Sacramento. My sister also happens to work at one of them – Fabric Garden, and it is a real treasure. Seriously you guys, it's one of the nicest quilt shops I've been to (aside from my SIL's shop) and worth a visit. It's a large shop and they have a little bit of everything. Their fabric selection is a nice mix of traditional, novelty, batiks, modern and blenders. I've been Moda-deprived, so I was in heaven with their Moda collections. They also carry a large selection of embroidery kits, notions, and patterns along with wool. My wallet was much lighter after my visit!
New quilting discoveries
There are so many types of rulers available and many of you (including me) have started "collecting" Quilter's Select Rulers. These rulers are the best for their non-slip cability. The downside is when you have to position them, you can't just nudge them into place. You have to lift up the ruler and place it back down which makes nudging difficult. Not any more with the Select Ruler Handle. It's like magic. You just use the handle to move the ruler and it nudges! It also keeps the ruler stable while you're cutting. We just got a bunch of these in at The Granary Quilt Shop (where I work and play) for those that are local to the Bay Area.
I picked up a No Math Quilt Charts & Formulas booklet and I highly recommend it! It has everything from mattress/quilt sizes, backing yardage, HST formulas, side/corner setting triangle sizes and so much more. This will come in handy when designing quilt patterns or figuring yardage, etc. I found two cute patterns in the Moda Candy booklet and since I have a so many mini-charm packs, I couldn't resist!
I just saw that Amber at Gigi's Thimble and Jessica Dayon are hosting another Quilters' Spring Cleaning 30-day Challenge. It starts this Thursday, April 1 and goes until the end of April. I had to share this with you because it's something that I had been wanting to do (on my own). But now there will be motivation and inspiration to help me through the mess that is my sewing room! I hope you'll join the challenge, too.
---
That's all for now! I just wanted to share these in a timely manner (especially the challenge). I hope you're having a great week. I'll be back for Sew Thankful Sunday this weekend!