Sew Thankful Sunday, October 2019
{I love the idea of "paying it forward". I think the world would be a better place if we could spread some joy and acknowledgement of good deeds done by others. I try to do that once a month for my Sew Thankful Sunday posts. I highlight some great content that I've found on other people's blogs that I hope will inspire you and reward the originator by bringing traffic to their site. If your blog has been mentioned without your consent, please let me know and I will take you off the current list of featured bloggers.}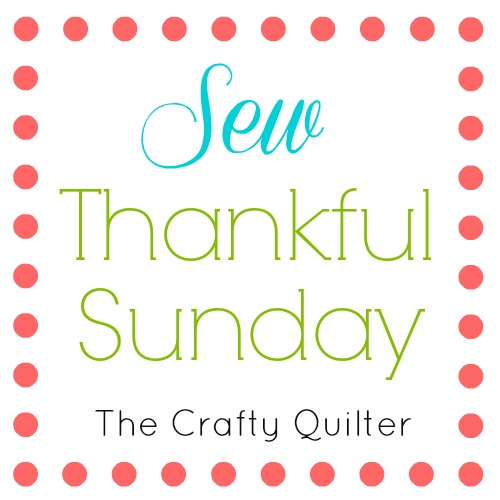 We are well into the Fall season here in the northern hemisphere. It seems to beckon all things cozy and that usually includes the warmth of quilts. It's a great time to switch out the home decor and to try out a new technique. You'll find inspiration for all of that in today's Sew Thankful Sunday October post.
Note: If you use Pinterest, please pin from the original source and not this blog post. Remember, you can click on any of the images in this post and it will open up a new tab to the associated link.
This adorable Candy Corn Wall Hanging from Pat Sloan is the sweetest thing ever. The addition of buttons gives it sew much charm!
It's the perfect to season for this Pumpkin Spice Dish Towel from Bev at Flamingo Toes. It's such a simple and easy way to decorate your kitchen and to give as gifts, too.
Free motion quilting can impart just as much seasonal design as fabric can. You can see this in action at Lori Kennedy Quilts where Lori shares Machine Quilting: Eight Halloween Motifs. These are her own designs and you won't be able to resist stitching up one of these!
You'll enjoy this roundup of Free Fall Quilt Patterns from Susan at Quilt Fabrication. She has curated 15 projects from small to large to inspire your creativity for the changing season.
This Quilted Tassel Pouch from Kim at Retro Mama is so flirty and fun! It's a great project to use up an orphan block or try out improv piecing. Kim's tutorial includes instructions on how to make the tassel, too!
There's a Spooky Sew Along happening at The Moda Bakeshop this month! Join Jessica Dayon each week as she walks you through the steps of making this fun 72″ square quilt!
I'm always inspired by other people's sewing rooms, and so I was happy to see The Studio Tour of Anna Graham of Noodlehead recently. Anna has a very clean and modern look to her studio, and there is lots of space for work and play!
It can't be October without some kind of pumpkin baking going on. I'm so ready to try these Pumpkin Blondies from Jamie at My Baking Addiction. I haven't met a blondie that I didn't like!
Whoooo doesn't love an Adorable Owl? You can make your own with the free pattern and tutorial from Caroline at Sew Can She. These owls can be made in different sizes with a simple adjustment of the pattern.
I really appreciated this blog post about Half-Rectangle Triangles by Katie at Swim Bike Quilt. She is doing a series on tips, trick and tutorials for making HRT's including a cutting chart for different sizes and how to trim them.
If you like folk art, then you'll love this list of Free Folk Art Quilts from the girls at QuiltInspiration. They have come up with a nice selection of free patterns for beautiful quilts to cozy up to!
Have you ever had an issue with sewing machine tension? Of course you have! That's why you're going to appreciate How to Troubleshoot Sewing Machine Tension by Suzy at Suzy Quilts. She has a comprehensive check list to help you get smooth stitches every time.
There's so much going on in the quilting community these days! I'm so glad you stopped by to get inspired by these generous designers and bloggers. Happy October!