What I love about my Baby Lock sewing machines
It's time to talk sewing machines! One of the primary tools in any sewing room is a sewing machine, and I get asked often about which one I use and recommend. Last year I switched manufacturers/brands, and today I'll share what I love about my Baby Lock sewing machines.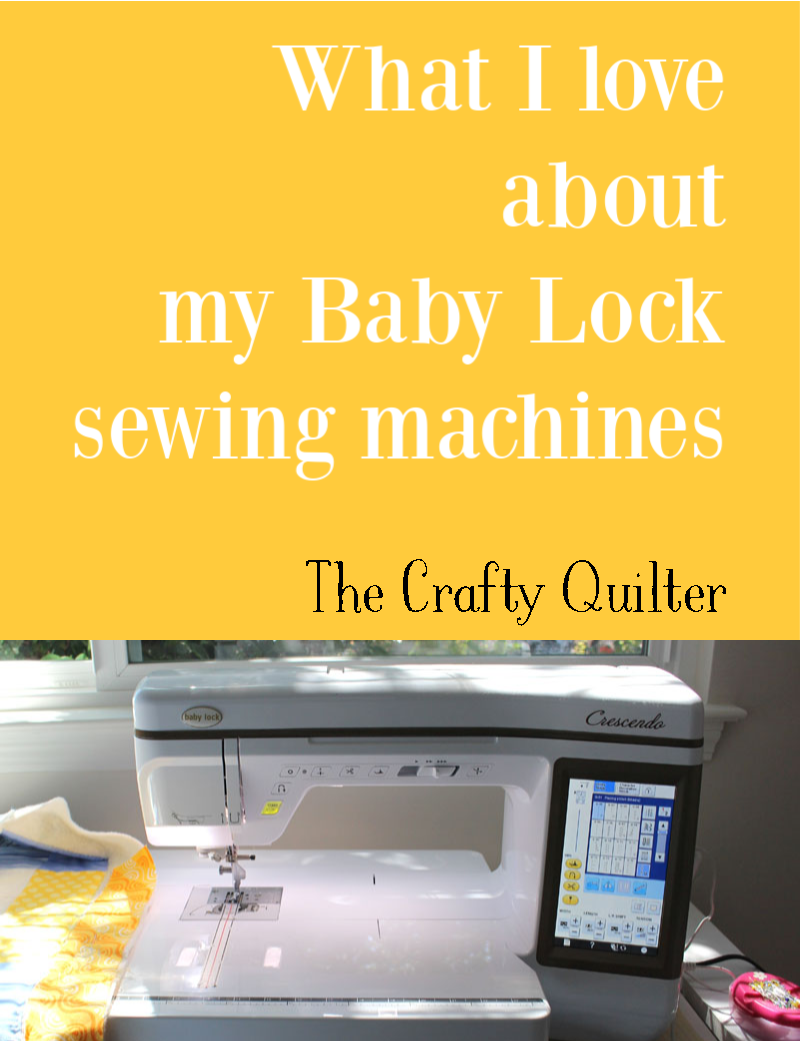 Before going any further, I want you know this is NOT a sponsored blog post. I have not been asked to review any sewing machines by anyone. I just want you to know what machine(s) I'm working with and why.
---
When we renovated our house last year, my sewing room got moved and upgraded. I did some major purging and consolidating which included my sewing machines. I wanted everything that was sewing or quilting related to fit inside my new space, and I knew I was ready for a change in my main sewing machine. To make this all work, I had to part with three sewing machines: my Bernina 770 QE, my Juki TL2010 Q and my Eversewn Sparrow 25. I kept my Bernina 440 QE and my Singer 401A which belonged to my Mom, and it's the one I learned to sew on in 7th grade.
I had been disenchanted with my Bernina 770 for a while. You can read more about this machine and what I loved and didn't love about it in my blog post, What is the perfect sewing machine? I still think Bernina puts out a great product, and I'm so glad I have my Bernina 440 QE. It's a solid machine and I'll never get rid of it. The 770 just wasn't the right fit for me, and knowing that I still had the 440 made it bearable to give up the 770.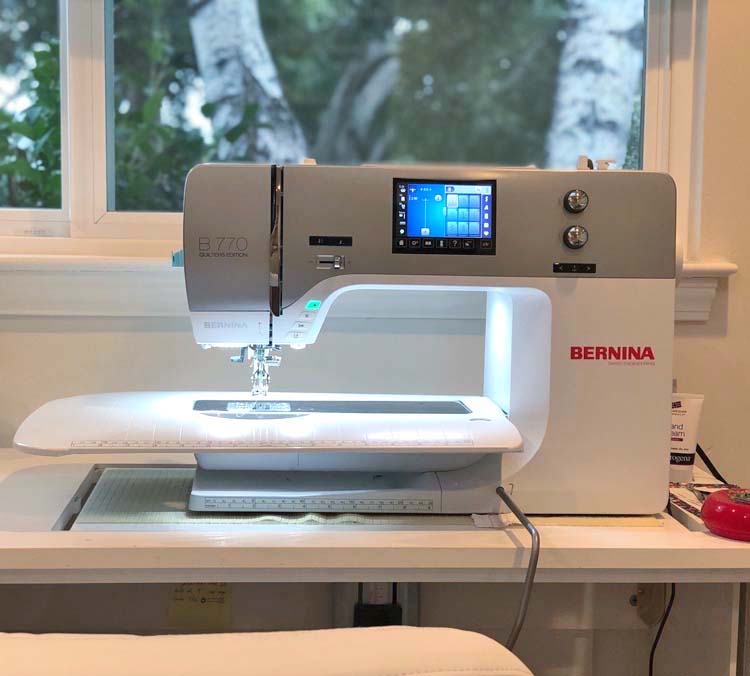 At the same time, I had been wanting a machine that had a guide beam which can be used in place of drawing diagonal lines for HST's and stitch and flip squares. It can also be moved to create a specific seam allowance or to guide a stitching line for quilting. The Baby Lock Crescendo is one of the few machines on the market that has a built-in guide beam.
After doing some research and some test-driving, I purchased a Baby Lock Crescendo and a Baby Lock Soprano in October of 2019. This is when the Pacific International Quilt Festival (PIQF) comes to Santa Clara, California, and it's a great time to buy a sewing machine because many of the local dealerships run sales in conjunction with the quilt show. At that time, Meissner Sewing & Vacuum Center in San Jose had some good deals on their Baby Locks and I took advantage of the savings.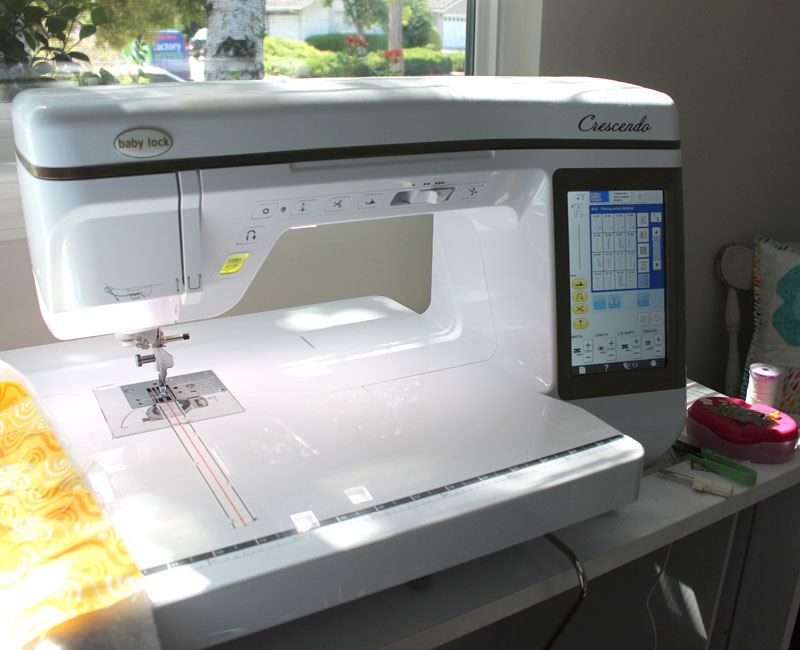 The Baby Lock Crescendo is now my main sewing machine. It's a big and heavy machine that stays put in my sewing room. I use it for piecing, applique and free motion quilting – basically everything. It's very user-friendly, so I feel comfortable with the different functions (even though I haven't tried them all yet).
It has a large harp (throat) space, it has a user-friendly touch screen, a one-button automatic needle threader that never misses, a great digital dual feed system, 573 built-in stitches, a large extension table, automatic presser foot lift as well as a manual presser foot lever (I like having both), an independent bobbin winder (so I don't have to re-thread my machine when I run out), a sensor pen (that I haven't even played with yet), and the built-in guide beam. I feel like I've gotten a lot of bang for my buck with this machine.
Free motion quilting on the Crescendo has been very sweet. There are two different FMQ feet, one has an open toe that hops or bounces across the top and the other one has a small circle toe that just hovers over the top. This later foot is very smooth and great for quilts that don't have bulky seams. I'm just finding this out on my current project above. I have to be careful when I get to a seam intersection and help guide it across because the clearance isn't quite great enough. But otherwise, I like the FMQ experience on this machine.
The guide beam is a handy feature to have. I've found that it's useful when I'm inserting a zipper and need a 1/4″ guideline that my zipper foot can't provide. Below, I'm inserting a zipper in the seam, so you can't see the zipper underneath.
You can adjust the guide beam to the right or left of center position so you can make it guide a scant 1/4″ to the left of the needle or the right. It also guides my quilting stitches for short stretches so I don't have to mark them first.
Even though the guide beam is a useful tool, it's not without limitations. If I'm making large HST's, the guide beam doesn't extend far enough to get to the other corner of my square. I often use Diagonal Seam Tape in conjunction with the guide beam when this happens. I also wish it extended behind the needle as well as the front.
The Baby Lock Crescendo also comes with a digital dual feed system that is like a walking foot on steroids. It does a great job of evenly feeding the layers of a quilt or thick fabrics through the machine so the stitches are even.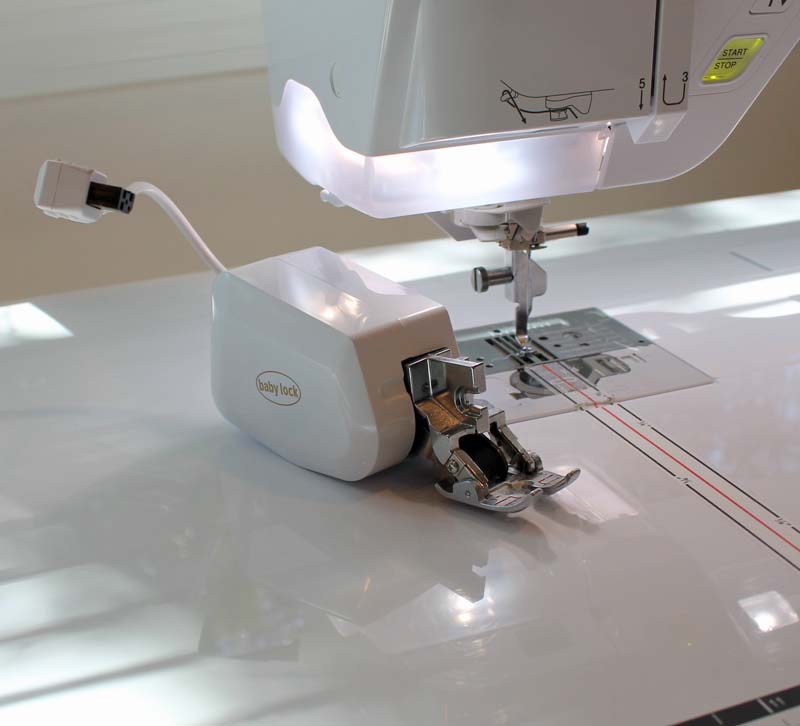 ---
The Baby Lock Soprano is a smaller and lighter-weight sewing machine. It doesn't have all of the same features of the larger Crescendo machine, but it has some important ones. It has an automatic pivot function, automatic needle threader and thread cutter, a large extension table, knee lift, a decent throat space and 300 built-in stitches.
The Soprano is my teaching/travel machine. I also keep it set up as a secondary machine in my sewing room. It's nice to have two machines to go back and forth between. Right now my big machine is being used to free motion quilt, so I have the Soprano to use for piecing. I'm very thankful and fortunate to have both options.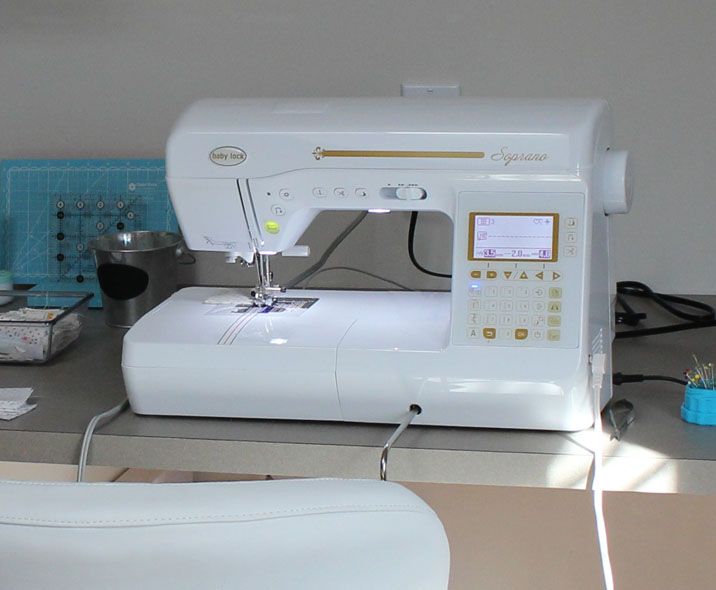 The other nice thing about having two sewing machines from the same manufacturer is that they share the same bobbins and presser feet; most everything is interchangeable. I don't have to buy two of everything and I don't have to learn a new system. If I start an applique project on one machine, I can finish it on the other knowing that the blanket stitch (or other stitch) will look the same.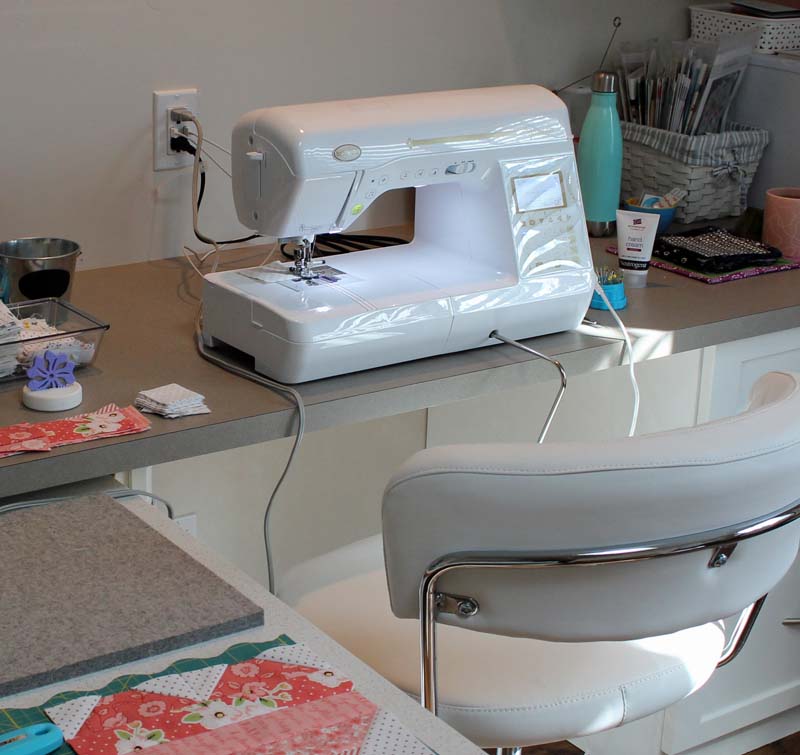 ---
With all of that being said, I will tell you a few things that I don't like about the Baby Lock machines. Changing presser feet is fairly easy, but going between a walking foot and a regular foot is a hassle to me. You have to entirely unscrew and remove one to put on the other. I think this is true for many if not most machines, except Bernina which has a great system for changing feet regardless of the type. And I miss their 1/4″ patchwork foot (but I still have it on my Bernina 440 QE).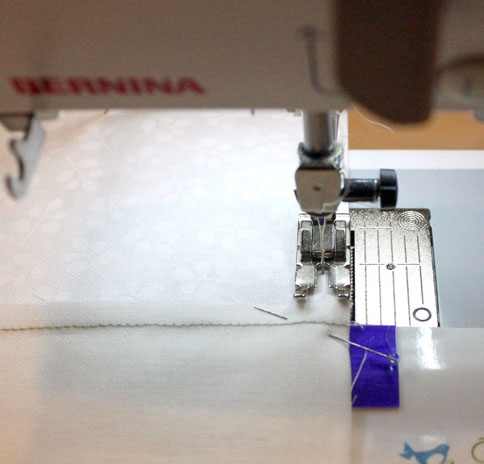 I also find that the strength of the motor doesn't quite live up to my expectations. When I have a bulky seam intersection to stitch, the Baby Locks will sometimes smoosh and swerve around it. Bernina machines are like a mini tractor. They go over anything.
After sewing on a Bernina for 15 years, I'm used to being able to micro-adjust any stitch setting. For applique this is really handy. Baby Locks and most other brands have parameters and default settings that don't let you do that. It's just something I wish all manufactures would change so that you have full control over every stitch.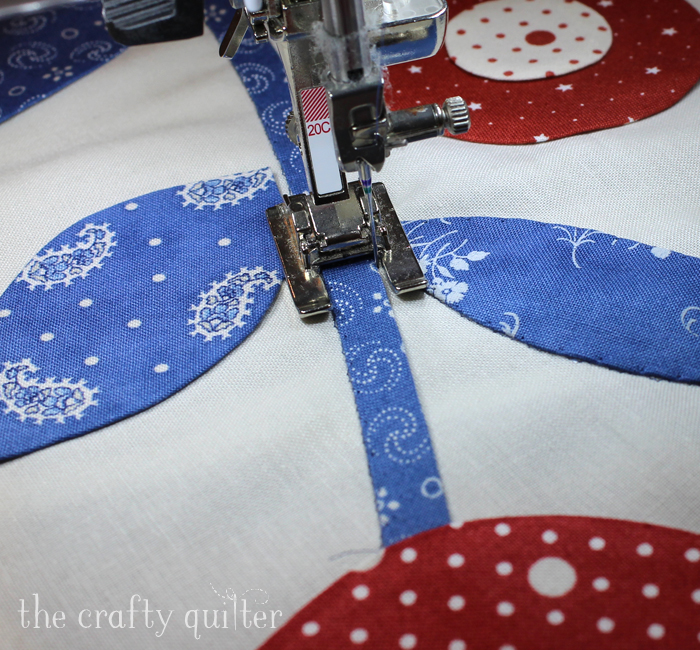 ---
Overall, I'm happy with my recent sewing machine choices. I wish I had space to hold onto all of them, but I really only need and use two machines. I know there are a lot of options when it comes to buying a sewing machine. Everyone has their own needs, budget, and preferences that will affect their own choices. My experiences are unique to me, and I only share them to help guide others.
If you want more information and guidance, check out my Sewing Machine Advice Part 2, and Sewing Machine Recommendations (Part 1). Read the comments, too! You guys are great at sharing your machine experiences.
Thanks for stopping by and reading my thoughts. If you want to share your own sewing machine story, leave a comment. I'd love to listen and learn! Happy Quilting!