National Quilting Day Events 2022
It doesn't take much for quilters to celebrate their favorite pastime, so why not dedicate a whole day, weekend or month to quilting! I want to share some National Quilting Day Events that are taking place this Saturday, March 19, 2022. The entire month has been labeled National Quilting Month, but we're kicking it up a notch on Saturday!
National Quilting Day Events
The first National Quilting Day was held on the third Saturday of March, 1992, by the National Quilting Association (now terminated). That was thirty years ago! Since then it's taken on a global reach that has spread world wide. You can visit Quilt Alliance to see if there are any special events happening in your neighborhood. Two simple activities they have suggested to celebrate are (1) Label a quilt, and (2) Display a quilt outside your home (weather permitting).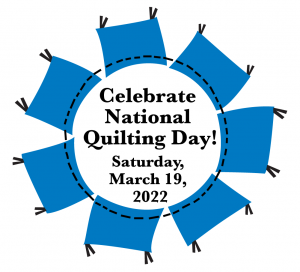 Fat Quarter Shop is celebrating Worldwide Quilting Day with a challenge to our community of quilters to sew something from 10" squares. The Layer Cake Lotto is a fun challenge with a $100 gift card giveaway and everyone is invited! You can get all of the details at their blog, The Jolly Jabber.
If you're a cross stitcher, Fat Quarter Shop has you covered there too. They're hosting a stitch along to make this adorable Quilt-O-Graphy cross stitch pattern to celebrate our favorite pastime. Read all about the stitch along at The Jolly Jabber.
The Quilt Show is celebrating big with International Quilting Weekend! It starts this Friday, March 18, and continues through the entire weekend. They'll have free shows, exciting Live classes, fun contests, and lots more! This is a great opportunity to see what The Quilt Show is all about. Plus, you can enter their raffle for a chance to win a Bernina 570 QE sewing machine and lots of other great prizes (over $12,000 worth)!
Missouri Star Quilt Co. is celebrating all of March for National Quilting Month! You can download their "Quilt Is…" postcard and fill in what quilting means to you. Post it on social media using #QuiltingIS. They're also having a National Quilting Month Sale starting March 18, 2022 at midnight CST.
Ideas to celebrate National Quilting Day
I thought I'd share a few ideas to help you celebrate this Saturday in your own quilt-y way!
Finish a UFO or WIP.
Visit your favorite local or online quilt shop.
Clean and organize your sewing space.
Learn a new quilting technique.
Watch a quilting video.
Share the love of quilting by teaching a friend or relative the basics.
Clean and/or service your sewing machine.
Read a quilt magazine or quilt book.
Join a quilt along – Arrow Stone Quilt Along anyone?
Listen to a quilting podcast.
Refold and organize your quilts.
Decorate a favorite area with quilts or wall hangings.
---
I hope your weekend is full of ideas and inspiration to celebrate National Quilting Day! Happy quilting everyone!