Last minute easy Halloween candle decoration
Last minute and easy – those three words go well together!  Here's a cute Halloween decoration for the table:
It's so easy that it doesn't need any "how to" pictures.  All you need is some candy corn, a clear glass jar, ribbon and a candle.
Just fill the jar half way with some candy corn and then nest a small candle in the center of it.  Tie it off with a cute bow and you're done!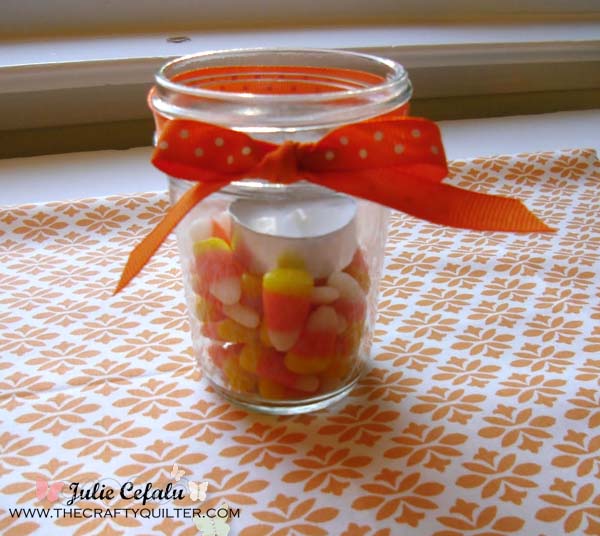 I had both of these jars in my collection already, but I've seen them at the Goodwill for 99 cents!
So does anyone know if a candle and candy corn are a fire hazard?  I haven't tested this out yet, but be forwarned of the possibility.  Maybe the tea light shown below is a better option!
Halloween is right around the corner!  I'm so glad I don't have to make any Halloween costumes any more.  I take that back!  My 22-year-old want to dress up as Miss Frizzle and she needs a school bus to go with it!  The Miss Frizzle part is easy; she already has the red hair and a perfect dress, but a school bus?  Wish me luck!
~Julie