Sew Thankful Sunday – 12-15-2012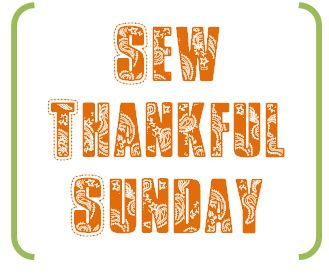 After the tragic events in Connecticut on Friday, I feel like I have much to be grateful for and much to be sad about at the same time.  My heart goes out to all of the affected families of this incident and to the community of Newtown/Sandy Hook.  United Way has set up a fund for these families and if interested, you can find out more information at https://newtown.uwwesternct.org/.
Now for the things to be grateful for, I'd like to share some treasures that I've found in the blog world.  To start with, I have been a big fan of Erin Russek's blog, One Piece at a Time, for a long while.  She specializes in applique and she has a new block of the month starting in January called  "Jingle Block of the Month".  The quilt will finish at 76″ square and will include eight pieced blocks and eight appliqued blocks.  Here is the planned lay out:
The center applique block titled "Miss Kringle" is shown below.  While the monthly blocks will be free, the center pattern can be purchased separately at The Pattern Spot. 
Pretty sweet, huh?  Erin also has some great applique tutorials on her blog and an Etsy shop with more of her beautiful applique projects.  You can find out more details here.
Recently, I have been smitten by this snowflake pillow at Pellon Projects:
This pillow was designed by Amy DeCesare of Amy Made That!.  It's so fun and perfect for the holidays.  Check out Amy's blog for more great projects and tutorials. I just finished making my version of the snowflake pillow yesterday, but I won't have pictures to share until later this week.
You can find lots of other free projects at the Pellon Projects Page  including bags, quilts, and home accessories.
I discovered a new-to-me blog, Pile 'O Fabric, by Alyssa Lichner.
She has a beautiful blog and a series called Technique Tutorial Tuesday.   Alyssa reviews different tools and shows great techniques for all of you quilters and sewers out there.
Definitely worth checking out and lots of beautiful eye candy too!
Thanks again for joining me on this Sunday and have a wonderful week!
~Julie