Sew Thankful Sunday – 01-06-2013
Welcome to 2013 and Sew Thankful Sunday!  On this day, I like to share the many highlights that I've found in the blogosphere and that I'm sew thankful for!
I'm so glad that I'm not the only one with a pile closet full of unfinished projects!  I think everyone that left a comment on my previous post mentioned that they wanted to finish at least one UFO each month.
I have found three other bloggers that are hosting monthly UFO linky parties to motivate you.  By the way, a linky party is a way of showcasing many blogs/projects in one spot with a certain theme.
Melissa of Sew BitterSweet Designs and Shanna of Fiber of All Sorts are hosting "2013 – A Lovely Year of Finishes".
At the beginning of each month, there is a goal setting "party".  Pick a project to work on for that month and get it done!  Then there is a mid-month progress report (optional) and at the end of the month you can link up your finished project.  You don't need to have a blog to participate, just upload your photos on Flickr and then enter the linky party.
At Never Too Hot To Stitch, you can join in on 2013, The Year of the Finished Project.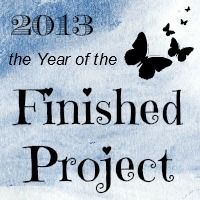 On the first Thursday of each month, pick a project to finish and the only rule is that you must finish at least one UFO or WIP before you start a new project! You can see what others are working on and/or enter your own UFO into the party.
And  you can also play along with Carrie at A Passion for Applique.  She's hosting a Nothing But UFO's in 2013 party each month.
Carrie really raises the bar by having you pick out three UFO's to work on for each month!  Finish at least one of your UFO's and be entered into a drawing for that month.  I like that idea, Carrie!
I know that many of you don't have blogs of your own, but it might be motivating enough to see everyone else's finished projects and still play along on your own.
My UFO project for January is to finish my "Welcome Winter" wall hanging.  It's all quilted and now I need to add a hanging sleeve and binding.  This is the before shot:
I'll post pictures at the end of the month when it's all finished!
One more thing that I am thankful for is the seat warmers in my car!  I am blessed to have a warm "bum" while driving and sometimes I don't even want to leave my car!
Stay warm and Happy Sunday!
~Julie