Sew Thankful Sunday: 02-24-2013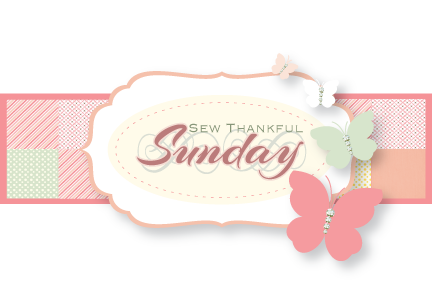 Another Sunday and sew much to be thankful for!  Let me share some of the lovely goodness I've seen on the internet this past week.
Recently debuting at QuiltCon is the Quilt Design Tool from Threadbias.  If you have wanted to play with creating your own designs on the computer, this is a great way to get started!  There is a free version available to try out for as long as you like.  When you're ready, you can buy a monthly subscription to the full version for $10 per month.
With the Quilt Design Tool, you will be able to:
Build blocks as well as design full quilts.
Try out different fabrics from your virtual stash in your designs.
Choose from a variety of simple shapes or use our composed shapes to speed your work.
Use the free-form drawing tool to make any shape.
Manipulate shapes by moving, changing their size, rotating, or even adjusting corners.
Instantly add borders.
Pick a "snap" level and make drawing easier by having your shapes align.
Determine fabric requirements.
Keep multiple workspaces open at the same time.
Always have the latest version! We add new features very often.
Expect many new features in the coming months.
I played with the "lite" version and created a simple churn dash block.  I think with a little more practice and patience, I might be able to create some interesting designs of my own.
Stitch This! is a blog hosted by Martingale Publishers and they just released some free patterns that are perfect for Spring!  I am so ready for the warmer weather, aren't you?  Take a look at this Garden Wreath Table Runner by Cindy Lammon from Gathered From The Garden:
And the combination of hearts and log cabins in this Heartstrings Quilt by Evelyn Sloppy from Log Cabin Fever is so sweet:
This Knitter's Trio by Karen Soltys from Sew the Perfect Gift is perfect for the needle worker:
Thank you sew much Martingale Publishers for making these beautiful, free patterns available to us!  For more freebies from Martingale, go here.
Lately, I have been trying to improve my photography skills.  I recently found this wonderful blog, It's Overflowing.  Last year Aimee Lane presented a series called Photography Friday and it was all about learning to use a digital slr camera in simple and practical terms.  Yes, even I could follow along!
Even though this photography series is from last year, there's plenty of great content to get caught up with and I appreciate the time and attention that Aimee put into these lessons.  Plus, her blog is full of diy & decor projects, useful crafts, and organization tips worth checking out.
And I am sew thankful for you – the followers and visitors of my blog.  I keep seeing the number of followers go up and I feel truly blessed that you spend a piece of your time with me.
I have so many new ideas to share with you, so be patient as I take pictures, write tutorials and edit my way through the computer. 🙂
The recommendations on this blog are purely my own and not paid advertising.  I am an Amazon Affiliate (meaning that any Amazon links you click on and purchase from my blog, I get a very small percentage of) but this does not influence my opinions or content in any way.