Sew Thankful Sunday: 03.24.2013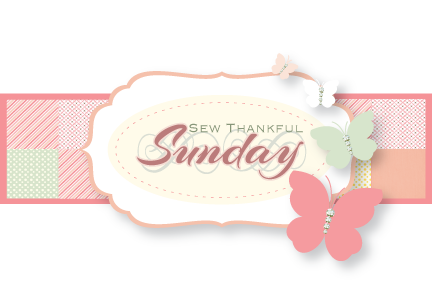 Hello everybody!  Welcome to Sew Thankful Sunday – my day to shine the light on some of the awesome creativity I've found this past week in blogland.
Please feel free to share anything you would like to add in the comment section!  I'd love to see what you're sew thankful for.
Alyce from Blossom Heart Quilts blog has teamed up with the Fat Quarter Shop to present the Having a Starry Time Blog Hop. This hop focuses on making HST (half-square triangle) star blocks using triangle paper (available from Fat Quarter Shop).  You can check out the Fat Quarter Shop's Youtube video showing how to use them for more information (it's about half way through the video).
Even though this hop JUST ended, you can still hop over to these blogs and see what they created!
And you won't want to miss the Charm Madness Blog Hop hosted by Sew Lux Fabrics that is going on right now!  It began on 3/19 and will continue until 4/7.
Already there have been some awesome tutorials!  Click on the image below to go directly to the tutorial:
Another cute and quick little project is this ZigZag Patchwork Journal Cover  by Rachel of Stitched In Color:
I love anything zig zag and this looks sew darn adorable!  I think I need one, and I'm sure I have some fabric lying around that would be perfect for it!
If you enjoy making bags, you'll want to check out this Interfacing Guide by Geta's Quilting Studio.  Geta has shared everything she knows about interfacing and their use in bag construction.  This is a fantastic resource to have!
I hope you all enjoy the rest of your Sunday and thank you for joining me today for all of the things I'm Sew Thankful for!