Applique Part 3 – Machine Applique Stitches
This is the third part in a series of machine applique tutorials and today we will be focusing on the various stitches used on our sewing machines to stitch applique in place.  This might get lengthy, so grab a cup of tea!
Here is where you can find the other lessons in this series:
Applique Part 2 – Machine Applique with Fusibles.
Once you have fused your applique pieces in place, it's time to stitch them down so that they become more permanent.  We don't want any loose or floppy edges in our project!
So let's talk stitches.  The most common stitches used with fusible applique are the zig zag stitch (satin or narrow), the blanket stitch and a straight stitch.  The first thing we are going to do today is play with our machines and make a little stitch sampler "card" that we can use as a reference tool for future projects.  It will look something like this:
Supplies:  You will need two pieces of muslin or solid fabric cut into rectangles that are about 6″ x 8″, and a piece of stabilizer cut into the same size as the fabric.  Choose a thread that will contrast well with your solid fabric so that you can really see your stitches.  An open toe applique foot.  This foot doesn't have a metal bar or clear plastic in front of the needle so that you can really see where you're going as you stitch.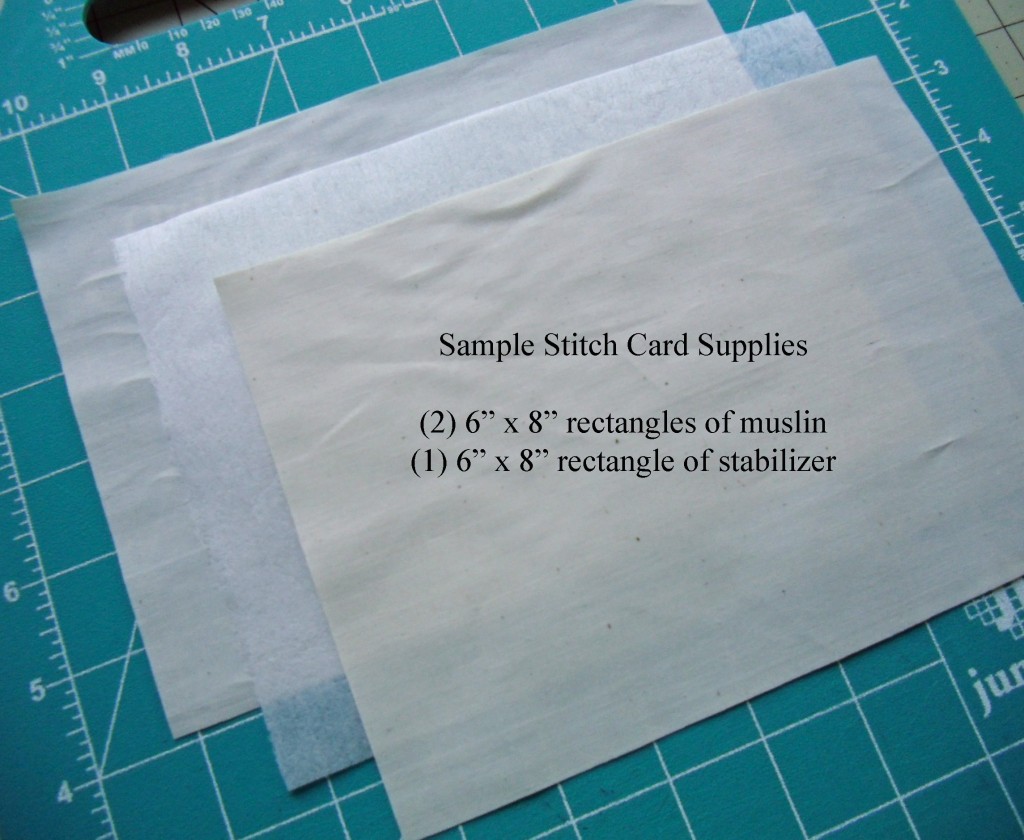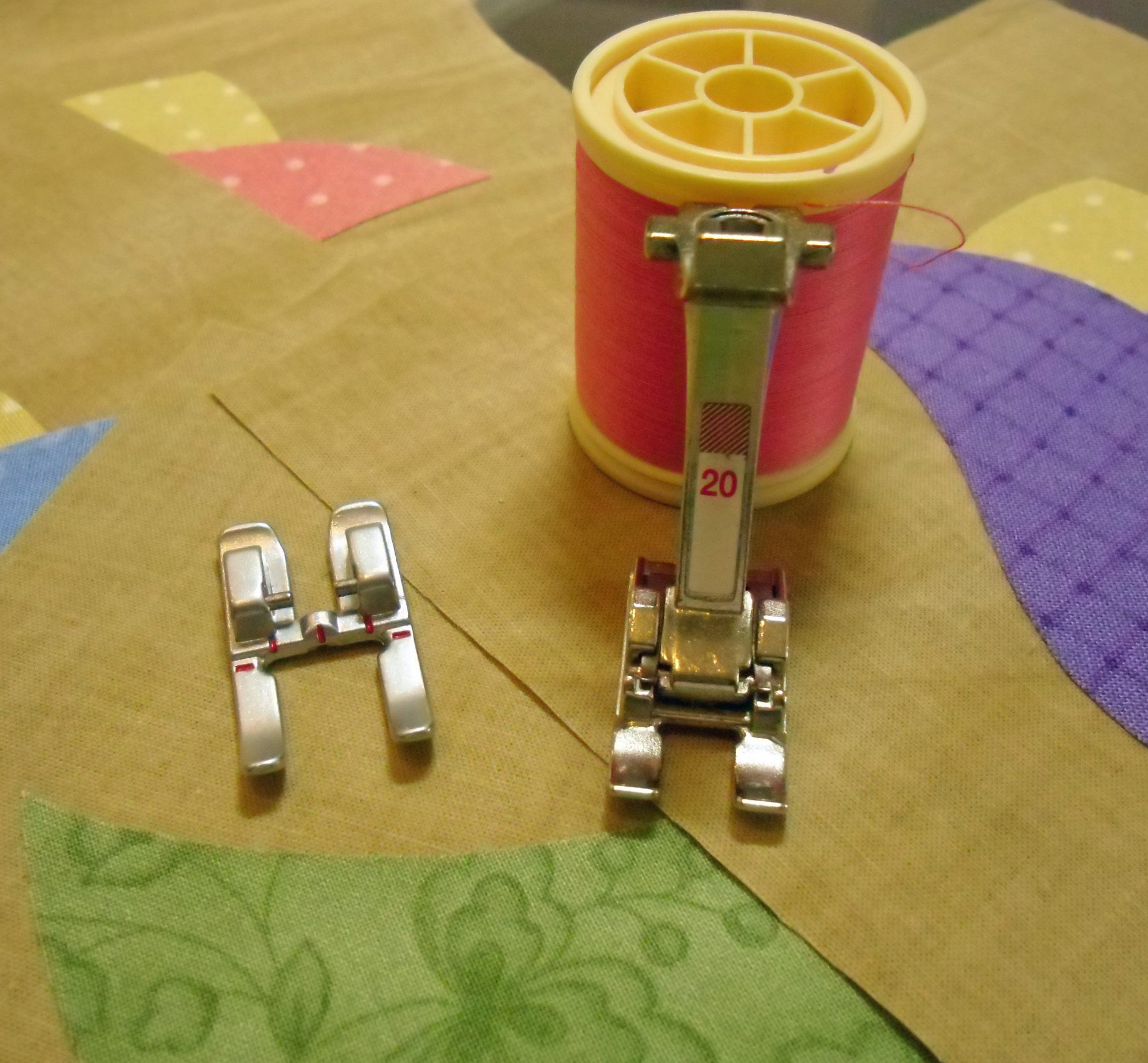 Set Up:  Layer your pieces so that you have a sandwich of fabric, stabilizer and fabric.  The stabilizer helps to keep your stitches flat and gives extra stability to your project.  You will want a permanent pen nearby to write on your stitch sampler.  I like to work in columns, each one having a different type of stitch.  Label your column with the stitch you're working on.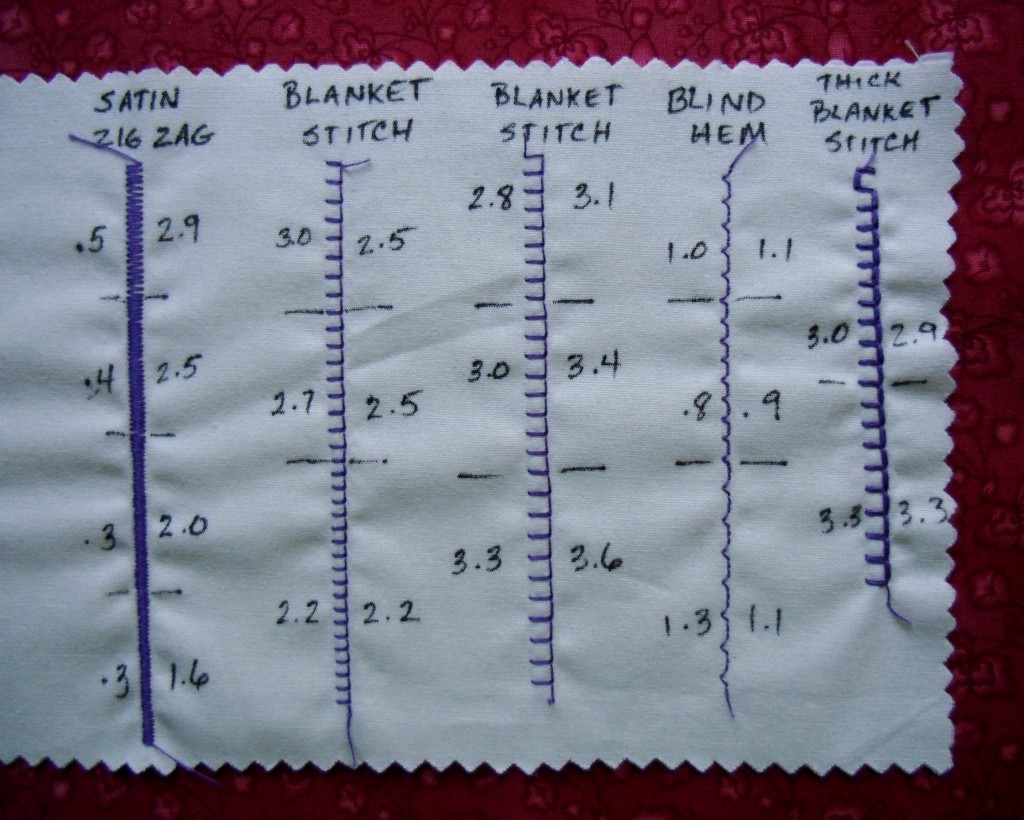 Zig Zag Stitch. This is a fairly common stitch, but some machines give more than one option for a zig zag.  You can get two very different looking stitches with the zig zag depending on the settings used on your machine.  One will be a satin zig zag and the other will be a narrow zig zag.
Satin Zig Zag:  This stitch got its name because it resembles a piece of satin.  It is usually made up of very thick and dense zig zags that are so close together you can't see any background fabric between the stitches, just solid thread.  Some machines have a separate button for the satin stitch.  Once you have selected the stitch, your machine will show default settings.  You will want to change the stitch length to .2 – .5 range and the width to 2.0 – 4.0 range.  Stitch a section at one setting and write down those numbers.  Then change to a different length and width and see what that looks like.  Make sure to write down the setting next to your stitches with a permanent pen.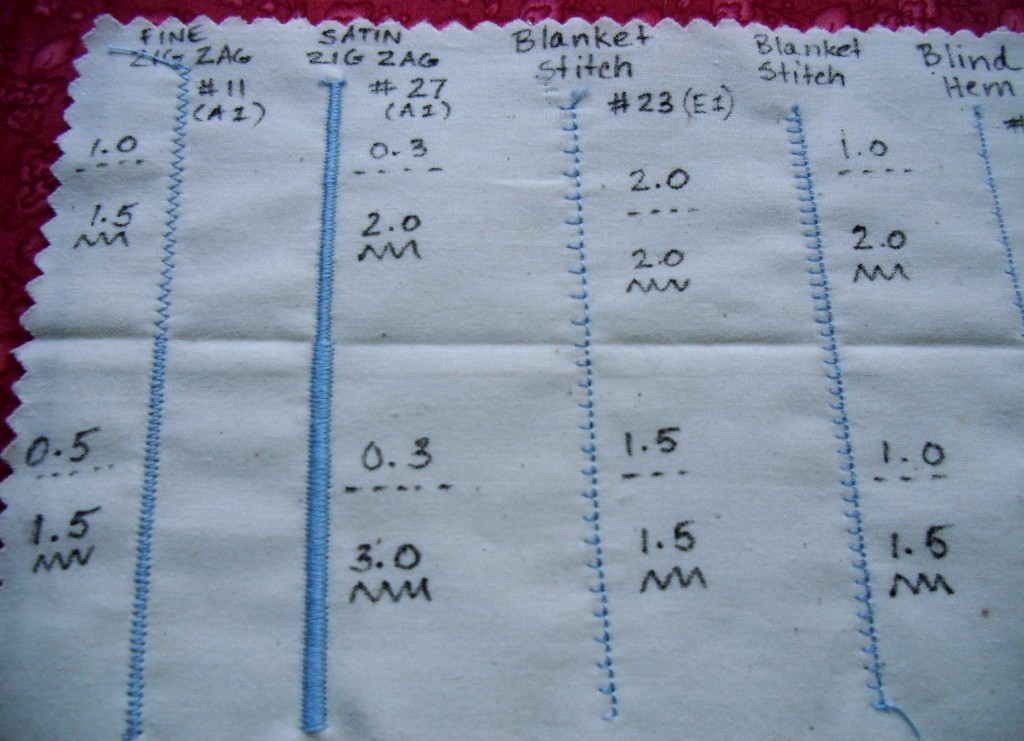 Narrow (Fine) Zig Zag:  This stitch is not so loud and showy as the satin stitch.  It can even be considered invisible (almost).  It won't show up as a solid line of thread, but it will do the job of securing the applique edges.  The stitch settings will be a longer stitch length, between .5 and 1.5, and a narrower stitch width, between .7 and 1.5.  I set my machine (Bernina 440) to .8 length and 1.1 width.  Again, try out a few different settings and write them down.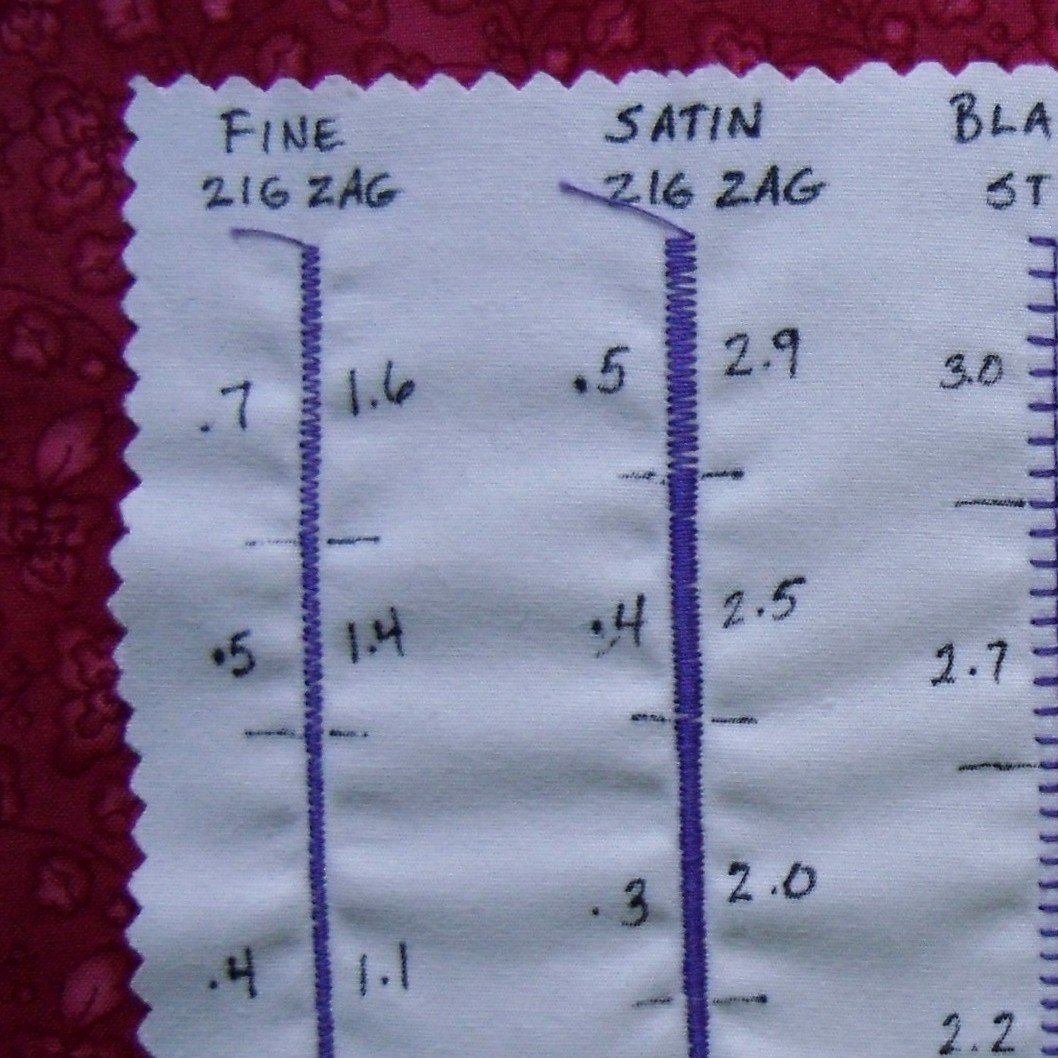 Blanket Stitch:  This is a popular method of stitching applique and it's formed with a straight stitch along the outside edge of the applique followed by a perpendicular stitch into the applique shape.  Depending on your sewing machine, you may find more than one blanket stitch option, possibly up to five!  Or you might not have any.  First, make sure the "bite" of the perpendicular stitch is going to the left of the straight stitch.  Many machines have a similar stitch with the bite going to the right and that's not going to work for us.  There may be a blanket stitch that looks darker or thicker and that is meant to mimic the look of a hand-stitched blanket stitch.  It will give a double thickness stitch by going back and forth each component of the blanket stitch.
Play with the various stitch width and length settings.  You could start with a 2.0 wide and 2.0 long stitch and go up (or down) from there.  I generally like mine to be around 2.5 wide and 2.5 long.  This is a little on the small side, but I like it to blend in more and it's just a personal preference.  This stitch sample card was the first one I made about ten years ago.  I used to make very small blanket stitches!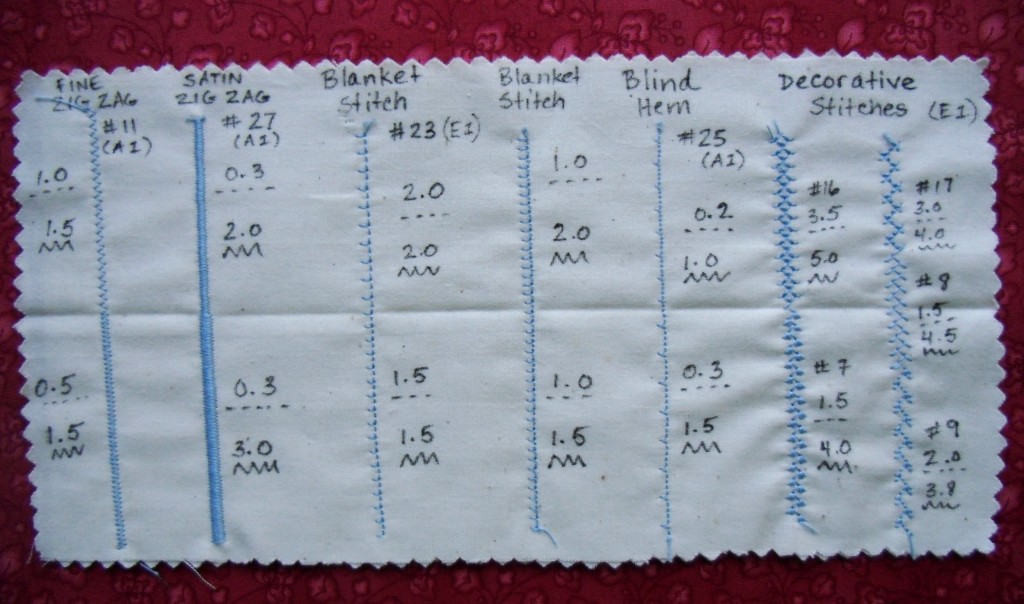 Straight Stitch.  This is simple enough and you probably don't need to make this a part of your stitch sampler.  It's up to you.
Other stitches.  You should have room on your stitch sampler to play with other stitches and their settings.  I would recommend you try out a blind hem stitch in case you ever want to try invisible machine applique (you can find my tutorial for that here) and maybe some of the decorative stitches like a scalloped satin stitch which could also be used for applique.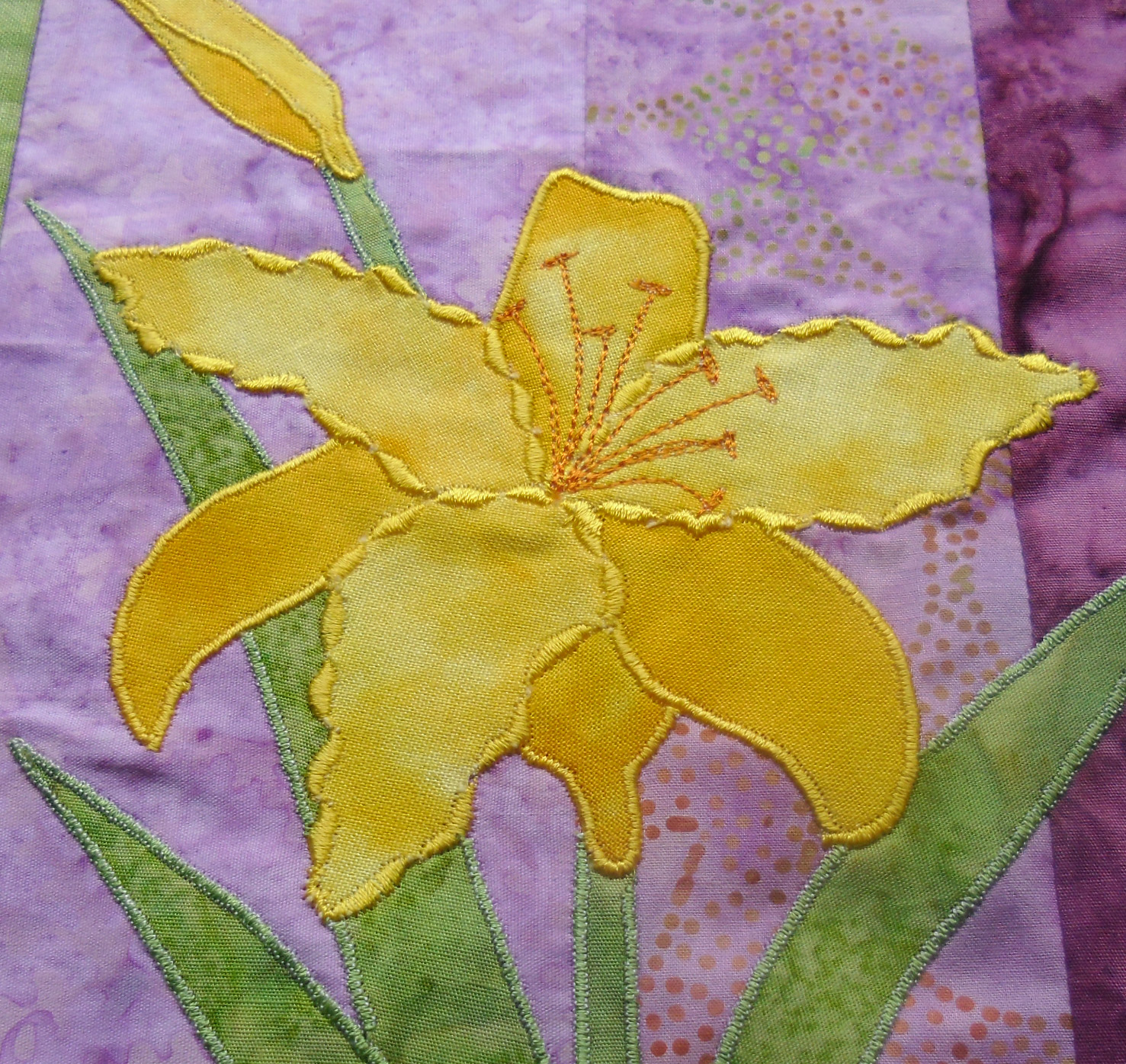 Now you can practice on some real samples.  Let's start with the tulip from my previous lesson on machine applique using fusibles.  Make four tulips on separate fabric square backgrounds.  We'll stitch one with a blanket stitch, one with a satin stitch, one with a narrow zig zag stitch and one with your choice (straight stitch or decorative). You'll also need thread and stabilizer.  Let's talk a little more about those.
Thread comes in all shapes, sizes and colors.  You'll want to focus on the weight and ply of your thread first.  The average weight for a thread is 50 wt. and most threads are made up of 3-plys.  You will find some 2-ply threads that will be a little thinner and work great, especially for hand applique.  I really like using DMC machine embroidery thread which is a 50 wt, 3-ply cotton and not to be confused with DMC embroidery floss.  It doesn't bunch up when I'm doing a satin stitch and it looks nice on my blanket stitches too.  You could also use a polyester or rayon thread to give your applique more shine and pop.  You'll get a different look depending on the type and size of thread you use.  Make sure you use a needle that works well with your thread type and weight.
Stabilizers are really important when you're using a zig zag stitch, especially the satin stitch.  Tunneling will occur if you don't have a stabilizer underneath your project.  It looks something like this (though this isn't the greatest illustration):
The sides of the background fabric pull into the center and a tunnel forms.  The stitches can also be more irregular.  Not pretty!  I use stabilizers on almost all of my applique no matter what the stitch is to prevent distortion.  You'll want to make sure that the stabilizer you use can easily be removed when you're done.  I use Pellon Stitch and Tear frequently which tears away fairly easily.
Steps for machine applique stitching:
1.  Set up your machine.  Attach the open toe applique foot and insert the thread of your choice.  You may have to play with the tension settings as well.  You don't want to see any bobbin dots on the top of your applique.  If you can't get good tension, you should use the same color thread in top and bobbin. On my Bernina, I'm able to pull my bobbin thread through the bobbin hook to add tension to the bobbin.  This prevents any bobbin thread from showing up on top and I can use a neutral color for all of my applique.  Choose your stitch and adjust the stitch settings if necessary.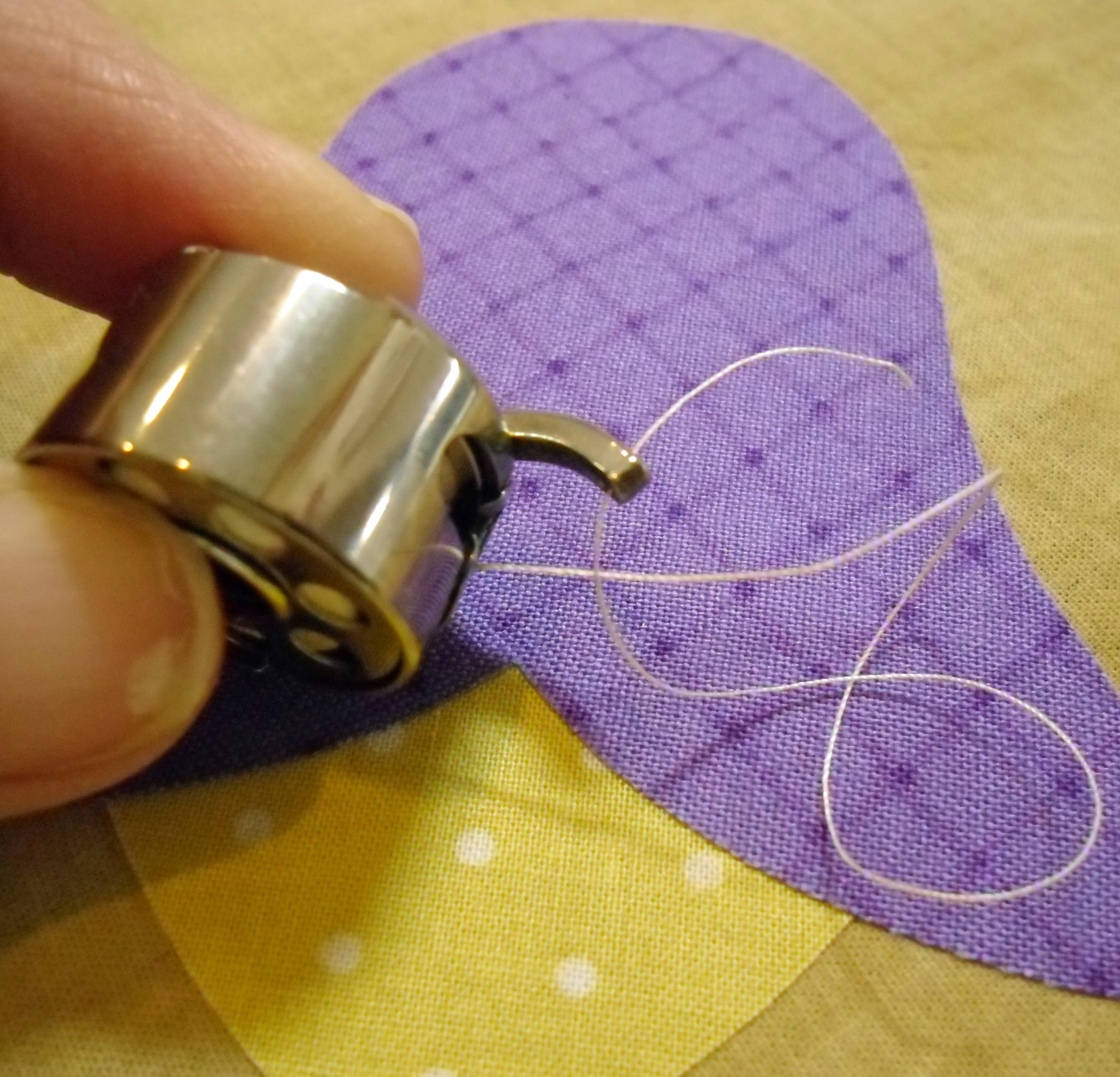 2.  Set up your applique.  Create your applique using the Tulip Applique pdf and your preferred fusible web product.  See my previous lesson on using fusibles with applique for more instructions.  Attach a piece of stabilizer to the wrong side of your project.
3.  Get ready to stitch!  Find a straight edge to start on.  We're going to pull the bobbin thread up to the top first.  This will prevent a thread nest from occurring on the underside because you'll be holding onto the thread tails as you take your first stitches.  This extra tension prevents the thread nest from forming.  To do this, take one stitch into the background fabric right next to your applique edge.  Pull the top thread up and at an angle.  The bobbin thread will loop up to the top and then you can pull it all the way through.
Anchor your beginning stitches.  You can use a pre-set locking stitch if your machine has one.  I like to take several real short, straight stitches (.3 to .4 length) to lock mine in place.  These will eventually be hidden by the applique stitch.  Cut your thread tails once you're far enough away (or before you forget and reach the beginning as shown).
4.  Stitching.  Let me break each stitch down for you.
Satin Stitch:  You'll want the majority of your stitch to fall on the applique shape itself.  The right swing of the needle should go into the background fabric just next to the edge of the applique shape.  The left swing of the needle will be going as far into the applique as your stitch width allows.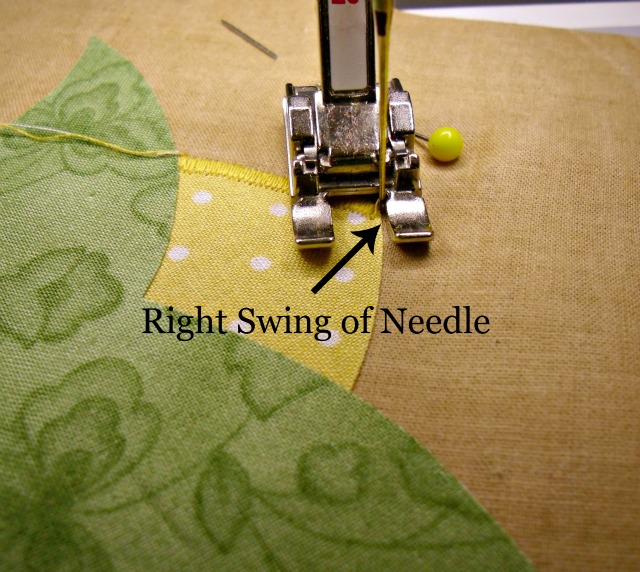 You'll want your stitches to be at a right angle to the edge of the applique shape.  So you'll need to pivot as your go around curves.  If you pivot too sharply, you'll end up with a jagged point in your stitching.  So frequent pivoting is better.
On an outside curve, you'll want to pivot when the needle is on the right swing.  On an inside curve, you want to pivot on the left swing.  This will prevent any gaps in your stitches from occurring.
When you come to the outside points of the tulip, you may need to narrow your stitches otherwise they will cross over the tip of the shape and you'll end up with a boxy point.  I gradually decrease my stitch width as a approach these points and then gradually increase it back again as I move away.  You can see how the stitches are tapered at the points of the tulip below: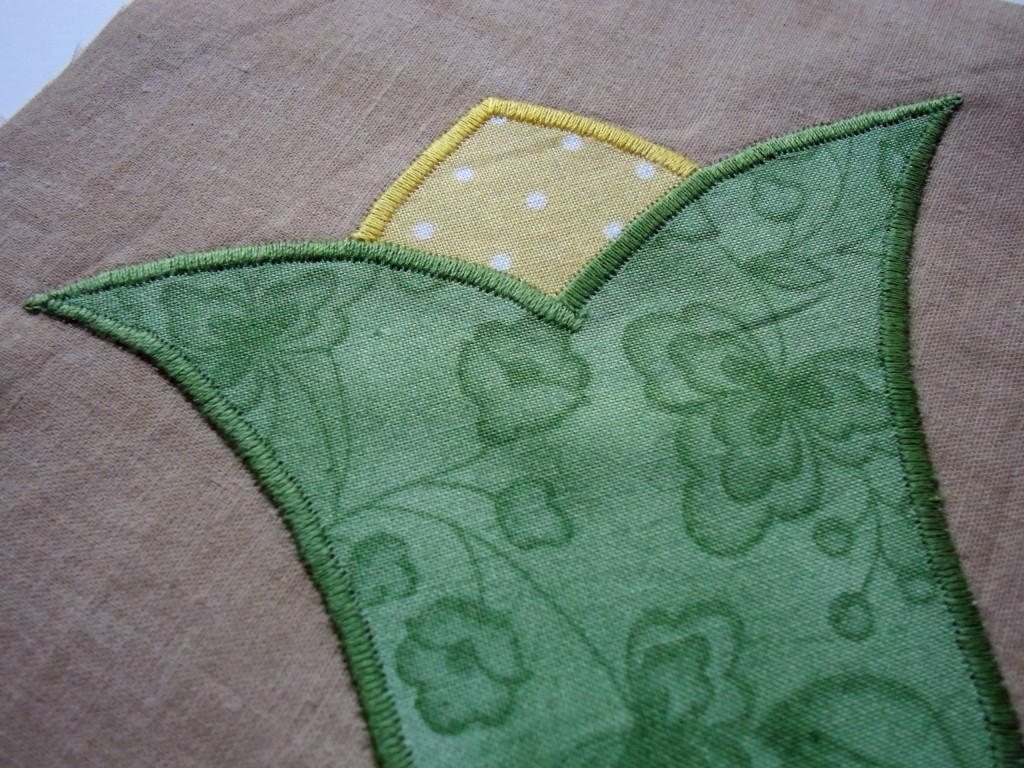 The top inner point of the tulip is almost at a right angle.  You can choose to butt your stitches at this point or overlap them or even miter them.  In order to butt the two angles together, you need to stitch farther into the point and then pivot and continue on the other side.  I guessed wrong on the inside point and went a little too far in before pivoting:
Overall, I like the look of satin stitching and it can really play up the look of your applique.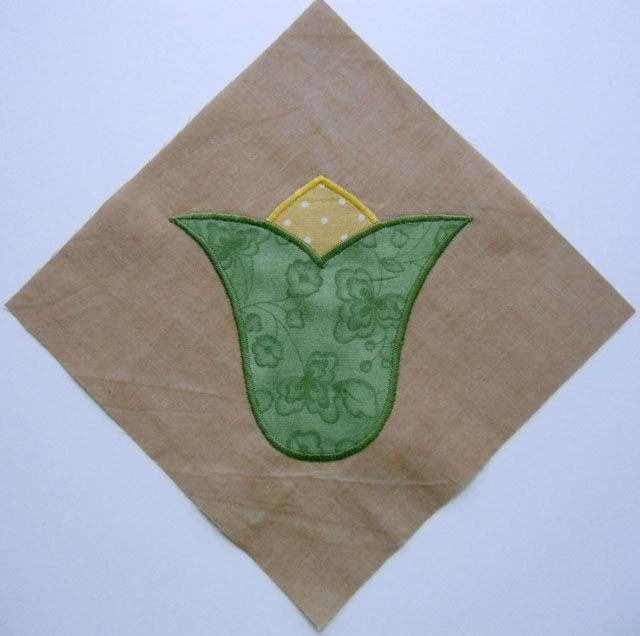 Narrow Zig Zag Stitch.  This stitch takes a little bit more practice and skill because the room for error is much smaller.  You still want the right swing of the needle to fall in the background fabric just next to the applique, but the left swing will go just inside of the applique shape.  There isn't a big jump between the right and left swing of the needle, so you'll need to take your time and follow the edge of your applique.
One of the easy things about this stitch is the corners and points are simpler to deal with.  No need to increase or decrease stitches.  Overlapping is easy at the points.  Errors don't shout so loudly either (hurray!).
You might call this "minimalist" applique: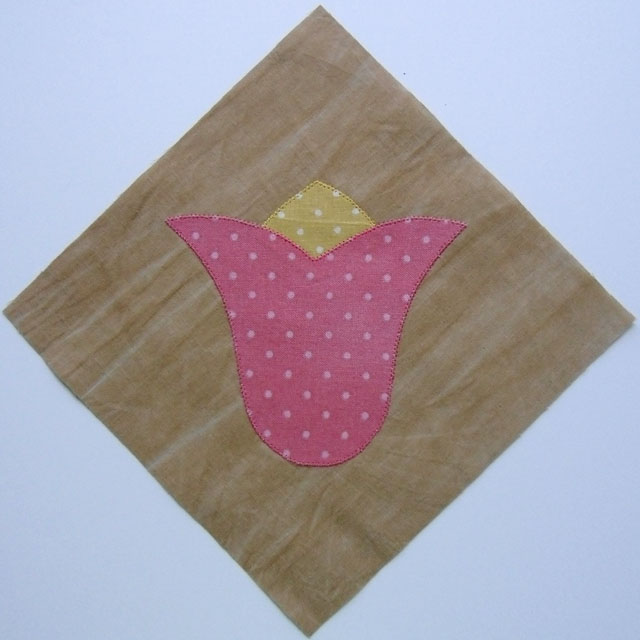 If you want your applique stitching to be more invisible, try using monofilament thread.  This will create the look of hand applique and your stitches will hardly show.  The holes made from the needle do show, but should soften over time and once it's quilted.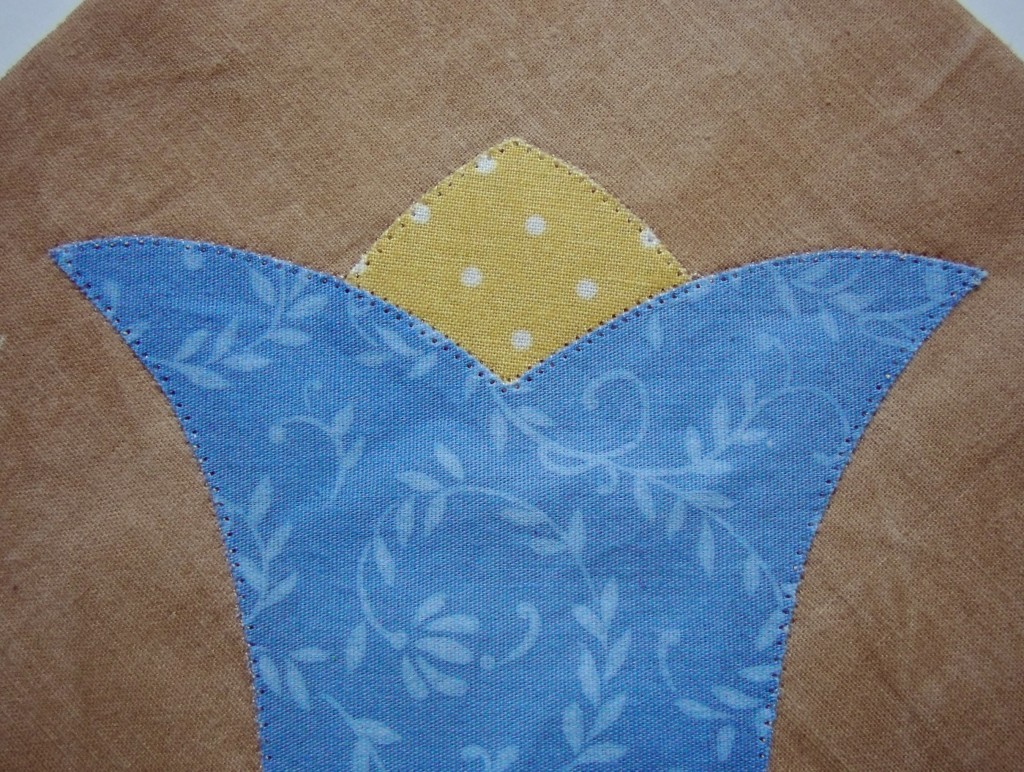 Blanket Stitch.  The straight stitch of the blanket will hug the edge of your applique.  So your needle should be piercing the background fabric, but just grazing the applique shape.  The bite should be perpendicular to the edge of the applique and go straight into it.  This takes a little practice to get the timing and rhythm down.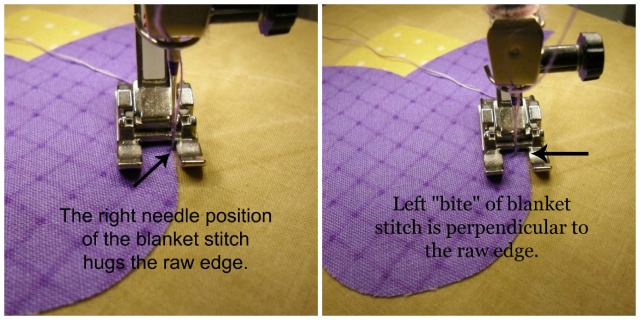 You will need to pivot around the curves.  On an outside or inside curve, pivot either before or after taking the straight stitch.  Don't pivot when your needle is on the left swing and already taken the "bite".  This will prevent a "V" stitch instead of a straight blanket stitch.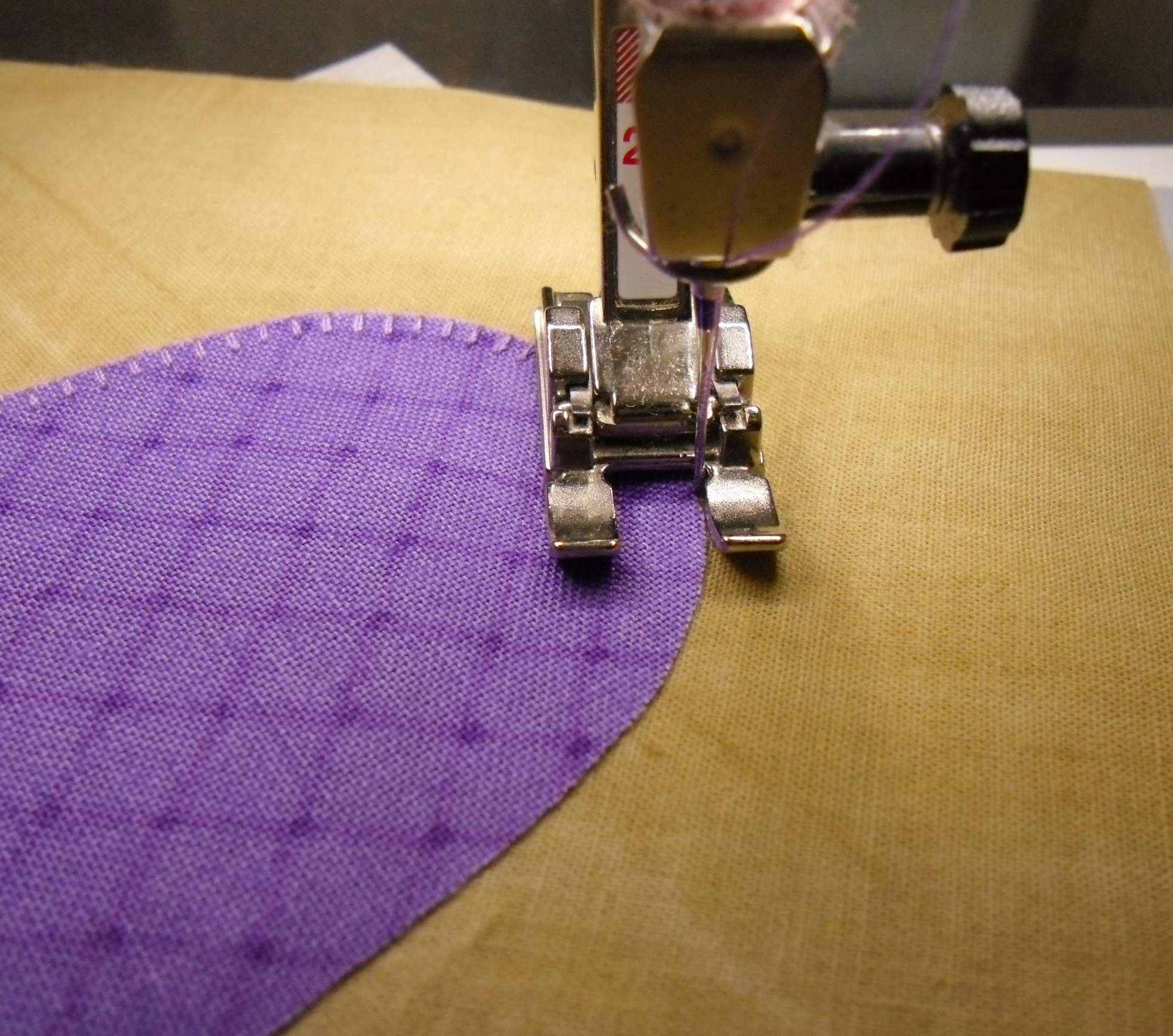 Always try to get the straight stitch component of to fall just next to the edge of the applique shape.  If you're not careful, it's easy for your stitches to go inside the applique shape and you have potential for fraying to occur.
The same thing can happen if you go to far outside of the shape:
When you come to an outside point or an inside "V" on an applique shape, it's nice when the stitch happens to land right at the tip, but this rarely happens.  Depending on the spacing, you might have to adjust the next stitch by raising the presser foot and manually placing the needle where you want it, or by adjusting the stitch length.  This is how it should look when done correctly: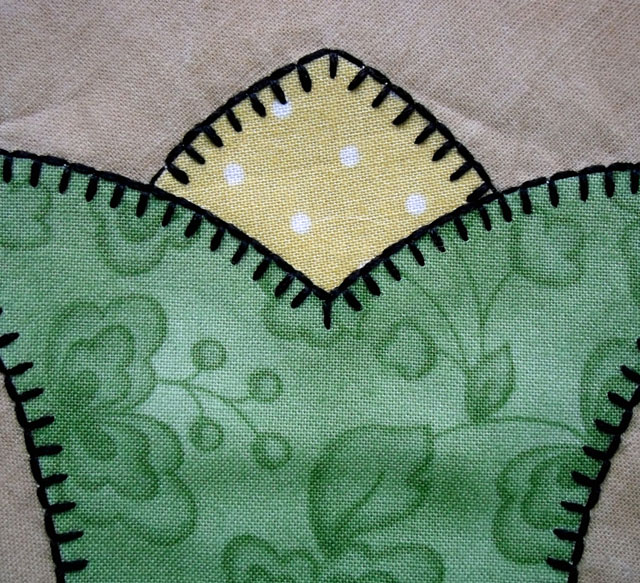 Once you have your needle placed right at the point (or "V"), you will pivot so that the bite of the blanket stitch goes straight into the center of the applique.  You can see that illustrated in the above picture.  I also like to keep the spacing the same after I take that center stitch.  So if I had to make my stitch longer to get there, I'll keep it long on the next stitch going away and then go back to the normal spacing.  This takes practice, but you'll quickly get the hang of it!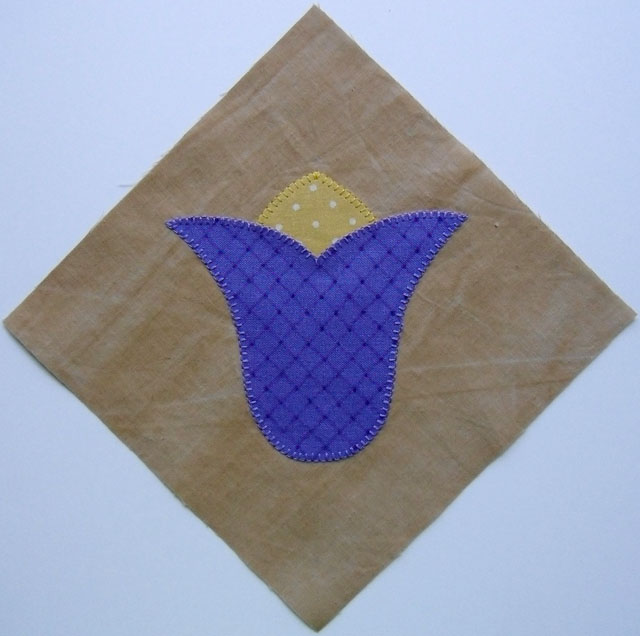 Straight Stitch.  I rarely use this stitch because of the potential fraying that can occur along the edges of the applique.  If it's a piece that won't be washed or you're going for a primitive look, then it will work fine.  It's definitely quicker and easier than the other stitches.  Make sure that your stitches are inside the applique and far enough in from the edge so that they don't shred the raw edge.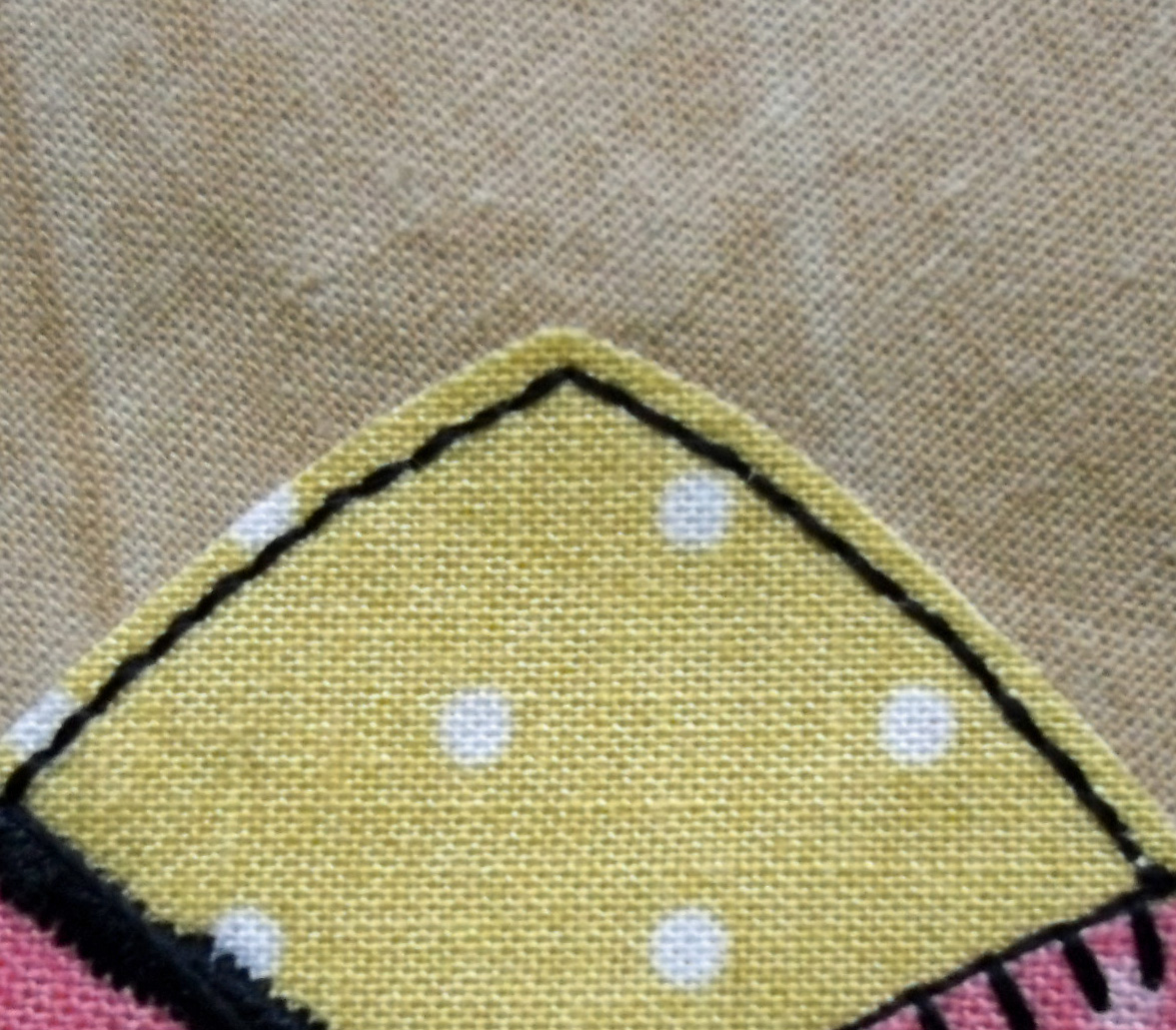 The type of stitch you choose for your applique projects will depend on the look you're going for and the intended use of the quilt.  For baby quilts that will be washed often, I want the applique to hang tight and have little or no fraying.  So I would probably choose a zig zag stitch.  For wall hangings or decorative pieces, I have more options.
Here are my applique samples sewn together with a little triangle in each middle corner:
I might have a new spring pillow in the making!  Notice how dramatic the satin stitching looks and how the narrow zig zag is hardly noticeable.  I like the blanket stitch too – not too showy but a nice effect.
I hope you'll give it a try and have fun with it!  Applique can add so much to your quilting and sewing projects!

For additional resources, I recommend these books on applique:
Applique the Basics and Beyond, by Janet Pittman

Mastering Machine Applique, by Harriet Hargrave
If you missed the first two lessons, please visit Applique Part 1 – Terminology and Applique Part 2 – Machine Applique with Fusibles.
And soon I'll have a table runner tutorial using my tulip blocks to share with you!