Sew Thankful Sunday: 02-03-2013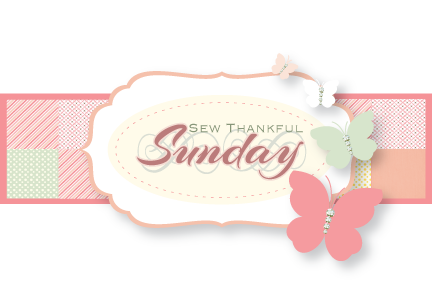 Welcome to Sew Thankful Sunday, and for today, it is also know as Superbowl Sunday!  And in my neighborhood of northern California, we are super excited to have the 49'ers playing!
It's also the beginning of a new month – February!  It's a great excuse to add some hearts to the home decor.  So let me share some of the lovely hearts I've seen recently on the internet and that I'm sew thankful for!
This is a sweet quilt with the most beautiful shades of pink by V and Co.  It was made using  ombre fabric from her Simply Color line for Moda.  You can buy the pdf pattern here.
V and Co. also has a cute little heart pincushion tutorial on her blog that is just as sweet as can be:
And Ellison Lane Quilts has been spreading the love with her Spread The Love Blog Hop.  You should check out all of the great projects that everyone has shared:
And Vicky at Mess for Less has something that you can put right on your front door – a heart wreath made out of fabric scraps!  I'm sure I might have a few of those lying around!
I have been wanting to add some free motion quilting lessons of my own, but I'm sew thankful and happy to share an easy free motion quilting tutorial for clam shells that Elizabeth has done at Don't Call Me Betsy:
It's a little short and sweet for today!  I have to get some Superbowl food ready for our little cheer section at home.  Go Niners!