I have a couple of weeks worth of W.i.P's (work in progress) to share today.
I am determined to finish my "So Many Stars" quilt by the end of this month.  I was quilting the outside border, way above the speed limit (for me), and this is what happened:
The excess backing and batting got caught underneath and was quilted into the backing.  And that was the second time it happened today!  So, I definitely needed to switch gears and slow down.
I finished Block #3 of The Sugar Block Club BOM.  I am up caught up with that one!
Here are all three so far:
I took a class from Angela at The Granary and made a jelly roll quilt in three hours!  Love the speed and the modern look!  I'll definitely be making more of these: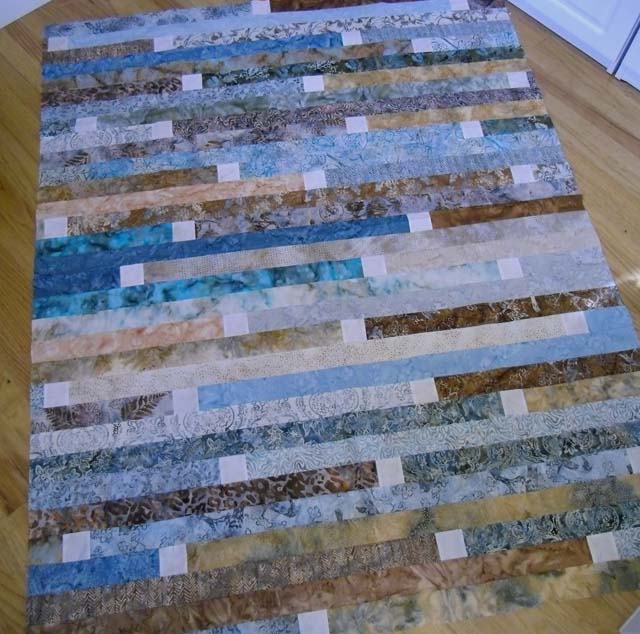 I have completed (and photographed) the first block of the Tyler Rose Parade BOM at The Granary.  Other blocks are done, but no pictures yet.
I have almost finished one whole block of hand quilting on my Rabbits Prefer Chocolate quilt.  I'm o.k. with that, actually.  If I can quilt one block per month, I might have it done by next Easter!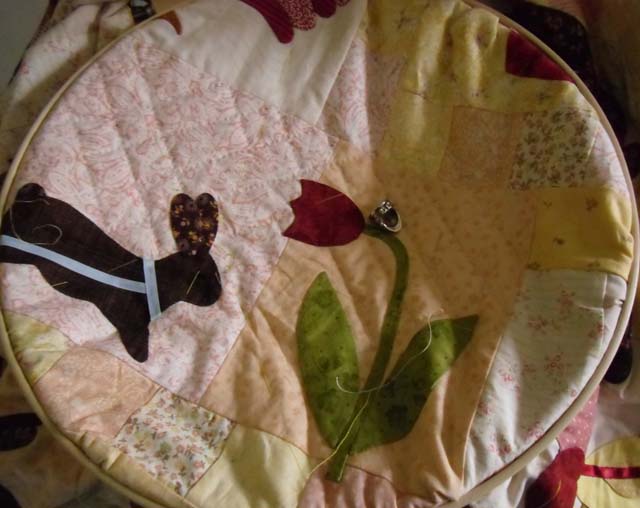 I get to make a baby quilt for the daughter of one of my best friends from high school.  I just picked out the fabric and pattern.  It's going to be a baby boy and the mom wants a green and brown color scheme.  Hey, I just happen to have some green and brown fabric from a Moda collection of years ago – Lilly & Will:
This is the pattern I'm using.  It's a freebie I found in my box of patterns:
So far, so good right?  Yes, until I found that I don't have enough of the green and white swirl fabric.  I'm putting this out there just in case anyone has an extra 1/2 yard lying around that they would like to get rid of sell.  Edited 3/27:  I found it thanks to Susie, who left a comment and link for the fabric – thank you!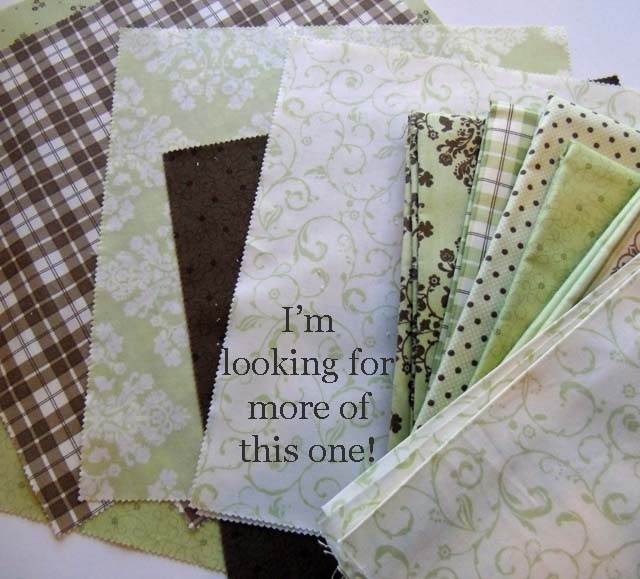 My deadline to finish the quilt is April 13th.  Yikes!  I have to get cracking!
I can't believe March is almost gone and Easter is this weekend!  I hope you all have a productive and fun week!