Sew Thankful Sunday: 04.07.2013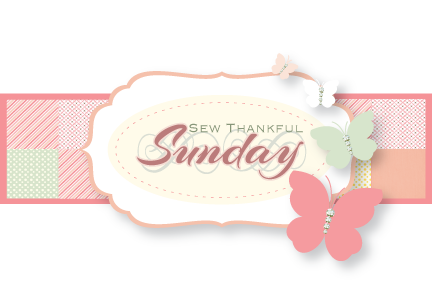 Welcome to Sew Thankful Sunday!  If you are new to my blog, this is my day to "pay it forward" and share some goodness from others in blog land that I am sew thankful for.
You know how much I love a good BOM!  Karen from Sew Many Ways began a block of the month series in February and it's not too late to catch up.  The blocks will measure 12 1/2″ unfinished and she is providing lots of pictures so that even the beginning quilter can follow along.
Here is February's block:
And March…
I am sew thankful to Karen for this BOM series and for all of the wonderful content on her blog.  Make sure you check out her sewing room, craft projects, sewing tutorials and linky parties at Sew Many Ways.
The folks at Pellon have some awesome free, downloadable projects to share that range from bags to quilts to home decor.  Visit their projects page and take a look around.
I love a good project, especially one that's free!  Thank you Pellon!
And from Connecting Threads, another cute and free pattern that is perfect for April: an April Showers Candle Mat pattern!
I think it's sew cute and it would make a great mug rug too.  To see all of their free patterns, visit the Free Patterns Page at Connecting Threads!  You'll be amazed and inspired!
If you have been in the market for a new sewing machine, there was a blog hop last month hosted by The Titled Quilt and Sew at Home Mummy called Meet My Machine.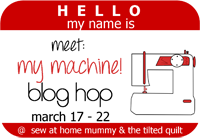 I had sew much fun visiting everyone's blogs and getting to know so many different sewing machines. This has been a valuable resource for many and you can still hop along.  There were many bloggers that wanted to add their thoughts and their sewing machine, so be sure to check out the links at the bottom of The Tilted Quilt's Meet My Machine Linky Party.
Recently, And Sew We Craft featured my Placemat Tutorial and Travel Pillowcase/Book Bag Tutorial on their website and I am sew thankful for that!
AND Freebies for Crafters featured my Placemat Tutorial on their website – a double thank you!  It makes me so happy to see a link to my blog on two such large networks!  Both of these blogs have sew much inspiration to share!
And a big thank you to Craft Gossip for featuring my Machine Applique Stitches Tutorial on their website.  They share oodles of crafty inspiration at their blog and you can receive regular updates from their newsletter here!

And don't forget to check out the last few days of the Craftsy Spring Sale!  It ends Monday night, April 8.  New deals are showing up each day.
I hope you enjoy the rest of your Sunday and thanks for joining me today!