Sew Thankful Sunday, 09.15.2013
I can't believe that we're half way through September and Fall is definitely knocking at my door.  Personally, it has been a busy few weeks.  Last weekend I had a house full with all of my kids home for a visit.  That's a rarity now days and I cherished every moment!  Can you believe I didn't take one picture?
This past week I've been helping me youngest daughter prepare for apartment living near her college campus.  We move her officially tomorrow.  Empty nester – that's me.  I don't like those words.  I could live forever with children in my house.  But I'm looking at the bright side:  the house stays neater, food stays around longer, you get the idea.  Yep, I'm grabbin' at straws.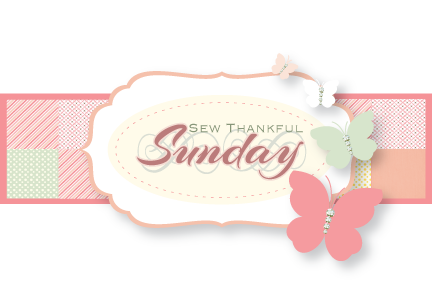 Anyways, today is Sew Thankful Sunday!  Even though I feel like I've been absent from blogging lately, I do keep an eye on things that I am sew thankful for!
(Remember, you can click on any of the images and it will take you to the associated link.)
1.  Are you familiar with The Quilt Pattern Magazine?  If you're a new subscriber, you can get a free 4-month subscription!  This offer is good until October 30.  They also have a great (free) tutorials page that you should check out too!
2.  Christa at Christa Quilts! has just started her 7th quilt along called Modern Trees.  It looks like fun and it would be perfect to decorate your home with for the upcoming holidays!
3.  I'm not a big fan of drawing diagonal stitching lines for flying geese units, etc, but I have found a new (to me) product that will eliminate that step and make my sewing lines more accurate.  Stitching Lines is a paper product made by Marin & Colusa that does the work for you.  You can see it for yourself by watching this You Tube video.
4.  Country Junk'tion is an online quilt shop and source of inspiration.  They have a gallery of free quilt blocks to download and a BOM program which is free for the current year.  Past year's patterns can be purchased for a nominal fee and I love the 2012's Year of Mini Quilts version.
5.  Are you thinking about Halloween yet?  Well, Melissa at The Polka Dot Chair has rounded up 25 Halloween Sewing Projects to get you inspired!  It will be here before you know it!
6.  Corey from Little Miss Shabby has a Supersized! Sampler that just started and I have it on my list of things I really want to do!  The blocks will finish at 18″ and she will introduce a total of four blocks (one each week).  There's only been one block posted so far, so there's plenty of time to catch up!
Thanks for spending part of your Sunday with me.  I'll be back in a few days to share my next Christmas Once a Month project.  That's another holiday that will be here before you know it!