A thank you & a book review
First, I want to thank you ALL so much for your loyal support and generous comments from my Staying Connected post.  It has truly uplifted me and motivated me to continue to do the best I can as a blogger and as an artist.  Sometimes that involves creating space for yourself!  As my daughter said, technology can be a mixed blessing.  So true!
And just to be clear, I will continue to post as often as possible.  The only thing that is switching to a monthly format is my Sew Thankful Sunday series.
And now, I'd like to share my latest book review with you: Playful Petals by Corey Yoder.
This is a book that I was waiting for with great anticipation, and I was not disappointed.  I love every page and every project in this book.  Truly, I have read it over and over and I'm still smiling!
Corey Yoder has done an excellent job of mixing a timeless petal shape with beautiful quilt projects.  Plus she gives you easy instructions for applique that  makes it achievable for anyone.
You know I love applique and I love the combination of piecing and petals that Corey has come up with.  Here's the cover quilt:
And a beautiful pillow:
Every quilt pattern has an accompanying pillow project, so if you're not ready to take on a whole quilt, you can "test the waters" with a smaller version.  For instance, this Starflower quilt is way cute: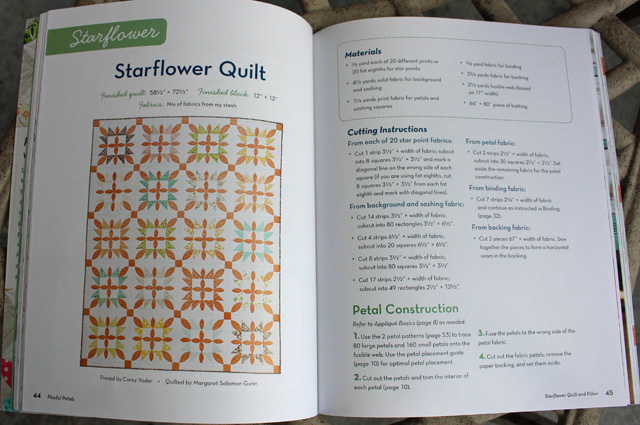 And this matching pillow is too:
As a matter of fact, I liked it so much that I made my own pillow:
I just love how it turned out!  I used a combination of fabrics, starting with a Strawberry Fields print from Fig Tree for Moda.  I love the vintage looking strawberries, so I used them in the border and for the back:
Here's a few close ups of the quilting:
I think I'm ready to make a whole quilt with this block.  But, it will have to wait.  For now, I'm happy with my little pillow.
Petal Play was released last week, and I purchased my copy at my local quilt shop.  (Always my first choice).  I'm so happy I did!
If you'd like more information on Corey Yoder, you can visit her blog at Little Miss Shabby.  I've been following her for a long time and she's always got something fun going on!
Thanks for stopping by and enjoy the rest of your weekend!  Oh, and happy Spring by the way!