Mason Jar Sewing Kit or Sewing Preserves
Are you looking for a last minute gift for a sewing or quilting friend?  You still have time to whip up a mason jar sewing kit or Sewing Preserves as I like to call it.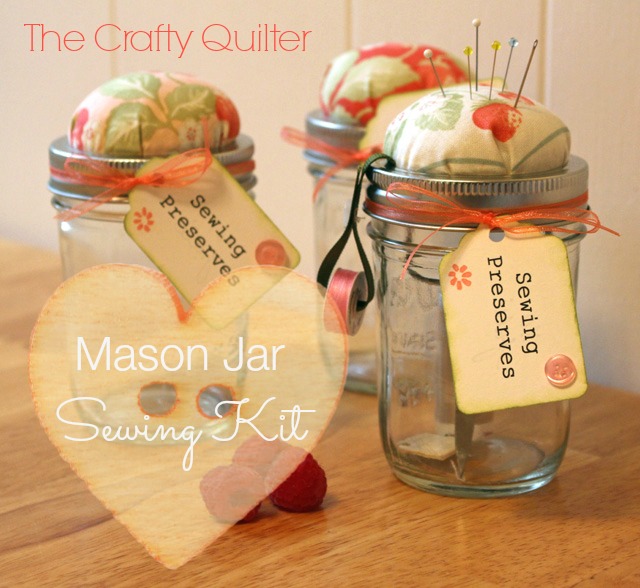 This is a perfect, portable sewing kit that anyone could use.  If you like hand applique or English paper piecing, this would be perfect for you.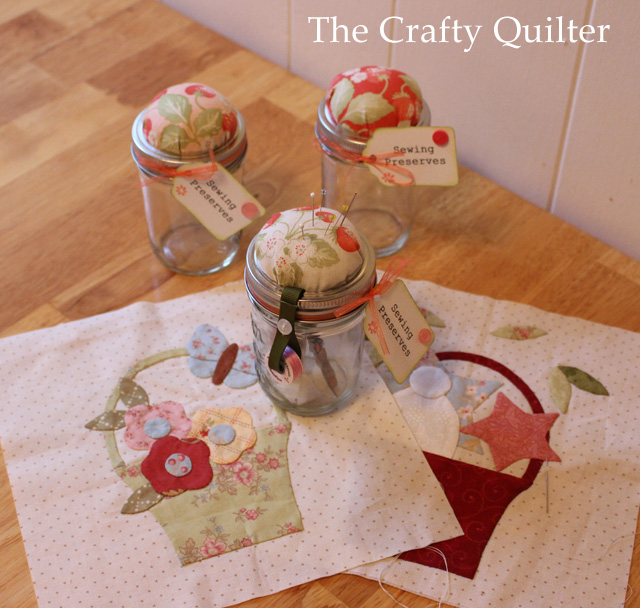 Do you hand-sew your bindings on the back of your quilt?  This could be your go-to jar!  There is room to put your favorite hand-sewing tools inside and it has a built-in pin cushion on top.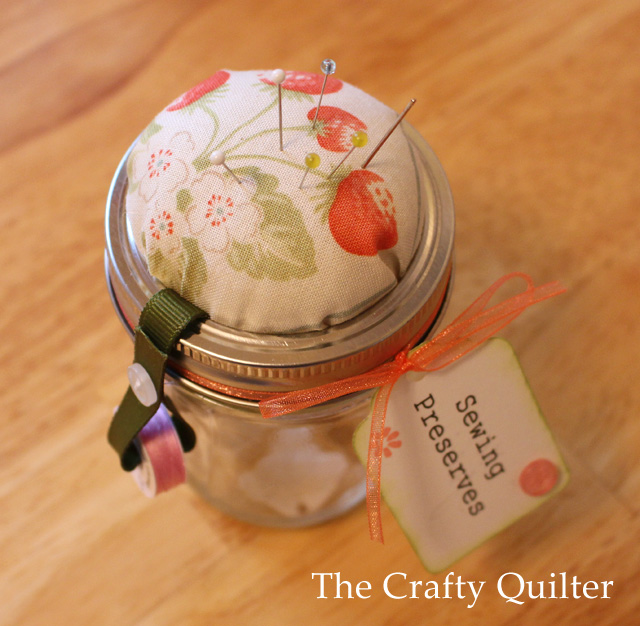 I added a sweet little saying on the inside of the lid.  Something to make you smile every time you open it up!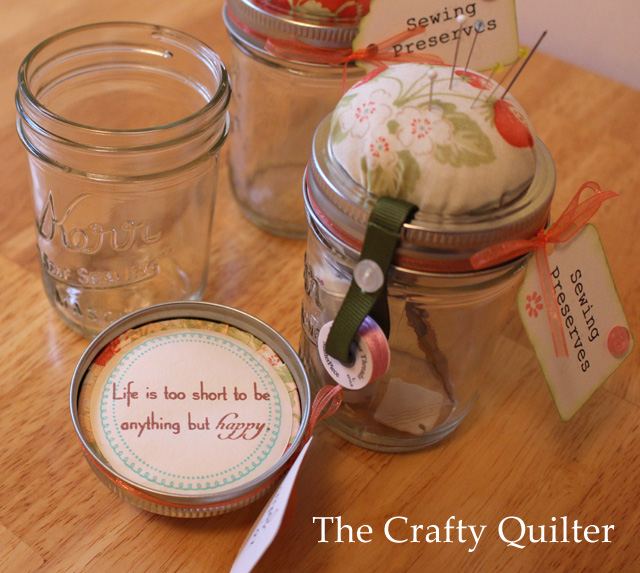 And that grosgrain ribbon with the bobbin attached?  Easy peasy and a great way to keep your thread handy while your stitching away.
There are many tutorials out there to make mason jar pincushions.  I used a combination of several to make my own Sewing Preserves Kit.  To get started, I relied on the Pincushion Jar Tutorial at Cutting Corners College, by Andy Knowlton of A Bright Corner.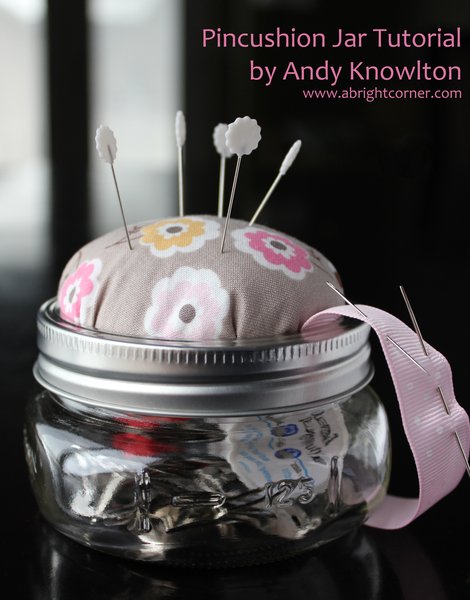 This is one of the more comprehensive and detailed tutorials that I found.  It's a great place to start!
The other idea that I used came from Karen at Sew Many Ways.  She added a sweet phrase on the inside of her lid.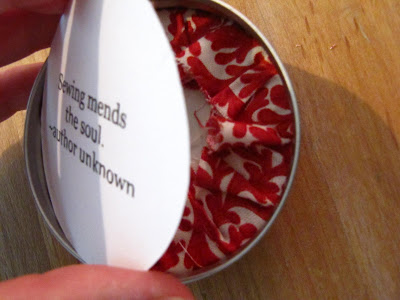 On that same blog post, Karen has a few other great ideas to use mason jars with, such as memory jars and decorative candle lights (great for the holidays)!
If you truly want to be inspired, check out these great mason jar pincushion ideas on Pinterest.
Here are a few details about how I made mine.
I used 5″ charm squares for the pincushion (Fig Tree).  Just round off the corners and baste 1/4″ from the raw edge (I used my sewing machine).

I decided to go with a kitchen theme and so I added a gift label titled "Sewing Preserves".  I used Microsoft Word and printed out a page of labels on cardstock.  Then I used a label punch and some stamping ink to the edges.  I adhered a button with Glue Dots and added a little flower stamp to the other corner.  Tie it on with some ribbon and you're all set!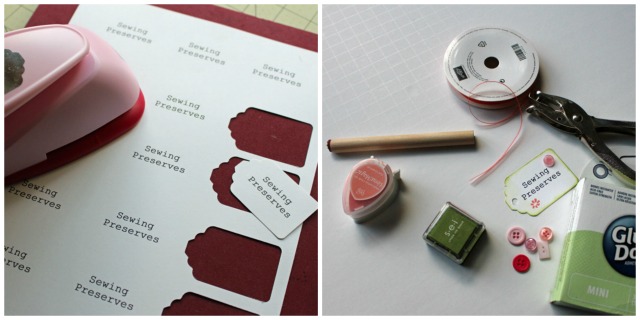 For the pincushion lid, I used Polyfil to stuff it.  I used a large circle punch for the inside label and hand stamped each one with a saying.  You could also do this on the computer if you don't have rubber stamps.  I used Gorilla Glue to adhere the circle to the inside of the lid.  I needed to "weight and set" the glue, so I inverted the lid onto the jar and then placed another jar on top of that.  I added weight by placing a heavy book (or two) on top of the empty jar.  It worked perfectly.
I wanted to add a thread holder to my sewing kit.  I like to use Masterpiece pre-wound bobbins for my applique so a narrow ribbon with a button closure was just right.  To do this, I added a 3/8″ wide piece of grosgrain ribbon to the underside of the lid; between the circle label and the lid.  This was an afterthought, so I didn't take any pictures of the process.  Here is what the finished product looks like:
I cut a 1/2″ wide slit near one edge of the ribbon and added Fray Check along the cut edges.  I sewed a small button near the attached edge of the ribbon.  Now I can switch bobbin colors whenever I need!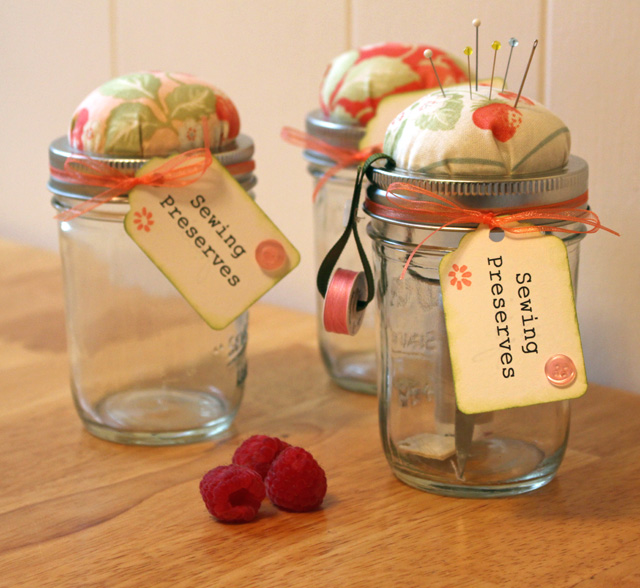 I love having everything in one place, ready to go when I'm ready to sew!  Thanks for stopping by today and I hope you're enjoying this holiday weekend!