Sewing Patchwork quilt top finished
Do you ever measure your success/accomplishments by the sewing projects you've completed over the course of a week, month or year?  I feel like I've moved ahead a square in the game of life with this Sewing Patchwork quilt top finished.  Maybe that's because it seems like forever since I've finished a whole quilt and not just a little wall hanging or an organized file drawer.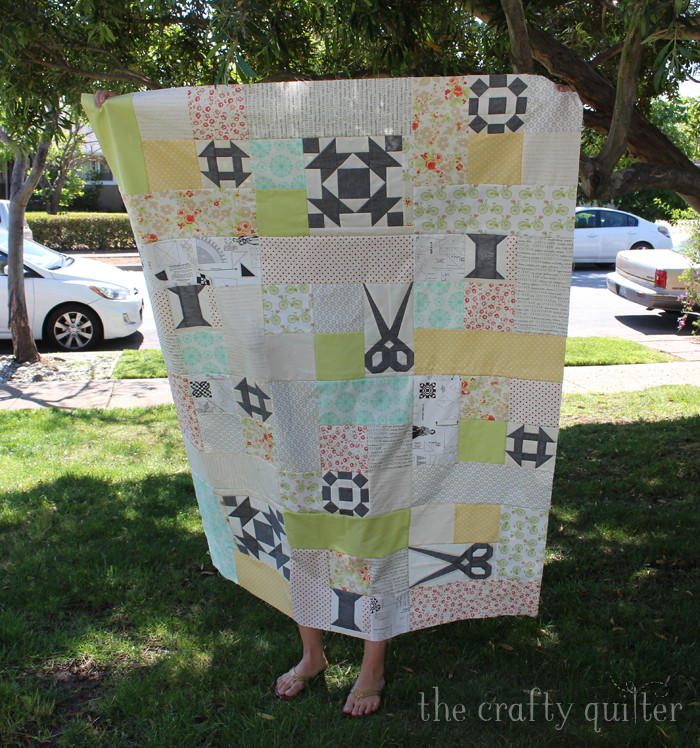 I love the simplicity of this quilt and the modern vintage feel.  It went together quickly, too, which is a bonus.  This came from a kit that I received from Fig Tree's subscription box program last year.   Sometimes I love not having to make decisions on fabric choice and placement.  And those scissors!
Next project (besides quilting the aforementioned quilt) is to finish this little mug rug that I recently started.  I'm taking a few process pictures along the way so I can share the "how to" details with you soon.
Happy Cinco de Mayo by the way!  We celebrated last night with "Cuatro de Mayo", and I made my chicken and shrimp fajitas and these fabulous 5-ingredient Chipotle Chicken Taquitos from Foodie Crush which were a big hit with my kids and their friends.  (I made the baked, not fried, version of her recipe and it was delicious.)  Don't forget the homemade guacamole and mango-bell pepper salsa!
Thanks for stopping by and I'll see you again for Sew Thankful Sunday in two days.
Save
Save
Save