Sew Thankful Sunday, November 2015
{I love the idea of "paying it forward".  I think the world would be a better place if we could spread some joy and acknowledgement of good deeds done by others.  I try to do that once a month for my Sew Thankful Sunday posts.  I highlight some great content that I've found on other people's blogs that I hope will inspire you and reward the originator by bringing traffic to their site.  If your blog has been mentioned without your consent, please let me know and I will take you off the current list of featured bloggers.}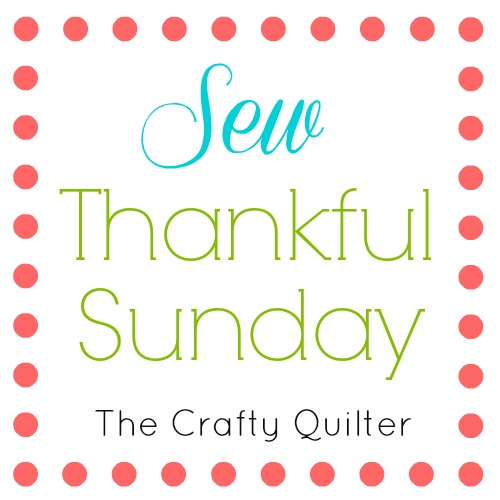 November is such a beautiful month here in northern California.  It's a busy one, too, for anyone who likes to decorate, sew, quilt, bake, knit, etc….  You'll find some great inspiration this month to fuel your creative mojo.  Enjoy!
(Remember, you can click on any of the images in this post and it will open up a new tab to the associated link).
 I am so thankful that someone has come up with a planner that can combine my personal, professional and creative lives into one place.  Stephanie at Late Night Quilter has made this happen with the Quilter's Planner.  It's a perfect time to get organized for 2016!
2.  I enjoy decorating the house for the holidays and this Christmas Tree Bunting from Anorina at Samelia's Mum looks super cute and easy, too!
3.  I love the supportive and caring nature of the quilting community.  Amy of Diary of a Quilter recently shared a tutorial for an Easy Mitered Baby Blanket in honor of a drive for Project Linus called Luke's Loves.  You can find more information about Luke's Loves here.
4.  I'm all about quick gifts and easy projects that I can stitch up in a day.  This Two Tone Clutch Tutorial by Ros at Sew Delicious fits that bill nicely!  I'll have to make two; one to keep and one to give away.
5.  I'm sure you've all heard of Craftsy, where you can find online classes, supplies and patterns. But did you know Craftsy also has a blog where they share tips on all kinds of things related to your favorite craft?  Check out this blog post on squaring up fabric.  It's a good place to start!
6.  I recently purchased EQ7 which is a popular software program for designing quilts.  I was so happy to see a series of tips and tutorials on using EQ7 by Cheryl at Meadow Mist Designs.  This is really helpful information!
7.  Don't you love candy canes at Christmas?  You can make them last forever with this Candy Cane Block Tutorial by Sheri at Sunshine in the Attic.  She's got the full tutorial for you to make as many as you'd like!
8.  It's time to get ready for the Snowflake Quilt Along at We All Sew (the Bernina blog).  Faith Jones from Fresh Lemons is taking you step by step through the pattern that she designed.  By the end of three weeks, you'll have all of the instructions and, hopefully, a completed quilt top!
9.  It's so nice when people share lessons learned (sometimes the hard way). Yvonne from Quilting JETgirl has some Crosshatch Quilting Tips that she recently shared as she made her way through some secret sewing. I'm taking notes!
10.  It's nice to have little pouches to put things in.  These Mixed Bag Drawstring Pouches by Kim at Retro Mama are the cutest thing ever.  She's got the full tutorial for you so you can make your own!
11.  A pillowcase was one of the first things I ever sewed (back in the stone age).  Thankfully, the process has been made easy by Chris from Made by ChrissieD.  She's sharing the Burrito Pillowcase Tutorial over at Fort Worth Fabric Studio and you'll definitely want to check it out!
12.  It's time to get your holiday DIY going people!  You'll find tons of ideas from 100 Days of Homemade Holiday Inspiration at Hoosier Homemade.  It's something I look forward to every day!
It's been a pleasure sharing these treasures with you today.  I appreciate the effort that goes into these tutorials and the bloggers behind them.  I'm sure they would love it if you said "hello"!  I hope your month of November is off to a good start!