What's up Wednesday?  It's just an excuse for me to check in with you guys.  Life can get busy, especially around the holidays.  I was thinking there might be a little 'lull' in my sewing room.  It's funny how that word can be very subjective.  For most people, a lull would suggest that there's nothing on the agenda or the "to do" list.  For me, it means that there's no big, sponsored deadlines or jobs that need to be done.  Maybe a little sigh of relief? Umm, no.
I looked at the calendar and saw that I have a Christmas mug rug pattern that needs to be ready by this weekend for a Santa's Workshop class at The Granary.  I also need to have our Granary block of the month quilt top partially assembled and ready for teaching on Friday.  Then there's the baby shower on Sunday that I wanted to make a little changing pad for as a gift.  And what about the Christmas ornament gift exchange at our guild next week?  Have I started that?  Of course not.  And then I have my own holiday list of things to do and make.  Plus, I should be cleaning the house right now.  Life can be overwhelming and that's when I tell myself, "One day at a time".  If something doesn't get done, it's not the end of the world.  I hope.
Other things I've been up to: We had a wedding reception for my daughter, Nicole and her husband John.  I blogged about it here. They got married with a small ceremony in September and then we had a big reception the weekend before last.  It was a cocktail, appetizer buffet sort of thing with a professional DJ and a balloon artist to keep the kids entertained (best idea ever).  It was really fun and somehow I don't have one picture to show you.  We did have a photographer taking pictures, but they won't be ready for another week.  However, I DO have the professional pictures from the wedding day.  Here's a few:
I went to the Pacific International Quilt Festival a few weeks ago.  It takes place at the Santa Clara Convention Center in California which is 15 minutes from my house.  How could I not go?  My only regret is that I didn't get a chance to see all of the quilts on display.  However, I did get around to every vendor that was there.  I always love visiting the Fig Tree booth and I bought a few patterns from Joanna Figueroa, herself.  How could I resist these cute little patterns?
I also found a few half-yard cuts from Farmhouse by Fig Tree, one of their newest collections for Moda.  I love anything with a cherry on it (or in it)!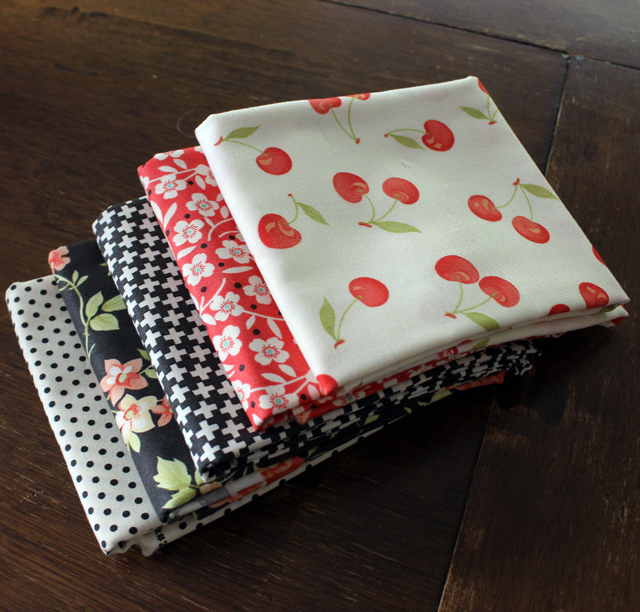 I have been hearing about the new Appliquick tools for applique and I was able to see them demonstrated at one of the booths.  I had to try them for myself, so I bought the rods, Appliquick interfacing and glue sticks, AND I actually used them when I got home.  I really like the tools for preparing applique shapes with a turned edge.  It's going to work well for my current hand applique project (which has been current for 4 years now), A Tisket A Tasket from Bunny Hill Designs.
Have you guys seen all of the adult coloring books on the market?  I have two of them now, and my inner child is having fun coloring again.  My favorite is Creative Coloring Inspirations by Design Originals. Many of the designs in this book can be translated into free motion quilting designs.  It's a great way to practice!
We went to a Halloween party last weekend and I made Halloween Jalapeno Popper Mummies.  They tasted great, but they were missing the cute eyeballs that make them really look like a mummy. No one complained though.  Pinterest is my favorite place to look for recipes and practically anything else you can think of.
I think we're all caught up now.  How's your Wednesday going?  Just remember, one day at a time!