Sew Thankful Sunday, January 2016
{I love the idea of "paying it forward".  I think the world would be a better place if we could spread some joy and acknowledgement of good deeds done by others.  I try to do that once a month for my Sew Thankful Sunday posts.  I highlight some great content that I've found on other people's blogs that I hope will inspire you and reward the originator by bringing traffic to their site.  If your blog has been mentioned without your consent, please let me know and I will take you off the current list of featured bloggers.}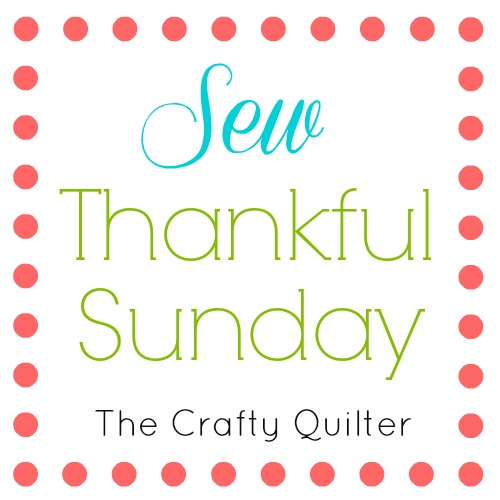 Welcome to January 2016!  This is a great time to start the year off fresh.  For some of you that might mean beginning a new project.  For many of you it means a clean and organized sewing/crafting space.  And for others (like me) it means finishing up those old projects (UFO's).  Today's list of things to be thankful for includes lots of ideas and inspiration to get you going in the right direction – whatever that may be!
(Remember, you can click on any of the images in this post and it will open up a new tab to the associated link).
1.  It's nice to have a place to share finished projects and cheer each other on.  For 2016 you'll find plenty of those with the 2016 Finish-A-Long.  This year the FAL, is going completely global and a community of bloggers across the world will be jointly hosting.  It's a quarterly system, so you have 3 months of planning and finishing, and there are prizes along the way!
2.  I recently found the lovely blog, Whipstitch, where you can find oodles of information about sewing (and quilting).  Deborah, the creator of Whipstitch, has online classes, videos and tutorials as well as a few new clubs starting up in 2016.  I love the idea of Sewing Buddies and her Murder Mystery Quilt.  There's also The League of Adventurous Dressmakers.  I'm trying to decide which one I want to do!
3.  Reducing that UFO pile is on everyone's list this year, including Pat Sloan's!  She's got a UFO Busting Plan that will get you organized and motivated for 2016.  There's also a link up so you can cheer each other on.
4.  Are you ready to start something new?  Yvonne at Quilting Jetgirl has a Plus Banner Block Tutorial that is graphic and sophisticated.  When you put a few of them together, you'll find a nice secondary pattern that forms into a lovely quilt.
5.  Anne Marie at Gen X Quilters is starting the year off with another great block of the month.  The Bonfire BOM 2016 has just kicked off and there's still plenty of time to join.  It's a 10-month program that will include skill building techniques and 8 blocks.  I'm already in love with the first block!
6.  If you're ready to challenge yourself, make sure to check out Lucky Spool's Mighty Lucky Quilting Club.   This is a monthly subscription club that focuses on challenging you with design concepts in the quilt making process.  "From playing with improvisation and negative space to finding inspiration and creating your own compositions …and everything in between…you'll be challenged each month with a new skill to try, with pages of instructions, examples, and inspiration from one of your favorite quilters."
7.  Do you like the community aspect of sewing groups or guilds?  Perhaps you should check out the Online Quilt Group and start a new adventure for 2016.  Becky of Patchwork Posse has organized a year full of monthly projects, guest designers, printables, a mystery quilt, and block of the months (mini and full).  Plus you'll get access to all of 2015's projects and patterns!
8.  The beginning of a new year is a time for reflection and goal setting; for resolutions to be made (not broken).  I have decided to choose One Word for the year (to be determined). A great way to keep your word alive throughout the year is with Ali Edwards' One Little Word 2016.  This is a 12-month workshop than includes creative prompts each month to help you connect with your word.  I've participated twice and really enjoyed the process each time.
I'm so excited about the upcoming year, and I've found some great ideas and inspiration in the blogs that were featured today.  Thanks for taking the time to read through the list and to visit your favorites.  I hope your 2016 is off to a great start!