Feb. UFO challenge and thoughts on Quilt Con West
I'm not making too much progress on my February UFO challenge.  My project is an 8-year-old Christmas quilt and it's so hard to get excited about.  I just want it finished, so it's going to be sparsely quilted and the binding will be all machine finished.  How are you guys doing?  Better than me I hope!
The good news is that Fat Quarter Shop is sponsoring this month's giveaway with a $25 gift certificate!  I love shopping at Fat Quarter Shop, and I'm really enjoying their block of the month programs and quilt alongs.  I'm going to put together a prize package as well, so there will be two winners this month!  The link up for February will go live on February 29, at 6 a.m. pacific time, and will continue until March 7.  You have the rest of this week to get your project(s) completed!  Remember:  "Finished is better than perfect"!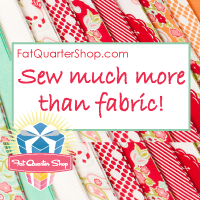 I had a wonderful weekend attending Quilt Con West in Pasadena, CA.  This show is presented by the Modern Quilt Guild and the vibe is energetic, friendly, and fun.  There's lots to do, lots to learn and lots to look at.  I took pictures of some of my favorite quilts in the show as well as some of the top winners.  It will take some time to transfer and process those photos, so you'll have to be patient.
I got to meet some new friends and some famous quilters.  I had the luxury of being picked up at the airport by one of my followers, Sue S.  We had never met in person, but she was kind enough to offer since she was from the area.  As a thank you, I made her a little zipper pouch and added a few notions inside.  We were able to have lunch and get to know each other better.  The magic of social media!
Since I registered late for the conference, I was only able to get into one class.  I also attended two lectures which were awesome and I'll give you more details on those later, too.  I will say that my suit case was twice as heavy on the return flight than it was getting there.  I must have been thinking that it was my last chance to ever buy fabric again (or books and patterns).  Silly me.  French General had a booth and I bought a few things from them, including some embroidery stuff.  It really rounds out my collection of French General; I knew it was missing something.
I found some new chambray fabric and now that it's home, there's no information in the selvages so I don't know who the manufacturer is.  I think it might be from Kaufman.  I couldn't resist it with this piece of lawn from Lizzy House for Andover.  It will become a top soon (because I also found a great pattern, wouldn't you know?)
I couldn't resist buying some fabric from the girls at Adorn It.  They have a really cute booth and I fell in love with Rhapsody Bop which is just my shade of bright and cheery!
The fun thing about this convention is that there are lots of freebies and games with chances to win prizes.  I have a collection of goodies that came from a few giveaways and prizes.  Plus, I was lucky enough to get my hands on one of these Cotton & Steel bags, full of scraps and selvages.
Now it's time to face reality.  I need to make room for my new treasures.  I'll be cleaning out my stash this week and hopefully I'll have a little destash sale going on here this weekend!  I'll keep you posted.  Have a great week!