Sew Thankful Sunday, February 2016
{I love the idea of "paying it forward".  I think the world would be a better place if we could spread some joy and acknowledgement of good deeds done by others.  I try to do that once a month for my Sew Thankful Sunday posts.  I highlight some great content that I've found on other people's blogs that I hope will inspire you and reward the originator by bringing traffic to their site.  If your blog has been mentioned without your consent, please let me know and I will take you off the current list of featured bloggers.}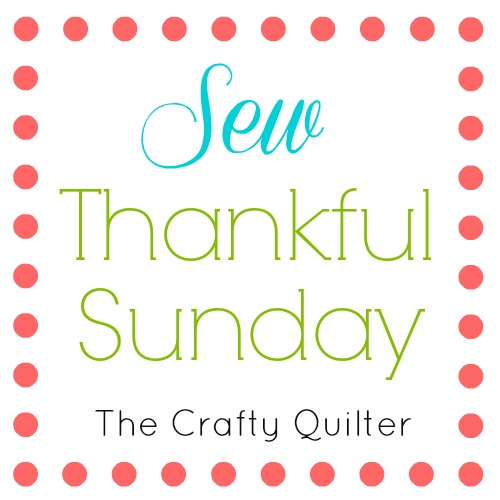 February is one of my favorite months; I love anything with hearts!  This month's list of "things to be thankful for" has a Valentine theme to it.  You'll also find many block of the month programs showcased today.  It's not too late to join a BOM program or to whip up a little heart project!
(Remember, you can click on any of the images in this post and it will open up a new tab to the associated link).
 This True Love mini quilt from Megan at Canoe Ridge Creations is just adorable.  It's representative of the Fresh Mini Quilt Club (which starts March 1st) that she hosts, and this particular pattern is free for everyone.
2.  Pillows are always fun to decorate with and I love this Valentine Pillow by Lindsey at Fort Worth Fabric Studio.  She has a free tutorial so you can make one too.
3.  I love this Encircled Love Table Topper from Laura at Kittens & Threads.  The circle design is a perfect accent for any table.
4.  You can't forget the sweet treats when it comes to Valentine's Day!  Check out these Strawberry Cobbler Bars from Hoosier Homemade.  I'm trying these out tomorrow (seriously).
5.  This I Heart You mini quilt is a free pattern from Allison at Cluck Cluck Sew.  It's the cutest thing ever!  It would make a great companion (pillow maybe?) to Allison's tutorial from last year, Simple Hearts, which I just finished!
6.  These Valentine Gift Tags from Amy at Nana Company are as sweet as can be.  You can download the pdf and have yourself some adorable gift tags in no time.  Amy used her new fabric line, Paperie, as the inspiration.  I think I need some Paperie fabric to go with my gift tags!
7.  I'm really excited about the Splendid Sampler Sew Along which starts on Feb. 14 and will continue for a year.  Hosted by Pat Sloan and Jane Davidson, this sew along will introduce two 6″ blocks every week, for a total of 100 blocks!  It will include a variety of techniques from pieced, to applique, to embroidery, to English Paper Piecing (EPP) and Paper piecing.  This is a free program; sign up today!
8.  Another block of the month program that starts in February is the In Our Garden Blog Hop hosted by Sew Incredibly Crazy.  Each month you will get instructions for two blocks; one that is appliqued and one that is pieced.  You should see the February blocks – they're adorable!
9.  If you're looking for something different, check out this Seminole Sampler BOM from Morning Glory Designs.  Each month you will receive instructions for constructing a Seminole Patchwork row.  I love the bright colors and layout of this one!
10.  For those of you that enjoy hand embroidery, you'll appreciate the Gentle Domesticity BOM from Jenny of Elefantz.  Jenny has designed these blocks to celebrate the home-maker, and I think she does is it with beautiful, feminine charm.   The patterns are free during the month of their release.  After that, they can be purchased for a nominal fee.
11.  Here's something for those of you that enjoy paper piecing.  Marianne at Adventurous Quilter has designed the Adventurous Stars BOM which will include 7″ paper pieced blocks that you can download for free.  This looks like it will be a striking quilt when it's all done!
12.  Do you enjoy a good mystery?  When you pair it with quilting, you'll get the Beguiling 2016 Mystery Quilt Along at Cora's Quilts.  It starts February 26 and by the end of July, you'll have all of the instructions for a beautiful 80″ square quilt.
Isn't that a great list of things to be thankful for?  It was so fun finding all of these treasures to share with you!  Thank you to everyone featured today; you've got big hearts ♥!
For those of you in the States, enjoy the Super Bowl today.  I live 15 minutes from Levi Stadium (near San Francisco), so I'm staying clear of the mayhem.  Maybe I'll start a Valentine project or get ready for my BOM while I watch it from home.  Either way, I can't go wrong if I stick to something from this list!