Sew Thankful Sunday, June 2016
{I love the idea of "paying it forward". I think the world would be a better place if we could spread some joy and acknowledgement of good deeds done by others. I try to do that once a month for my Sew Thankful Sunday posts. I highlight some great content that I've found on other people's blogs that I hope will inspire you and reward the originator by bringing traffic to their site. If your blog has been mentioned without your consent, please let me know and I will take you off the current list of featured bloggers.}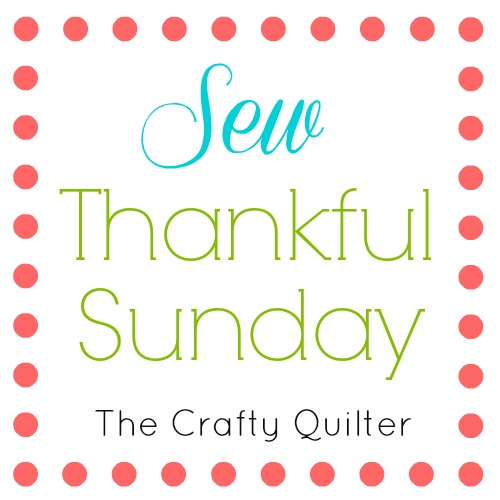 June usually marks the end of the school year, graduations, the beginning of summer and vacations. For us quilters it's also the beginning of new projects with the help of some quilt alongs, block of the months and classes that are just around the corner! Warm sunshine, bright colors, and a little free time – what's not to love?
(This month's Sew Thankful list is a little shorter than usual. I'm getting ready for my youngest daughter's graduation from college (whew!) and a 2-week vacation to Scandinavia in two weeks! Lots to do this month!)
(Remember, you can click on any of the images in this post and it will open up a new tab to the associated link).
Tomorrow is the official launch of Maggie's First Dance, a free BOM by Jacquelynne Steves. As many of you know, I'll be one of the featured bloggers each month and I'm so excited to show you my first block! There's still time to join if you haven't already.
2. If you're looking for another summer quilt project, check out the Summer Solstice Quilt Along by Melissa Corry at Happy Quilting. The fun begins on June 9 with an introduction and fabric requirements. Then you'll get bi-weekly instructions that will last all summer long!
3. I'm really excited about a new quilt along, Thread Journey, hosted by Aurifil Thread and led by Wendy Sheppard of Ivory Spring. Over the next three months, Wendy will teach you how to make this beautiful quilt AND how to quilt it! Wendy is an amazing free motion quilter and talented designer, so I'm sure you'll pick up some new tips and techniques.
4. There's a Summer Sewing Series going on at Polkadot Chair. Melissa has lined up a group of amazing bloggers to share some great, free tutorials that will add a splash to your summer sewing. It starts off with instructions to make an adorable tee pee for your littles.
5. If you like mysteries, check out American Made Brand's new mystery block of the month, Our Land. The first Monday of each month, they'll post a new America-inspired block design starting with "View from the Shore" for May. Monthly prizes will be offered, too!
6. I love this Spectrum Clutch designed by Heidi Staples of Fabric Mutt. It's perfect to store those summer essentials for a day of sunshine. She's got the full tutorial so you can grab your scraps in a summer palette and make your own!
Thanks for spending a little of your Sunday with me. I hope you're enjoying some good weather and free time today! There's always sew much to be thankful for, and I appreciate all of the bloggers and designers featured today. I know they love it when you drop by and say "hi"!
I'll be back tomorrow with Block 1 of Maggie's First Dance. See you then!