Maggie's First Dance, Block 1 and giveaway
Welcome to the first block of Maggie's First Dance, a free block of the month by Jacqueylynne Steves.  I'm delighted to be one of the featured bloggers, and I can tell you already that I'm going to love working on this BOM!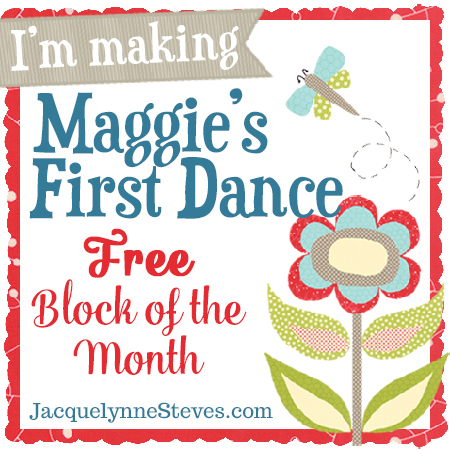 (Giveaway information can be found at the end of this post is now closed.)
I'm making the applique version of the blocks, but you can choose to do embroidery or use a focus fabric instead.  The quilt design is beautiful either way.  The final quilt will measure 53″ square.
Remember, this is a FREE block of the month program that is graciously presented by Jacquelynne Steves.  You need to sign up here in order to get the patterns.  You will receive the 5 block patterns over the first 5 months of the event, and then receive the border/finishing instructions in the 6th and final month.
Block 1 is a beauty and I thoroughly enjoyed making it.  The instructions are wonderful and it's easier than it looks!
Each month I will share any tips that might be helpful in constructing the block.  I guess it's the teacher in me that wants to make it easy and clear for everyone.  Not that the instructions aren't perfect, because they are!  I just know that you can't include all of the little hints on a pdf pattern without making it 20 pages long.
For this first block, you'll be making some quarter square triangles (qst's).  When you're sewing the triangles together, I find it easier to start on the corner that is at a right angle as shown in the photo on the bottom left.  If you begin your stitching on the other corner (bottom right photo), the tip of the triangle tends to get sucked down into the hole of the throat plate.
I twirled the center seam of the qst's so they would lie flatter.  This method gave me nesting seams as well when it came to joining the two units together.
When you sew the block rows together, you'll have two diagonal seams that come together on each end that create a visually straight line.  I call these "match points".
Use a setting pin to get those intersections (match points) as close as possible.  The setting pin goes perpendicular, straight through the "X" in the seam on the top and again on the seam underneath.  Then pin on each side of the setting pin.  Remove the setting pin before you stitch the seam.
Now for the fun part. You all know I love applique in all forms.  For this project I used a raw-edge fusible technique with Heat'nBond lite for the fusible web and a fine zig zag stitch in my favorite Aurifil cotton thread.  If you want detailed instructions for that technique, you can see my tutorial here.
I made my stems with a bias tape maker, so the edges are turned.  I prefer the flexibility of this method (rather than fused) because my stems can bend the way I want them to.  I also used a stabilizer on the back of the applique during stitching.  This keeps everything flat and stable.  If you want more information about those two things, read My favorite tools for machine applique.
This is such a pretty block!  Have you picked out your fabric yet?  I'm using Rhapsody Bop by ADORNit. I talked more about my fabric choices in this blog post.
Make sure to check out the other featured bloggers for more inspiration starting with Jacquelynne Steves:
Greg at Grey Dogwood Studio
Monique at Farm House Quilts
Julie at The Crafty Quilter (you are here!)
Beth at EvaPaige Quilt Designs
Kim at My Go-Go Life
Jacque at Lily Pad Quilting
Brenda at The Quilting Nook
Other details:
And now for the giveaway!  The giveaway is now CLOSED.  Aurifil is our generous prize sponsor this month.  All you need to do is leave a comment on this blog post telling me how long you've been quilting.  You have until June 12 at midnight (California time) to comment.  You can earn more chances to win by commenting on the other participating blogs as well.  We each get to pick one winner and international entries are welcome!
Here are the giveaway rules:
To enter, leave a comment telling me how long you've been quilting.
You must comment by 11:59 pm PST on June 12, 2016.  now  CLOSED
Your email MUST be included in your profile information or in your comment. If I choose your name and I cannot contact you, I will choose another name.
Giveaway is open to US and international readers.
Winner will be chosen at random.
Thanks for visiting and have an awesome day!