Happy Wednesday!  I have a few works in progress (WIP's) to share and some finishes (woo hoo)!
I finished a table runner that I started last year.  I had wanted something small with a fall theme, so I came up with an easy project that also allowed me to play with my stencils.  You can find more information about stencils here and don't forget there's still a discount code (CRAFTYQUILT) for The Stencil Company that is good until October 19, 2016.
I used up a mini charm pack of Persimmon by Basic Grey for Moda and a few fat quarters.  I added the leftover charm squares to the backing and I like how it turned out.  You can really see the quilting on the back.
I added a flanged binding and I used a wonderful tutorial from Lorna at Sew Fresh Quilts.  This is a great way to add a little pop to your binding and it's really easy to do!  Plus it's done all by machine (no hand stitching).
I had some fat quarters left over from the same fabric line and I made fabric napkins out of them.  These were easy to do also, and a great way to use up extra fabric.  I used an awesome tutorial from Becky at Patchwork Posse.   I can see many more napkins in my future!
Did I show you the last Fig Tree Quarterly Box that I received?  It's such a fun package to open and I'm finally getting around to using the contents.  I'm making a Mini Hugs quilt and the colors are beautiful and fall-like.  Here's a little peak at what I've got going on with that box:
The other "quilt box" I have at home is just amazing and makes my heart flutter every time I look at it.  It's the Portage Lake Block of the Month from Minick & Simpson.
The Granary Quilt Shop (where I work and teach) is participating in this BOM and they just started releasing the monthly kits.  There are still a few spots left, if you're interested (it's a grab and go project).  Guess who gets to cut the fabric and make the kits?  Yes, it's me.  I'm definitely in my happy place!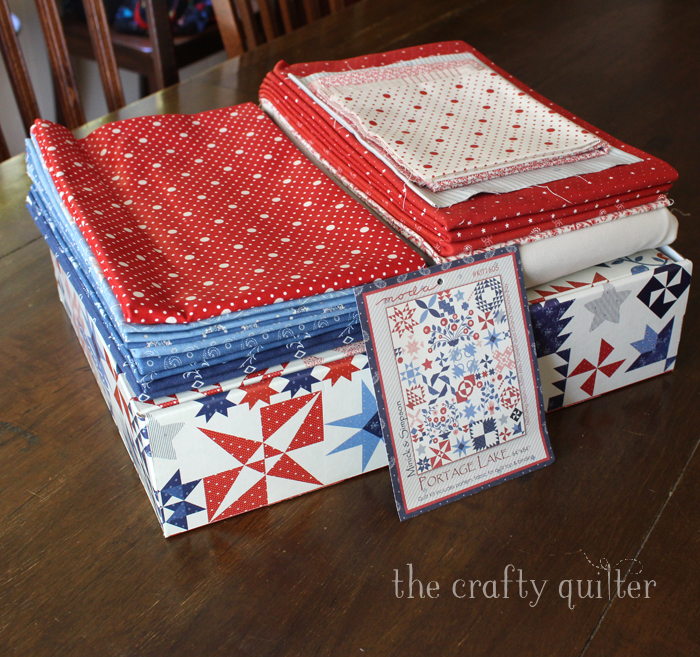 So that's how my quilting week is looking so far.  It's so nice having a clean sewing space to work in.  It makes me wonder why I wait so long to clean it up!  Have a great day!
Save
Save
Save