I Love Precut Quilts! Blog Hop & giveaway
Hey everyone!  Welcome to my stop on the I Love Precut Quilts! Blog Hop.  I'm so excited to share a project from the new book, I Love Precut Quilts!, written by Tricia Maloney and published by C&T Publishing. There's a giveaway, too, so make sure to read all the way to the end!
You guys know I love precuts in most any size or shape.  What is a precut?  A collection of fabric cut into the same size units.  The most common sizes are 5″ squares (charm packs), 10″ squares (layer cakes), 2 1/2″ strips (jelly rolls) and fat quarter bundles.  I tend to collect charm packs, but I also have quite a few fat quarter bundles, too.
I was really excited when Tricia asked me to participate in this blog hop because I knew I could find a project that would fit in with my stash of precuts.  Deciding on which project to make was the hard part.  I have the e-edition of this book and I just love it.  There are so many great projects to choose from!
This book has quilts ranging from small placemats all the way up to large bed quilts.  I chose to make "City Houses" which is a quilt that is meant to be a bed runner, but it will be a long table runner in my house.  Instead of eight blocks, I made six blocks and they were so fun to make.  These are log cabin based blocks and I love the modern look.
I used fabric from a fat quarter bundle of Flutter by Alex Anderson for RJR Fabrics.  This bundle was given to me several years ago by Alex as a thank you for helping out during one of their TQS tapings in the bay area.  I'm so glad I finally got to use it.  I chose a gray, taupe and blue color palette with a pop of yellow.  Totally not my usual style, but I love how it turned out.
Since our house is being renovated, all of my photographs were taken outside.  Thankfully, it was a beautiful day!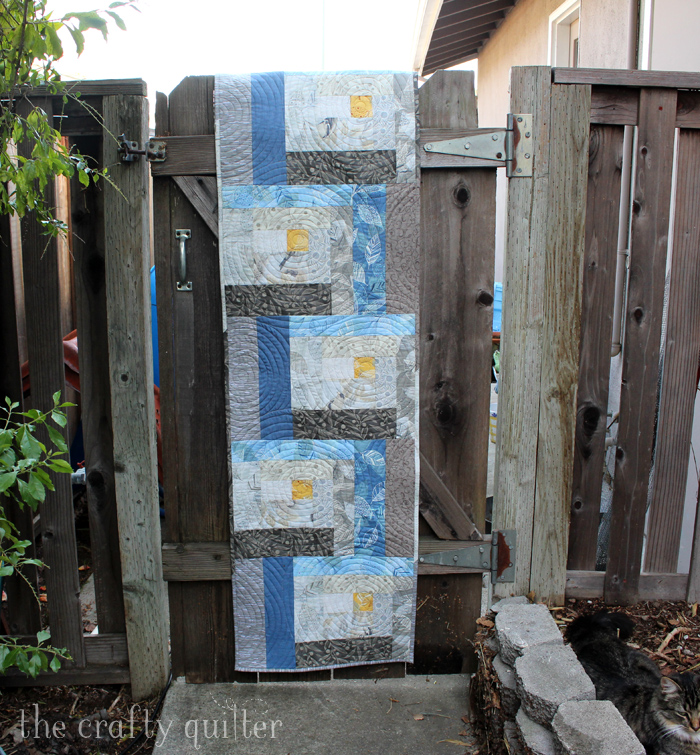 I tried out circle quilting for the first time.  I used my Bernina stitch regulator which has a foot attachment that is a clear plastic guide for outline stitching.  My circles are more organic than they are perfect, but it fits with the natural theme of the fabric.
I like to use Thermolam for the batting in my table runners.  It gives it more stability and it protects my table from hot items a little better than regular batting.  It really shows the quilting nicely, too!
The binding was attached to the back of the quilt first and then wrapped around to the front and stitched down by machine.  This works great for quilts that are going to be washed frequently.
It was such a pleasure to work with Tricia Maloney and her new book, I Love Precut Quilts!
  Here's the blog hop schedule, so you can follow along.  There will be chances to win a copy of the book at each stop, including here (see the end of this post.)
Blog Hop Schedule
Monday, January 30th
Tuesday, January 31st
Wednesday, February 1st
Thursday, February 2nd
Friday, February 3rd
Giveaway
Now that you've made it this far, it's time for a giveaway.  C&T Publishing is giving away a free copy of I Love Precut Quilts!
  All you need to do is leave me a comment telling me your favorite type of precut fabric.  International entries are welcome.  Giveaway ends February 5, 2017.
Good luck and thanks for stopping by!
Save
Save
Save