New quilters, new stash and more gardening
My youngest daughter, Sara (on the right), and her good friend, Sara, recently took my beginning quilt class and finished their first quilt.  We have two new quilters, people!  I love how they chose the same color palette, but one is soft and the other is vibrant.  I love them both (quilts and people).
It's been so nice having Sara living at home since graduating from college.  She works full time and loves to hang out in the city (San Francisco) on the weekends, so I don't see her as often as you might think.  It's a good balance for her and keeps us all at peace with each other.  I'm the crazy mom that would love to have her children live with her forever – the door is always open I say!
I took advantage of Fat Quarter Shop's recent sale and I purchased a few things that I've had my eye on.
I finally own a Ruler Pal and it's already paying for its keep.  It's a great way to keep rulers that you're using at hand, but out of the way of your cutting surface.  They come in two different sizes and lots of fun colors.
These three fabrics are from Charleston by Amy Sinibaldi for Art Gallery Fabrics.  The half-yard bundle behind it is Les Petites also by Amy Sinibaldi and it coordinates perfectly with Charleston.  No plans for these yet, beyond holding and petting.
I'm starting a collection of Aurifloss and I love this box of colors inspired by Lori Holt.  Beautiful embroidery, here I come!
I've been putting in my time doing gardening. The first half of the week was beautiful and I knew there were a couple of storms lined up (that have since brought lots of wind and rain), so I went to town preparing the vegetable garden with chicken manure and planting lots of flowers in pots.  I've got seeds that still need to go in and a few more vegetables to plant, but we are off to a good start.
Picking out flower combinations is a lot like picking out fabric combinations and I love the challenge.  This beautiful ceramic bowl is my favorite.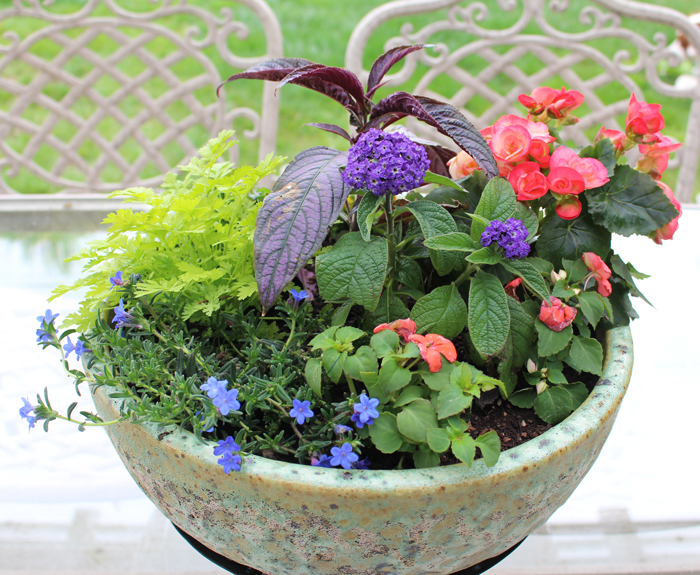 Gerbera daisies are just the happiest looking flower and I always include a few in the mix.
And who could resist this sweet bunch of purple violas.
On the front porch, you're greeted with a riot of color.  Don't you love the blue accent from that flower pot?
And this pot was made for me by two of my nephews and it's one of my personal favorites.  This would make a great mother's day project!
The Spring SALE has sprung at Craftsy! All of their top classes will be under $20 this weekend. Skip the spring cleaning. Enjoy some spring crafting – starts today!
That's my week in a nutshell!  A little bit of sewing here and there, but mostly gardening and organizing my new office desk.  Hopefully this weekend I'll get to play in my sewing room.  I hope you do too!
Save
Save
Save