Summer days are the best, and it's in full swing here.  I'm spending more time outside than I am in the sewing room.  Which explains why I haven't blogged in a while!  I've also been busy getting prepared for my upcoming lecture and workshop in Tennessee, plus a new pattern is in the works.
My vegetable garden is exploding with cherry tomatoes right now.  I accidentally planted two of the same kind – Sun Gold (my favorite).  They are SO sweet!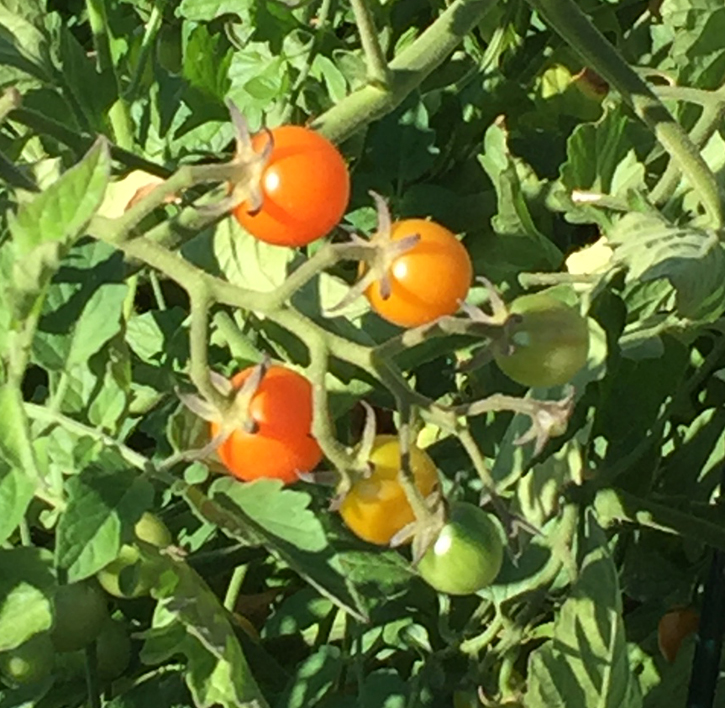 I love shopping the farmer's market in the summer.  The peaches and nectarines are at their peak!  And the blueberries are still going strong.  My favorite breakfast is a bowl of plain yogurt topped with fruit, granola, almonds and a little maple syrup drizzled on top.  Heaven!
I found a recipe for the perfect margarita.  I never knew how simple they are to  make from scratch.  Mr. Crafty Quilter likes them, too.
Sunflowers and purple statice compliment each other so well and they bring summer right inside your home!
I have this pillow on my front porch.  I made it two years ago for the Desire to Inspire challenge at Henry Glass Studios.  It's getting a little faded from all of the sun, but I want to keep it there through the month of July.
Here's a sneak peak of the new pattern I'm working on.  It's made with big blocks of red and white fabric.  I need to make a few changes to the pattern now that I've received all of the feedback from my pattern testers (who are awesome).
I'm just about finished with my first block of Jacquelynne Steves' upcoming free block of the month, I Love Home.  There's still plenty of time to sign up!  I'll be posting the full details of mine on August 7, but here's a little preview:
It's hard to imagine that the year is half way over!  I've been looking at Christmas ideas already – Christmas in July is a thing, you know.  I've got plenty of them on my blog here, and I'll be adding more Christmas tutorials in the months ahead.
For now, I'm enjoying the long summer days.  We're taking a trip to Texas in a week to visit my oldest daughter and her family.  We get to babysit our granddaughter, Amelia, for a few days!  Then I'm off to Franklin, Tennessee.  I won't be as active on my blog as I'd like to be for the next few weeks, but I have lots planned for you later in August and the remainder of the year.
Happy Summer!
Save
Save