Sew Thankful Sunday, July
{I love the idea of "paying it forward". I think the world would be a better place if we could spread some joy and acknowledgement of good deeds done by others. I try to do that once a month for my Sew Thankful Sunday posts. I highlight some great content that I've found on other people's blogs that I hope will inspire you and reward the originator by bringing traffic to their site. If your blog has been mentioned without your consent, please let me know and I will take you off the current list of featured bloggers.}
Can it possibly be July already?  Half the year has gone by and so quickly!  I'm sure you're all feeling it, too.  As makers, we can always use more time for our craft(s).  I often think I should live "in the moment" more and perhaps the pace of time would slow down a little. This month I'll try to focus on what's in front of me, which includes some red, white and blue fabric!
Note:  If you use Pinterest, please pin from the original source and not this blog post. Remember, you can click on any of the images in this post and it will open up a new tab to the associated link.
I love this Red, White & Blue Star from Elizabeth at Occasional Piece Quilt.  She's a participant in the Patriotic Palette Blog Hop at Paintbrush Studio.  This mini quilt would be great in a variety of colors, too.
2.  Pat Sloan has just launched the Grandma's Kitchen Sew Along and it looks like a crowd pleaser already!  There will be a new block pattern released each Wednesday for a total of approximately 25 blocks.  It's a mystery style sew along and it looks like so much fun!
3.  I've just been hearing about a new television series called Fresh Quilting on Public Television.  It's co-produced by the Modern Quilt Guild and KS Productions.  Each episode will have leading designers and quilters presenting a fresh twist on traditional quilting.  I can't wait to watch!
4.  Check out these great 4th of July Table Decorations at Hoosier Homemade.  You can create the perfect party atmosphere using simple supplies from your house.  And it's easy!
5.  You'll find the perfect picnic quilt with this Crossroads Quilt by Melissa at Happy Quilting.  This tutorial is charm pack friendly – just add background and accent fabric.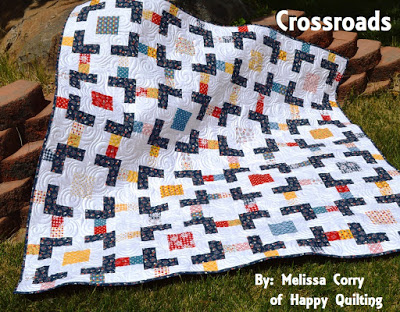 6.  I'm a fan of rulers that make life easier such as the Tri-Recs Ruler from EZ Quilting.   Andy at A Bright Corner has a fantastic tutorial showing you how to use this ruler and a cute pinwheel block to test it out on.
7.  There's nothing like fun and games in the summer, especially with this Star Bean Bag Toss Tutorial designed by Faith Jones for We All Sew.   I love being able to use a quilt in a new and fun way!
8.  I'm loving this Kaleidoscope Windows quilt tutorial by Amanda at Material Girl Quilts.  She's participating in the Folk Art Fantasy Blog Hop which is showcasing Amanda Murphy's new line of fabric for Benartex.  I love the mix of colors in this quilt!
9.  Every occasion deserves the proper pillow, and Carrie Nelson has exactly that with her Stripes and Stars Pillow(s) for the Moda Cutting Table.  She has two design options for this pillow and I love them both!
10.  Now would be a great time to try an online class at Craftsy while they're ALL on sale for under $20 until July 4, 11:59 pm MST!
Thanks for joining me today, and a big thank you to everyone featured.  I hope you're having a wonderful weekend!
Save
Save
Save
Save