Giveaway winners and Modern Plus Sign Quilts book hop starting now
I have the pleasure of announcing the giveaway winners from two different giveaways.  And keep reading because there's a new book hop that just started and you don't want to miss hearing about it!
The first winner of the Franklin Star prize package of two patterns, a triangle-in-a-square ruler and a fat-eighth bundle of fabric is Sandra St. Hilcraire.  Congratulations Sandra!  You were lucky #234 (randomly selected) and you commented: "Love your new pattern. My largest quilt was a king size that has a home on our bed. I also quilted this on a domestic machine. Love being able to make my quilts from start to finish."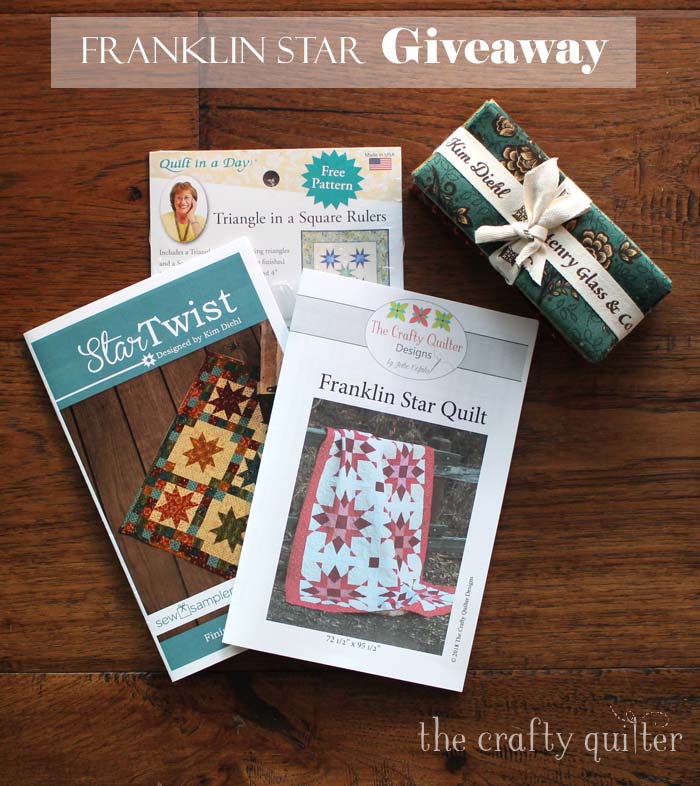 Thank you for all of the nice comments.  I wish I had the time to reply to all of them, but I do read and appreciate each and every word.  I asked you to tell me the size of your largest quilt that you've made.  So many of you have made a king or queen size quilt!  And so many of you would rather not do it again – ha ha!  I'm impressed with the diversity among quilters and some of the wonderful stories you shared in the comments.
The next winner is from the Gloaming giveaway and that goes to Marge Dickinson.  You were comment #164 (chosen randomly) and you said, "Lots of good stuff in your blog today. And a pretty quilt, too!"  Congratulations, Marge!  You will be getting a select fat quarter bundle of Gloaming by Shelley Cavanna for Contempo Studio by Benartex Fabrics.
From everyone's comments, I can see that I need to add a blog post to my list on quilting using rulers on a domestic sewing machine.  I'll have to play with that a little before I feel confident enough to add my two cents.  You've also got me working on a tutorial on how I add binding to my quilts entirely by machine.  Coming soon!
I'm especially excited to tell you about the Modern Plus Sign Quilts Book Hop that started this week and continues through next week.  I will be participating on Monday, March 19, and I can't wait to show you my project!
Modern Plus Sign Quilts
is a new book written by Cheryl Brickey of Meadow Mist Designs and Paige Alexander of Quilted Blooms and published by C&T Publishing.  These two ladies have knocked it out of the park with their beautiful quilts!  I really love every one of them, and I have so enjoyed seeing the different interpretations of the projects on this book hop.
You will enjoy meeting new bloggers and seeing their quilts, plus there are giveaways each day courtesy of Cheryl, Paige and some fantastic sponsors.  I hope you enjoy the book hop and have a super day filled with creativity!