New pattern release: Franklin Star and a giveaway!
I have a new pattern release to show you today.  It's called Franklin Star, and it's filled with beautiful star blocks that explode across the quilt top.  Plus there's a great giveaway, too (now closed).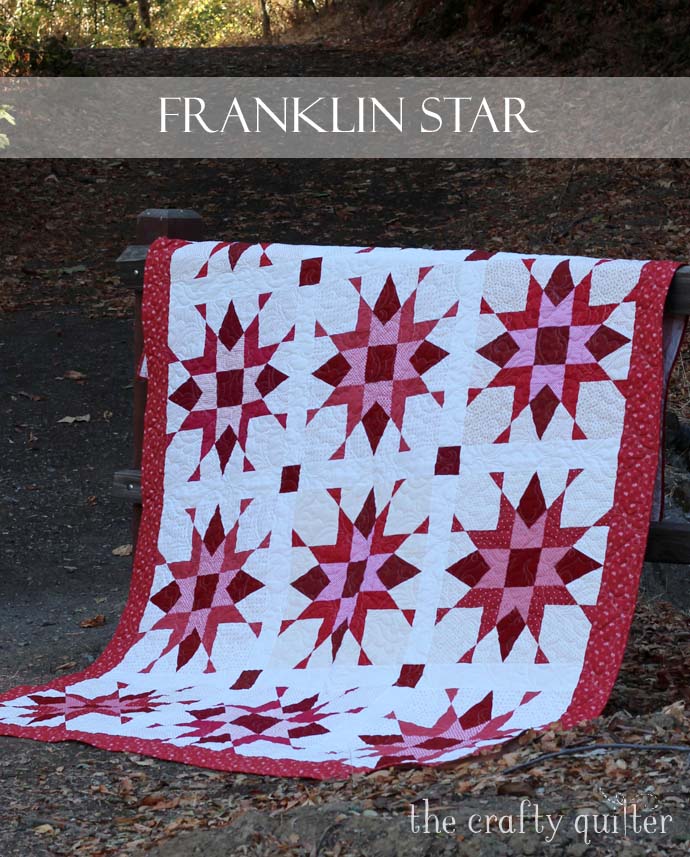 Franklin Star is named after the town of Franklin, Tennessee, where I gave my first guild lecture and workshop at the Cumberland Valley Quilters Association.  Finding a name for this quilt was not easy because there are so many star quilts already out there.  I designed this with my trip to Franklin in mind (plus I have so many good memories from there), so that's how I came up with the name.
This is a nice, twin sized quilt (72 1/2″ x 95 1/2″) that can easily be made larger with extra blocks or wider borders.  Similarly, it can be made smaller by subtracting blocks.  The blocks are large, 20″ square!
Franklin Star is designed to be scrappy.  I have been wanting another red and white quilt for a long time, so I used four different groups of reds in light, medium and dark values plus four different background fabrics.  The beautiful quilting was done by Carol Dockery at The Granary Quilt Shop.
I made a smaller version with only four blocks, using my stash of Fig Tree fabrics.  This would make a generous size baby quilt.
One thing to mention is that I used the Triangle in a Square Ruler by Quilt in a Day
to make the triangle-in-a-square units for each quilt block.  I love this ruler because it makes an oversized unit that can be trimmed perfectly to the correct size.  There are other rulers that would work as well such as the Tri-Recs Tool by EZ Quilting
or 2 Peaks in 1 Triangle Ruler by Creative Grids
.  I find there are usually 5 different rulers available for everything in quilting!
I had some wonderful pattern testers who made sure my directions were accurate and sensible!  Take a look at their quilts and blocks and you can see the many possibilities with this pattern.
My sister-in-law, Audrey, made the complete quilt, and she used some cute 30's prints to give it a vintage feel.  She quilted it herself, too; she's an excellent longarm quilter.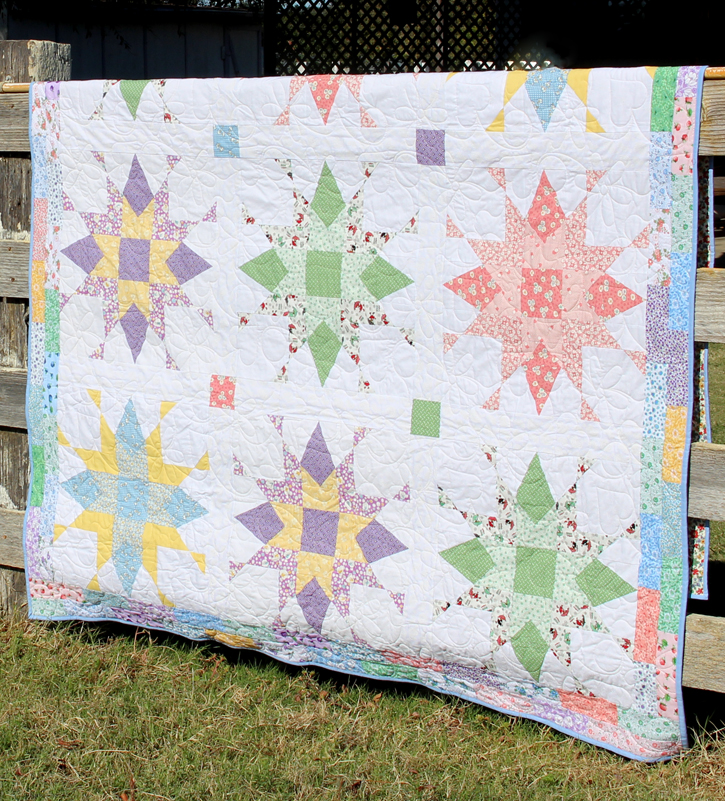 My sister, Cindy, made four blocks in an assortment of purple fabrics.  Cindy is an excellent quilter and the one responsible for getting me hooked on quilting!
Here are the individual blocks made by my other pattern testers: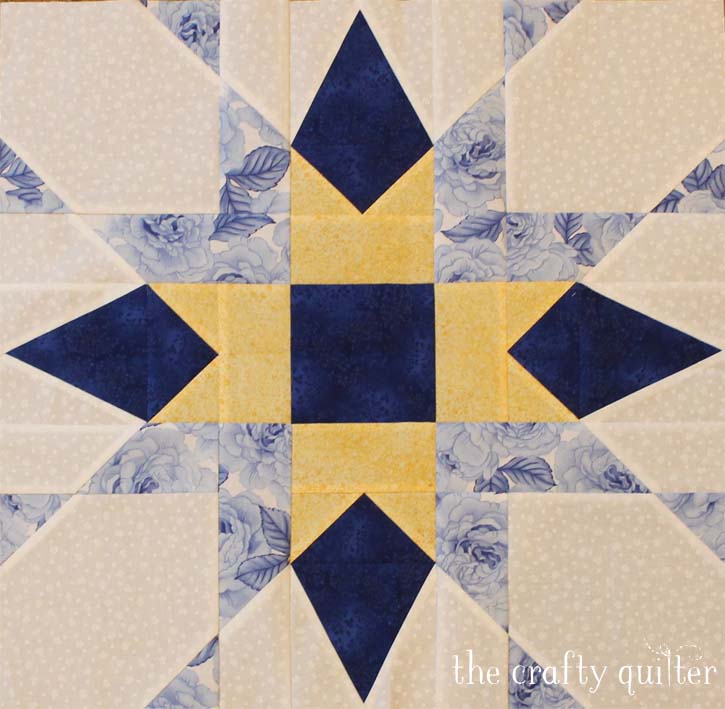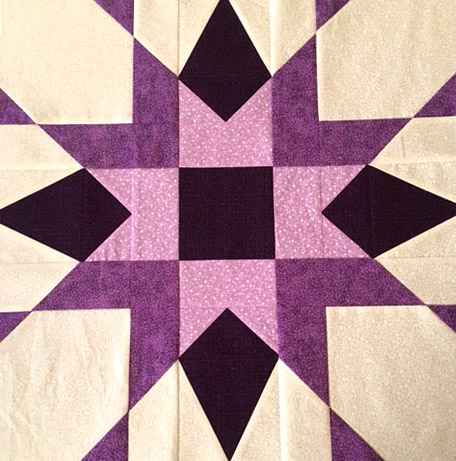 You can purchase my pattern (pdf only) on Craftsy.  It's also available at The Granary Quilt Shop in paper form.  I'll be teaching a Franklin Star class there, too, tomorrow!  Always, I appreciate your support and your feedback!
If you're on Instagram and you make this quilt, tag me @thecraftyquilter and use the hashtag #franklinstarquilt.
Giveaway (now closed)
I thought I would do a little giveaway to celebrate my new pattern.  The prize includes a copy of Franklin Stars, Quilt in a Day's Triangle-in-a-square Ruler, a fat-eighth bundle of Star Twist Helping Hands by Kim Diehl for Henry Glass Fabrics and a Star Twist pattern.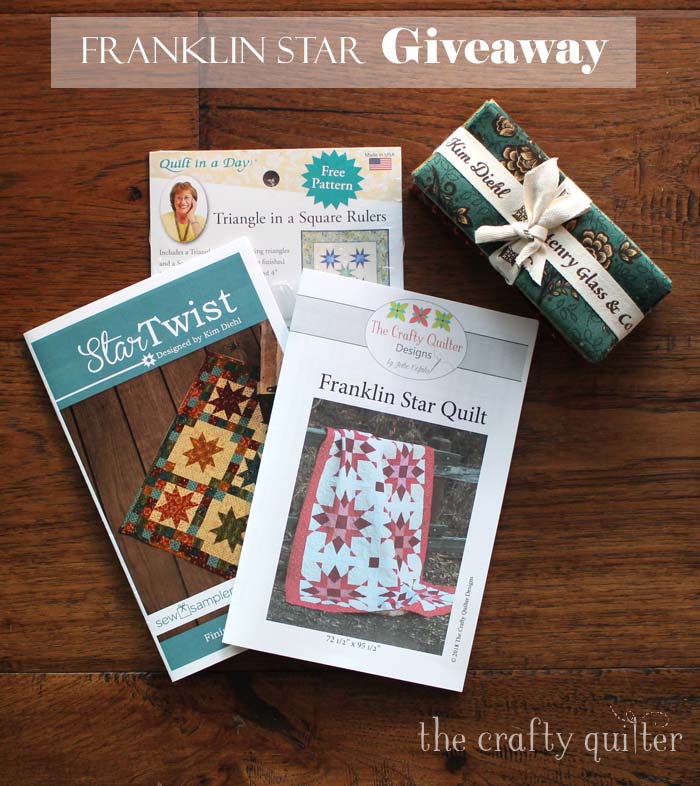 Giveaway Rules:
Leave a comment on this blog post telling me the biggest quilt you've ever made. (Make sure you're leaving a comment on this specific blog post and not my home page).
Deadline:  11:59 pm PST, March 10, 2018 (now closed)

USA and International entries are welcome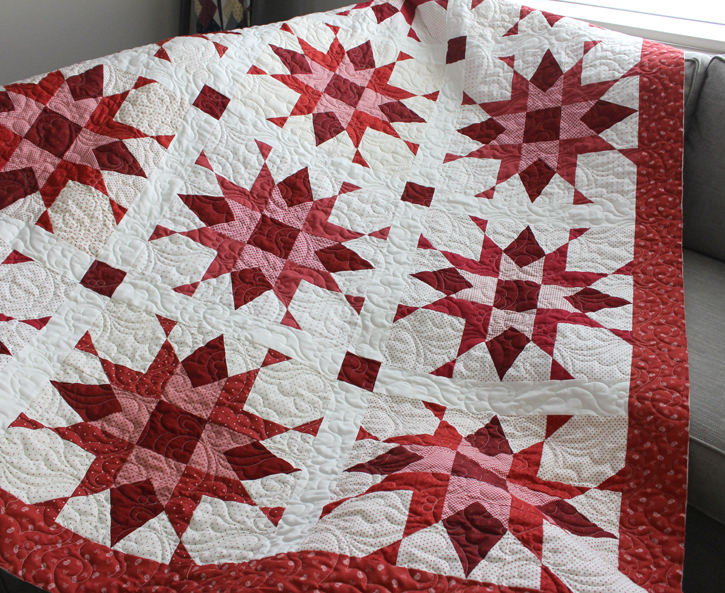 Also, make sure to check out Craftsy this weekend!  They are offering Craftsy Unlimited for free this entire weekend, 3/3 – 3/5.  That means you can watch any and all of your favorite Craftsy classes for free!
Thanks for visiting today.  I hope you have a lovely weekend!