Modern Plus Sign Quilts Book Hop is here!
Welcome to my turn on the Modern Plus Sign Quilts Book Hop.  I'm so excited and honored to participate in this event!  This is the first book collaboration for Cheryl Brickey of Meadow Mist Designs and Paige Alexander of Quilted Blooms, the authors of Modern Plus Sign Quilts.  This book is rooted in tradition with a classic block that is set in modern quilt designs.  There is something for everyone in these pages, and you'll find that it is well-written and full of beautiful projects to make and tips to guide you along.
One of the quilts from the book, Signature Plus, is made up of 122 signature blocks – including mine!  I am so proud and excited to be a part of this book in such a meaningful way.
For my part in the book hop, I chose to make the quilt, Petals Plus.  I love anything with an orange peel design and a little applique doesn't hurt either.  The original pattern from the book is a bed-sized quilt, 66″ x 88″,  shown below.
I wanted to make this project into a table runner.  In order to make it fit, I had to change the layout just a bit.  I used the plus signs down the center of my table runner and a half-grouping of petals on each side.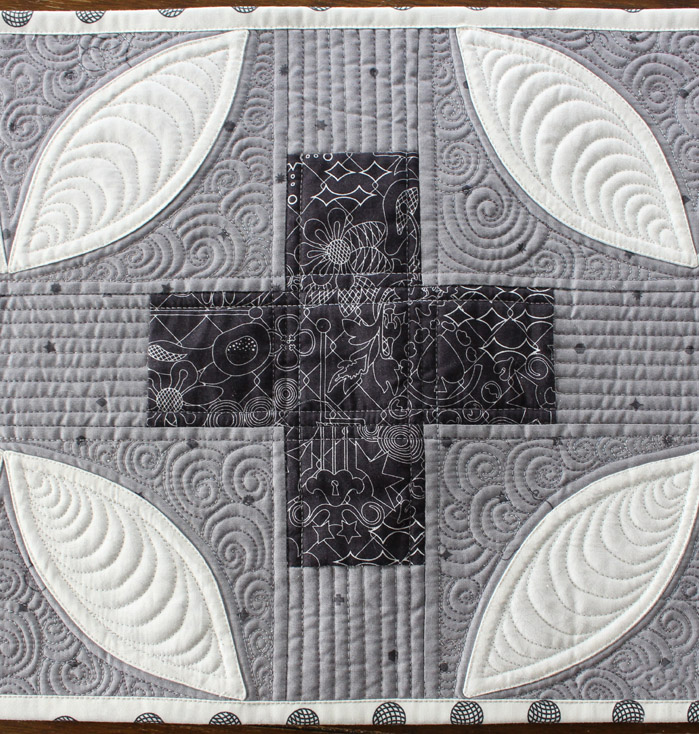 My color palette is definitely not within my normal range of bright colors.  I chose black, gray and white; ironically using Alison Glass fabrics which are typically a very bright, rainbow-colored palette.  This will give me the opportunity to accent it with some other colors.
Instead of using raw edge, fusible applique for the petals, I did a turned edge, faced method with fusible interfacing.  You can read more about my method here.  One of the reasons for this decision was that I wanted an extra layer between the petal and the background fabric to avoid shadowing.  I think it worked!
The petals were stitched down by machine during the quilting process – so I saved lots of time in the process.  Fast and efficient is my motto!
I was a little stumped when it came to deciding on a quilting plan.  I began with straight lines along the "plus" sections.  I used my straight ruler and free motion ruler foot which also saved time.
I thought that some echo quilting around the petals would look nice but quickly changed my mind.  I rarely rip out quilting, but I'm so glad I did.  Plan B was a much better option – swirls on the outside and echo scallops on the inside.
The binding is machine stitched on both sides – another time saver.  And the back of this table runner got a "plus" sign, too.
I'm really happy with my new table runner.  I think this pattern is so versatile and would be beautiful as a bed-sized quilt as well.  But, I have already started my second table runner using a blue and yellow color scheme.  It's so bright and cheerful!
I flipped the petals around and I like how it looks.  I also used the fusible machine applique technique as described in the book.  I blanket stitched around the petals; the shape has such a gentle curve that it's an easy one to tackle for beginners.
You can purchase an autographed copy of Modern Plus Sign Quilts at:  Quilted Blooms  Etsy Shop  or Meadow Mist Designs  Etsy Shop, or through Amazon (affiliate link):  Modern Plus Sign Quilts
It was such a pleasure working with Cheryl and Paige on this book hop.  They are also hosting a giveaway each day of the hop, so make sure to stop by
Meadow Mist Designs
and
Quilted Blooms
.  And don't forget to visit the rest of the participants so you can see their versions of the other quilts in
Modern Plus Sign Quilts
.
Monday, March 12th
Thank you so much for visiting today!