I have so many Wednesday WIP's (works in progress) that it's a little embarrassing.  I'm trying to prioritize, but it seems like they're all tugging at me and saying "pick me!".
Let me start with my Summer Fun quilt which is under my sewing machine right now.  I have a partial plan for the quilting.  I used my iPad and Procreate (which is a digital illustration App) to draw a quilting plan.  If you have an iPad Pro, you should consider this app.  It costs $10 and it's worth every penny.  The expensive part is the Apple Pencil which costs about $100.  You need it to draw on your iPad.  Below is a photo of my quilt that I imported into Procreate.  I added stitching lines (in black for visual purposes) and auditioned a few ideas there.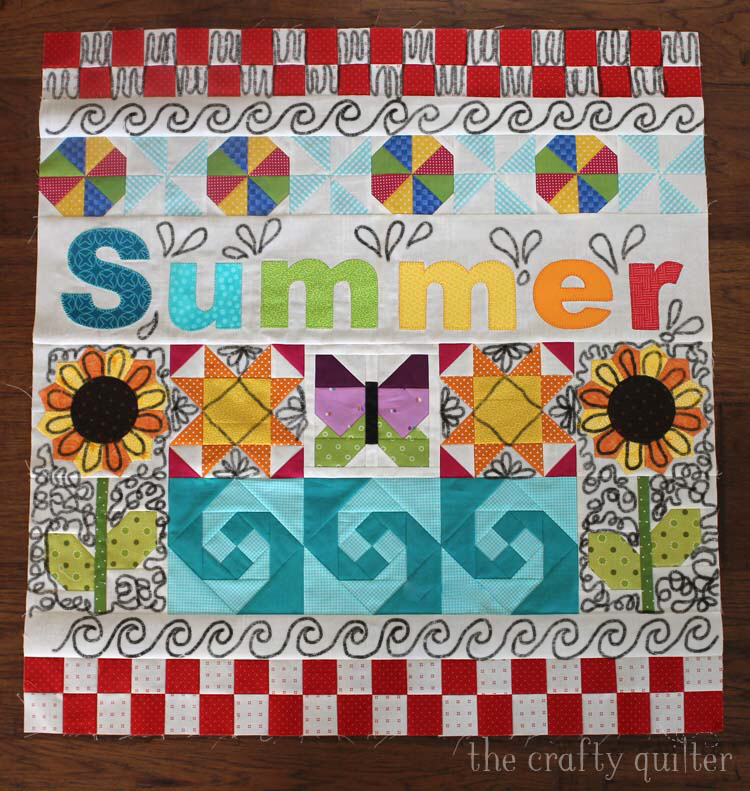 The first thing I stitch for most of my quilts is all of the ditch stitching.   This means I'm stitching right in the seam, and it further stabilizes the quilt and is part of the foundation of my quilting.  Then I can add the other quilting, whether it's free motion or with a walking foot.  Because of the stitching in the ditch, I can work in any section I want to, rather than having to work from the center of the quilt and then out to the sides.
I stitched in the main row seams and the block seams as well as the stems of the flowers.
Right now, I'm working on the checkerboard row.  I'm stitching lines on the white squares to compress them which allows the red squares to pop up.
My Summer Fun quilt is tied in priority ranking with the busy book I'm making for my granddaughter, Amelia.  She's turning 3 at the end of this month, and I wanted to have this done for her birthday (you  know that's not going to happen).  The structure of this busy book is such that I can add or remove pages as she grows into or out of them.  My first page is the mitten.  The inside is lined with minky fabric and it's so soft!
Many of my ideas for this project came from my original busy book that I made for my youngest daughter over twenty years ago.  Below is the original mitten page.  It's definitely seen better days.  I used lots of puffy paints back then!

I have more pages in the works and planned out on paper.  I've been procrastinating for too long on this project.  I'll show you more pics and give details of my process later. Is this something anyone else has made and are you interested in more details?
I'm a little behind in the Patchsmith's Sampler Sew Along.  I love making them each week and I really enjoyed block #16, Jigsaw, and block #17, London Roads.
Last year, I picked up a Sashiko kit and I finally finished the stitching.  Now I'm working on making it into a pillow.  I love this so much!  The stitching is almost meditative and it can be done anywhere – it's a great take-along project!  If you're in the Bay Area (California), The Granary Quilt Shop carries some of the Sashiko supplies as well as pre-printed panels.
I've had another embroidery project finished for a while.  I'm not sure what will become of it, but I love that's it's there waiting for the perfect project.  This pattern is from Jenny of Elefantz Designs.  Isn't it adorable?  I love the combination of applique and embroidery (I still need to add buttons to the "m" in "home").  All of Jenny's patterns have this sweetness about them.
The last Wednesday WIP that I'm working on is my sewing room.  I've been cleaning out drawers and fabric and books.  It wasn't even safe to walk in there for a while.  I already feel better about it and I'll take some pictures when it's all done.  It's a big job among many of the other summer activities keeping me busy.
I hope you're all enjoying each moment and "creating" just for the joy of it!